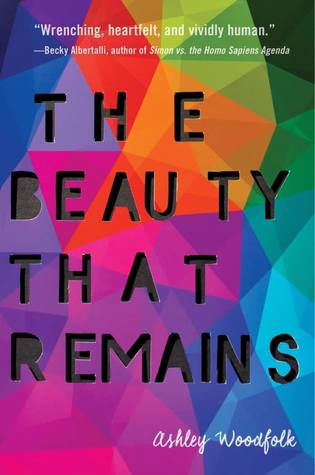 The Beauty That Remains
by Ashley Woodfolk

on March 6th 2018

Genres: Contemporary, Young Adult

Pages: 352

Goodreads
---
Music brought Autumn, Shay, and Logan together. Death wants to tear them apart.
Autumn always knew exactly who she was—a talented artist and a loyal friend. Shay was defined by two things: her bond with her twin sister, Sasha, and her love of music. And Logan always turned to writing love songs when his love life was a little less than perfect.
But when tragedy strikes each of them, somehow music is no longer enough. Now Logan can't stop watching vlogs of his dead ex-boyfriend. Shay is a music blogger struggling to keep it together. And Autumn sends messages that she knows can never be answered.
Despite the odds, one band's music will reunite them and prove that after grief, beauty thrives in the people left behind.
I received a copy of this novel for review from the publisher. This does not influence my thoughts on the book or this review.
I've only heard wonderful things about The Beauty That Remains and with a blurb from Becky Albertalli, I knew I had to read it.
I want to start this review by giving a massive trigger warning for this entire book because it strongly deals with grief and loss. The blurb just states that "tragedy strikes" for all the characters, not that someone important in their lives passes away. The novel does revolve around 3 different POVs and one of the deaths is a suicide so please be cautious when reading.
All three characters were unique. The novel had Shay, a girl who lost her twin sister, Sasha, to leukaemia. Autumn, whose best friend Octavia passed away in a car accident. Logan, whose ex-boyfriend took his own life. These unique characters were all connected through their love of music and in particular, a band called Unraveling Lovely.
The characters were all compelling and engaging and their voices were distinct through the first half of the novel but once the characters' lives started becoming more connected, I did get the characters' voices confused sometimes. This annoyed me only because I spent the first half of the book wanting the characters to relate to each other and once they did, I got slightly confused about which POV it was.
My other reservation is that I also didn't really get a clear grasp for the setting and then once I read it took place in Queens (around 65% into the book), I was perplexed because there wasn't really a mention of New York City at all before. I was confused because most of these characters lived in a house, which I felt was odd for a city, and half of the characters were driving regularly when I think that most teens in a city of that size would use public transportation.
Other than the reservations above, the writing was beautiful and I can't wait to see what Woodfolk has out next. If you're a fan of reading contemporary novels with tough topics and compelling characters, I highly recommend The Beauty That Remains.
Related Posts