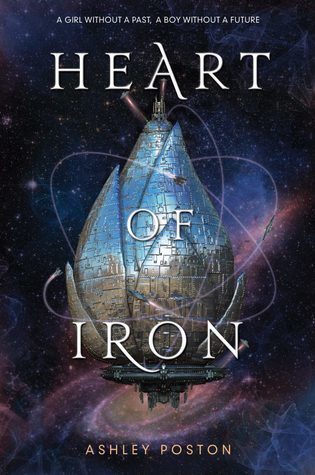 Heart of Iron
by Ashley Poston

Published by
Balzer + Bray
on February 27th 2018

Genres: Sci-Fi, Young Adult, YA

Pages: 480

Goodreads
---
Seventeen-year-old Ana is a scoundrel by nurture and an outlaw by nature. Found as a child drifting through space with a sentient android called D09, Ana was saved by a fearsome space captain and the grizzled crew she now calls family. But D09—one of the last remaining illegal Metals—has been glitching, and Ana will stop at nothing to find a way to fix him.
Ana's desperate effort to save D09 leads her on a quest to steal the coordinates to a lost ship that could offer all the answers. But at the last moment, a spoiled Ironblood boy beats Ana to her prize. He has his own reasons for taking the coordinates, and he doesn't care what he'll sacrifice to keep them.
When everything goes wrong, she and the Ironblood end up as fugitives on the run. Now their entire kingdom is after them—and the coordinates—and not everyone wants them captured alive.
What they find in a lost corner of the universe will change all their lives—and unearth dangerous secrets. But when a darkness from Ana's past returns, she must face an impossible choice: does she protect a kingdom that wants her dead or save the Metal boy she loves?
I received a copy of this book for review, this does not influence my thoughts on this book or this review.
Heart of Iron was pitched as Firefly meets Anastasia and I totally agree with that comparison. That's how I would describe the plot but the characters in the novel is truly what makes the book compelling. I'm always a bit skeptical of long SFF novels because I prefer contemporary novels but as a character-driven reader, Heart of Iron was perfect for me. I loved the characters and I was so invested in their relationships.
Ana is an outlaw, left stranded alone with only her Metal companion, D09. When she attempts to steal the coordinates for a lost starship, she ends up being bested by a spoiled Ironblood. As they slowly start to join forces to find the lost ship they're after, they become fugitives from the entire galaxy. I am terrible at describing plots but trust me when I say that Heart of Iron is a compelling sci-fi novel with a few twists.
I loved all the characters. Ana and D09 were definitely compelling and I love seeing a sentient robot as one of the main characters but it was really the other two narrators, Jax and Robb, who really won over my heart. All the characters have their own complexities and personalities that I think fans of Six of Crows will truly love this ensemble cast and reading their evolving relationships.
Because I knew that the plot was an Anastasia retelling, I didn't find the plot as unpredictable but the narrators and their emotions made me feel really compelled to keep reading. A side detail that confuses me though is the emphasis on guns. I understand that the book is a Firefly retelling but I will never understand guns on a sci-fi novel that clearly takes place many years from our time. I really feel like people would've found an alternate and more effective weapon.
For now, I don't see that there's an announced sequel but I REALLY NEED ONE so I'm hoping that the other GoodReads reviews aren't wrong. I would love a sequel but personally the ending does end the story sufficiently for me that I wouldn't be surprised if there wasn't a sequel.
Overall, Heart of Iron was definitely an engaging sci-fi retelling with compelling characters. I'm eager for a sequel and I definitely recommend this to fans of Six of Crows.
Related Posts