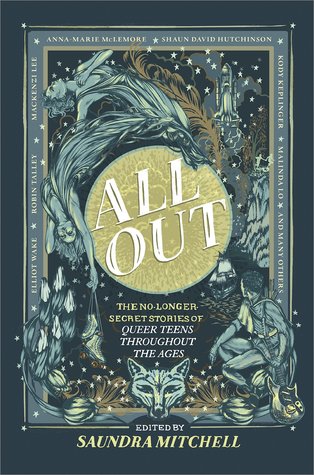 All Out: The No-Longer-Secret Stories of Queer Teens Throughout the Ages
by Saundra Mitchell, Kody Keplinger, Kate Scelsa, Robin Talley, Shaun David Hutchinson, Tess Sharpe, Alex Sanchez, Sara Farizan, Nilah Magruder, Mackenzi Lee, Anna-Marie McLemore, Malinda Lo, Dahlia Adler, Tehlor Kay Mejia, Scott Tracey, Tessa Gratton, Natalie C. Parker, Elliot Wake

Published by
Harlequin Teen
on February 27th 2018

Genres: Historical Fiction, Young Adult, LGBTQIA

Pages: 384

Goodreads
---
Take a journey through time and genres and discover a past where queer figures live, love and shape the world around them. Seventeen of the best young adult authors across the queer spectrum have come together to create a collection of beautifully written diverse historical fiction for teens.
From a retelling of Little Red Riding Hood set in war-torn 1870s Mexico featuring a transgender soldier, to two girls falling in love while mourning the death of Kurt Cobain, forbidden love in a sixteenth-century Spanish convent or an asexual girl discovering her identity amid the 1970s roller-disco scene, All Out tells a diverse range of stories across cultures, time periods and identities, shedding light on an area of history often ignored or forgotten.
I received a copy of this novel for review from the publisher. This does not influence my thoughts on the book or this review.
Anthologies are becoming more and more popular and I'm thrilled to see so many anthologies that vary in topic and theme. All Out is a historical fiction anthology that focuses on queer teens, varying in sexual orientation and gender identity.
It's a bit challenging to review an anthology without being too repetitive or too specific (reviewing every single story would take the fun out of reading it for yourself, I think) but I will try my best.
All Out: The No-Longer-Secret Stories of Queer Teens Throughout the Ages was wonderful. It had some of my favourite authors and all the stories were great. The various themes of self-acceptance, finding support (not just from lovers but from friends), some elements of magic realism, etc. There are so many wonderful things about this collection that I really liked. Most of the stories were under 20 pages and made for a great read that I was able to savour over a few days.
The only issue that's stopping me from giving it a full five stars is that I felt that some of the short stories weren't as great as they could've been. I personally felt that some short stories did not end satisfyingly enough for me. Short stories typically have to be well-written enough that you get a feel for the characters and feel invested quickly while also having a satisfying ending/conclusion. I felt that some of the stories didn't really fit that bill for me as some conclusions felt rushed and too open-ended. However, most of the short stories were well written and I really liked the ones from my favourite authors like Dahlia Adler, Anna-Marie McLemore, and Mackenzi Lee. Some great new-to-me authors were Tehlor Key Mejia and Nilah Magruder.
Overall, All Out: The No-Longer-Secret History of Queer Teens Through the Ages was a pretty solid anthology collection that I'd recommend for people who want to read a perspective in historical fiction that isn't often explored.
Related Posts