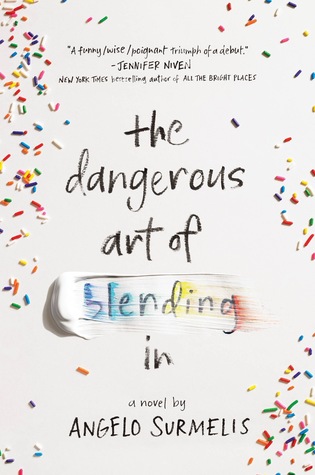 The Dangerous Art of Blending In
by Angelo Surmelis

Published by
Balzer + Bray
on January 30th 2018

Genres: Contemporary, Young Adult, LGBTQIA

Pages: 336

Goodreads
Seventeen-year-old Evan Panos doesn't know where he fits in. His strict Greek mother refuses to see him as anything but a disappointment. His quiet, workaholic father is a staunch believer in avoiding any kind of conflict. And his best friend Henry has somehow become distractingly attractive over the summer.
Tired, isolated, scared—Evan's only escape is drawing in an abandoned church that feels as lonely as he is. And, yes, he kissed one guy over the summer. But it's his best friend Henry who's now proving to be irresistible. It's Henry who suddenly seems interested in being more than friends. And it's Henry who makes him believe that he's more than his mother's harsh words and terrifying abuse. But as things with Henry heat up, and his mother's abuse escalates, Evan has to decide how to find his voice in a world where he has survived so long by avoiding attention at all costs.
I received a copy of this book for review from the publisher, this does not influence my thoughts on the book or this review.
I haven't heard a lot about The Dangerous Art of Blending In but I'm a huge fan of underrated reads and #ownvoices contemporary novels so I knew I'd have to pick this one up and I'm glad I did.
Evan Panos is used to blending in, trying to hide to hide his true identity and the nature of his family's rocky relationship. But when his best friend, Henry, returns back to school from the summer, Evan starts to see him in a new light. As Evan struggles to regain his usual sense of blending in, things get more intense at home with his religiously strict Greek mother. This debut novel is both heartwarming and heartwrenching.
I was worried that the romance would stray into "love interest saves the main character" territory but luckily it didn't go down that road. Henry did often say that he wanted to help Evan but I liked that Evan insisted that he doesn't need someone to save him. One of my favourite romance tropes is "best friends falling in love" and I really liked it in this one.
Despite how good this novel was, I'm not going to rate this one because I have a lot of complicated thoughts on it. Specifically, the intense nature of it. I do recommend it, but there are some very intense scenes that merit content warnings (see below). Despite the heavy nature, there was also an adorable romance that I consider a highlight. I would normally give it a high rating but those are reserved for books that I would see myself re-reading but because of the intense nature of this book, I don't think I'd be able to pick it up again. I will definitely remember this book for a while though.
TW: mentions of suicide, depression, parental abuse, bullying
Related Posts