I've fallen behind on my review copy reading lately so I've decided to do a few mini reviews of backlist books I've been reading instead!
Spirit Hunters by Ellen Oh
Add it on GoodReads
★★★★★
We Need Diverse Books founder Ellen Oh returns with Spirit Hunters, a high-stakes middle grade mystery series about Harper Raine, the new seventh grader in town who must face down the dangerous ghosts haunting her younger brother. A riveting ghost story and captivating adventure, this tale will have you guessing at every turn!
Harper doesn't trust her new home from the moment she steps inside, and the rumors are that the Raine family's new house is haunted. Harper isn't sure she believes those rumors, until her younger brother, Michael, starts acting strangely. The whole atmosphere gives Harper a sense of déjà vu, but she can't remember why. She knows that the memories she's blocking will help make sense of her brother's behavior and the strange and threatening sensations she feels in this house, but will she be able to put the pieces together in time?
My thoughts: I've heard only great things about Spirit Hunters and I'm so glad I finally got a chance to pick it up. I have to say that I read this during a snowstorm and this book definitely did not make me feel safer, it was creepy as hell (which is to be expected). Harper's voice in the novel was so strong and I think this was a great middle grade novel.
Last Call on the Nightshade Lounge by Paul Krueger
Add it on GoodReads
★★★★

A sharp and funny urban fantasy for "new adults" about a secret society of bartenders who fight monsters with alcohol fueled magic.
College grad Bailey Chen has a few demons: no job, no parental support, and a rocky relationship with Zane, the only friend who's around when she moves back home. But when Zane introduces Bailey to his cadre of monster-fighting bartenders, her demons get a lot more literal. Like, soul-sucking hell-beast literal. Soon, it's up to Bailey and the ragtag band of magical mixologists to take on whatever—or whoever—is behind the mysterious rash of gruesome deaths in Chicago, and complete the lost recipes of an ancient tome of cocktail lore.
My Thoughts: While this is pitched as for new adults, there is definitely some cross-over appeal for both YA and adult readers. I thought the premise of this one was quite unique and delightful. The writing was fast-paced and the plot definitely kept me engaged. I would definitely recommend it!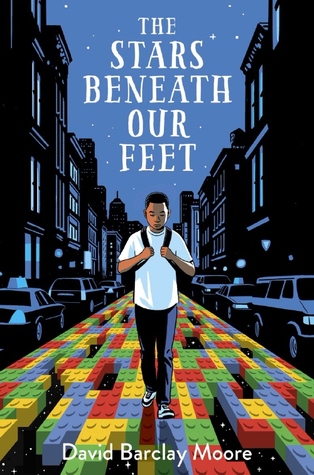 The Stars Beneath Our Feet by David Barclay Moore
Add it on GoodReads
★★★★★
A boy tries to steer a safe path through the projects in Harlem in the wake of his brother's death.

It's Christmas Eve in Harlem, but twelve-year-old Lolly Rachpaul and his mom aren't celebrating. They're still reeling from his older brother's death in a gang-related shooting just a few months earlier. Then Lolly's mother's girlfriend brings him a gift that will change everything: two enormous bags filled with Legos. Lolly's always loved Legos, and he prides himself on following the kit instructions exactly. Now, faced with a pile of building blocks and no instructions, Lolly must find his own way forward. 
His path isn't clear–and the pressure to join a "crew," as his brother did, is always there. When Lolly and his friend are beaten up and robbed, joining a crew almost seems like the safe choice. But building a fantastical Lego city at the community center provides Lolly with an escape–and an unexpected bridge back to the world.
My Thoughts: This was definitely a powerful debut with a great voice that's about friendship and trying to figure out one's place. The voice and writing was definitely strong, and I can definitely see why this was picked up for a movie.