While I don't do this as often on the blog, I actually love making lists and looking forward longingly to all of the exciting new releases that next year will bring!
I couldn't condense all of my anticipated releases into one post, so I decided to start with a 2018 Winter post!
January
You'll Miss Me When I'm Gone by Rachel Lynn Soloman
January 2nd 2018
Add it on GoodReads
Eighteen-year-old twins Adina and Tovah have little in common besides their ambitious nature. Viola prodigy Adina yearns to become a soloist—and to convince her music teacher he wants her the way she wants him. Overachiever Tovah awaits her acceptance to Johns Hopkins, the first step on her path toward med school and a career as a surgeon. 
But one thing could wreck their carefully planned futures: a genetic test for Huntington's, a rare degenerative disease that slowly steals control of the body and mind. It's turned their Israeli mother into a near stranger and fractured the sisters' own bond in ways they'll never admit. While Tovah finds comfort in their Jewish religion, Adina rebels against its rules.
When the results come in, one twin tests negative for Huntington's. The other tests positive.
These opposite outcomes push them farther apart as they wrestle with guilt, betrayal, and the unexpected thrill of first love. How can they repair their relationship, and is it even worth saving?
From debut author Rachel Lynn Solomon comes a luminous, heartbreaking tale of life, death, and the fragile bond between sisters.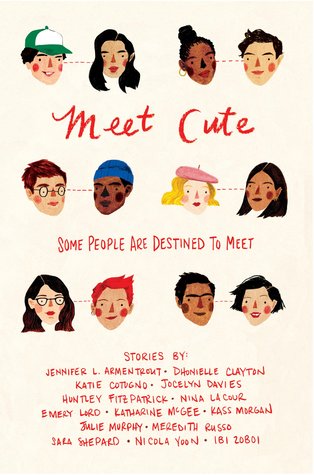 Meet Cute Anthology; stories by Jennifer L. Armentrout, Dhonielle Clayton, Katie Cotugno, Jocelyn Davies, Huntly Fitzpatrick, Nina LaCour, Emery Lord, Katharine McGee, Kass Morgan, Julie Murphy, Meredith Russo, Sara Shepard, Nicola Yoon, Ibi Zoboi
January 2nd 2018
Add it on GoodReads
Whether or not you believe in fate, or luck, or love at first sight, every romance has to start somewhere. MEET CUTE is an anthology of original short stories featuring tales of "how they first met" from some of today's most popular YA authors. 
Readers will experience Nina LaCour's beautifully written piece about two Bay Area girls meeting via a cranky customer service Tweet, Sara Shepard's glossy tale about a magazine intern and a young rock star, Nicola Yoon's imaginative take on break-ups and make-ups, Katie Cotugno's story of two teens hiding out from the police at a house party, and Huntley Fitzpatrick's charming love story that begins over iced teas at a diner. There's futuristic flirting from Kass Morgan and Katharine McGee, a riveting transgender heroine from Meredith Russo, a subway missed connection moment from Jocelyn Davies, and a girl determined to get out of her small town from Ibi Zoboi. Jennifer Armentrout writes a sweet story about finding love from a missing library book, Emery Lord has a heartwarming and funny tale of two girls stuck in an airport, Dhonielle Clayton takes a thoughtful, speculate approach to pre-destined love, and Julie Murphy dreams up a fun twist on reality dating show contestants. 
This incredibly talented group of authors brings us a collection of stories that are at turns romantic and witty, epic and everyday, heartbreaking and real.
Chainbreaker by Tara Sim
January 2nd 2018
Add it on Goodreads
Clock mechanic Danny Hart knows he's being watched. But by whom, or what, remains a mystery. To make matters worse, clock towers have begun falling in India, though time hasn't Stopped yet. He'd hoped after reuniting with his father and exploring his relationship with Colton, he'd have some time to settle into his new life. Instead, he's asked to investigate the attacks.
After inspecting some of the fallen Indian towers, he realizes the British occupation may be sparking more than just attacks. And as Danny and Colton unravel more secrets about their past, they find themselves on a dark and dangerous path–one from which they may never return.
Batman: Nightwaler by Marie Lu
January 2nd 2018
Add it on GoodReads
Before he was Batman, he was Bruce Wayne. A reckless boy willing to break the rules for a girl who may be his worst enemy.
The Nightwalkers are terrorizing Gotham City, and Bruce Wayne is next on their list.
One by one, the city's elites are being executed as their mansions' security systems turn against them, trapping them like prey. Meanwhile, Bruce is turning eighteen and about to inherit his family's fortune, not to mention the keys to Wayne Enterprises and all the tech gadgetry his heart could ever desire. But after a run-in with the police, he's forced to do community service at Arkham Asylum, the infamous prison that holds the city's most brutal criminals.
Madeleine Wallace is a brilliant killer . . . and Bruce's only hope.
In Arkham, Bruce meets Madeleine, a brilliant girl with ties to the Nightwalkers. What is she hiding? And why will she speak only to Bruce? Madeleine is the mystery Bruce must unravel. But is he getting her to divulge her secrets, or is he feeding her the information she needs to bring Gotham City to its knees? Bruce will walk the dark line between trust and betrayal as the Nightwalkers circle closer.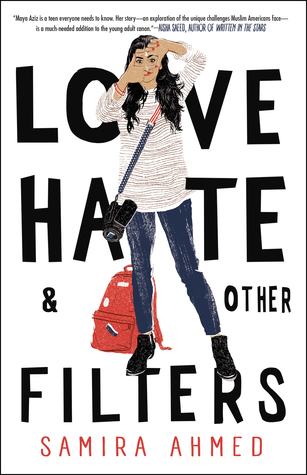 Love, Hate & Other Filters by Samira Ahmed
January 16 2018
Add it on GoodReads
A searing #OwnVoices coming-of-age debut in which an Indian-American Muslim teen confronts Islamophobia and a reality she can neither explain nor escape–perfect for fans of Angie Thomas, Jacqueline Woodson, and Adam Silvera.
Maya Aziz is torn between futures: the one her parents expect for their good Indian daughter (i.e.; staying nearby in Chicago and being matched with a "suitable" Muslim boy), and the one where she goes to film school in New York City–and maybe, just maybe, kisses a guy she's only known from afar. There's the also the fun stuff, like laughing with her best friend Violet, making on-the-spot documentaries, sneaking away for private swimming lessons at a secret pond in the woods. But her world is shattered when a suicide bomber strikes in the American heartland; by chance, he shares Maya's last name. What happens to the one Muslim family in town when their community is suddenly consumed with hatred and fear?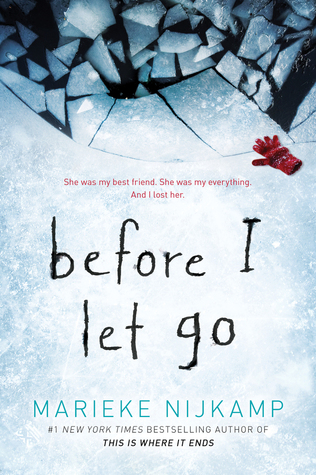 Before I Let Go by Marieke Nijkamp
January 23 2018
Add it on GoodReads
Days before Corey is to return home to the snow and ice of Lost Creek, Alaska, to visit her best friend, Kyra dies. Corey is devastated―and confused. The entire Lost community speaks in hushed tones about the town's lost daughter, saying her death was meant to be. And they push Corey away like she's a stranger.
Corey knows something is wrong. Lost is keeping secrets―chilling secrets. But piecing together the truth about what happened to her best friend may prove as difficult as lighting the sky in an Alaskan winter…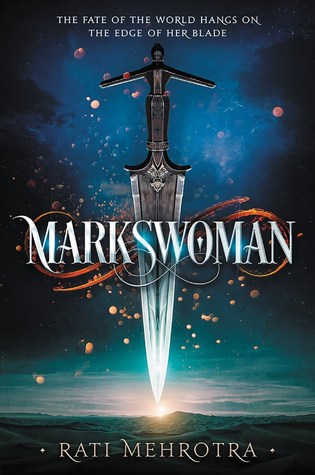 Markswoman by Rati Mehrotra
January 23 2018
Add it on GoodReads
Kyra is the youngest Markswoman in the Order of Kali, a highly trained sisterhood of elite warriors armed with telepathic blades. Guided by a strict code of conduct, Kyra and the other Orders are sworn to protect the people of Asiana. But to be a Markswoman, an acolyte must repudiate her former life completely. Kyra has pledged to do so, yet she secretly harbors a fierce desire to avenge her dead family.
When Kyra's beloved mentor dies in mysterious circumstances, and Tamsyn, the powerful, dangerous Mistress of Mental Arts, assumes control of the Order, Kyra is forced on the run. Using one of the strange Transport Hubs that are remnants of Asiana's long-lost past, she finds herself in the unforgiving wilderness of desert that is home to the Order of Khur, the only Order composed of men. Among them is Rustan, a young, disillusioned Marksman whom she soon befriends.
Kyra is certain that Tamsyn committed murder in a twisted bid for power, but she has no proof. And if she fails to find it, fails in her quest to keep her beloved Order from following Tamsyn down a dark path, it could spell the beginning of the end for Kyra–and for Asiana.
But what she doesn't realize is that the line between justice and vengeance is razor thin . . . thin as the blade of a knife.
Let's Talk About Love by Claire Kann
January 23 2018
Add it on GoodReads
Alice had her whole summer planned. Non-stop all-you-can-eat buffets while marathoning her favorite TV shows (best friends totally included) with the smallest dash of adulting–working at the library to pay her share of the rent. The only thing missing from her perfect plan? Her girlfriend (who ended things when Alice confessed she's asexual). Alice is done with dating–no thank you, do not pass go, stick a fork in her, done.
But then Alice meets Takumi and she can't stop thinking about him or the rom com-grade romance feels she did not ask for (uncertainty, butterflies, and swoons, oh my!).
When her blissful summer takes an unexpected turn, and Takumi becomes her knight with a shiny library employee badge (close enough), Alice has to decide if she's willing to risk their friendship for a love that might not be reciprocated—or understood.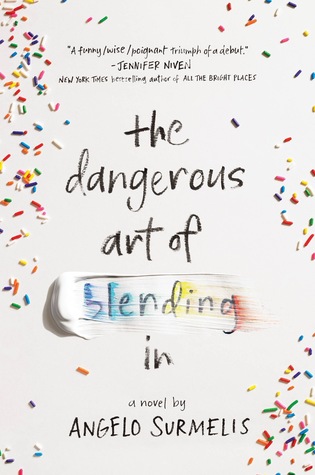 The Dangerous Art of Blending In by Angelo Surmelis
January 30th 2018
Add it on GoodReads
Seventeen-year-old Evan Panos doesn't know where he fits in. His strict Greek mother refuses to see him as anything but a disappointment. His quiet, workaholic father is a staunch believer in avoiding any kind of conflict. And his best friend Henry has somehow become distractingly attractive over the summer. 
Tired, isolated, scared—Evan's only escape is drawing in an abandoned church that feels as lonely as he is. And, yes, he kissed one guy over the summer. But it's his best friend Henry who's now proving to be irresistible. It's Henry who suddenly seems interested in being more than friends. And it's Henry who makes him believe that he's more than his mother's harsh words and terrifying abuse. But as things with Henry heat up, and his mother's abuse escalates, Evan has to decide how to find his voice in a world where he has survived so long by avoiding attention at all costs.
February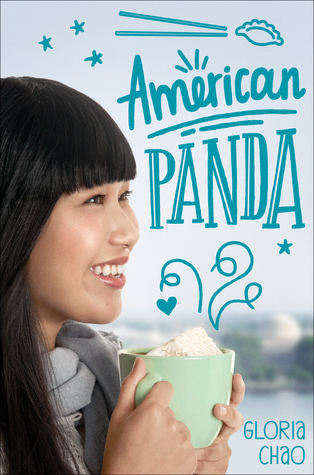 American Panda by Gloria Chao
February 6th 2018
Add it on GoodReads
An incisive, laugh-out-loud contemporary debut about a Taiwanese-American teen whose parents want her to be a doctor and marry a Taiwanese Ivy Leaguer despite her germophobia and crush on a Japanese classmate.
At seventeen, Mei should be in high school, but skipping fourth grade was part of her parents' master plan. Now a freshman at MIT, she is on track to fulfill the rest of this predetermined future: become a doctor, marry a preapproved Taiwanese Ivy Leaguer, produce a litter of babies.
With everything her parents have sacrificed to make her cushy life a reality, Mei can't bring herself to tell them the truth–that she (1) hates germs, (2) falls asleep in biology lectures, and (3) has a crush on her classmate Darren Takahashi, who is decidedly not Taiwanese.
But when Mei reconnects with her brother, Xing, who is estranged from the family for dating the wrong woman, Mei starts to wonder if all the secrets are truly worth it. Can she find a way to be herself, whoever that is, before her web of lies unravels?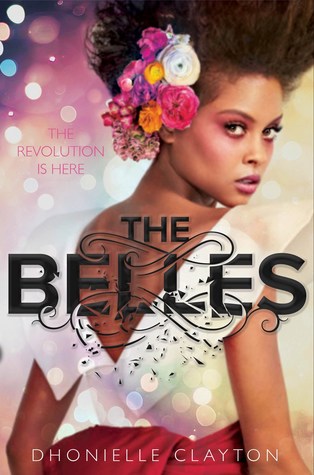 The Belles by Dhonielle Clayton
February 20th 2018
Add it on GoodReads
Camellia Beauregard is a Belle. In the opulent world of Orléans, Belles are revered, for they control Beauty, and Beauty is a commodity coveted above all else. In Orléans, the people are born gray, they are born damned, and only with the help of a Belle and her talents can they transform and be made beautiful.
But it's not enough for Camellia to be just a Belle. She wants to be the favorite—the Belle chosen by the Queen of Orléans to live in the royal palace, to tend to the royal family and their court, to be recognized as the most talented Belle in the land. But once Camellia and her Belle sisters arrive at court, it becomes clear that being the favorite is not everything she always dreamed it would be. Behind the gilded palace walls live dark secrets, and Camellia soon learns that the very essence of her existence is a lie—that her powers are far greater, and could be more dangerous, than she ever imagined. And when the queen asks Camellia to risk her own life and help the ailing princess by using Belle powers in unintended ways, Camellia now faces an impossible decision.
With the future of Orléans and its people at stake, Camellia must decide—save herself and her sisters and the way of the Belles—or resuscitate the princess, risk her own life, and change the ways of her world forever.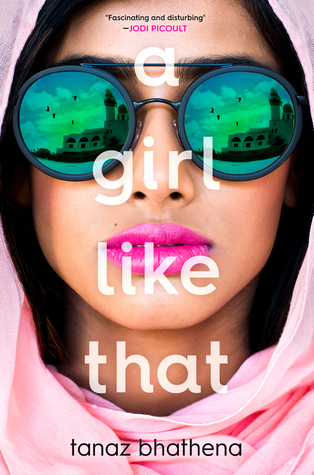 A Girl Like That by Tanaz Bhathena
February 27 2018
Add it on GoodReads
A timeless exploration of high-stakes romance, self-discovery, and the lengths we go to love and be loved. 
Sixteen-year-old Zarin Wadia is many things: a bright and vivacious student, an orphan, a risk taker. She's also the kind of girl that parents warn their kids to stay away from: a troublemaker whose many romances are the subject of endless gossip at school.  You don't want to get involved with a girl like that, they say. So how is it that eighteen-year-old Porus Dumasia has only ever had eyes for her? And how did Zarin and Porus end up dead in a car together, crashed on the side of a highway in Jeddah, Saudi Arabia? When the religious police arrive on the scene, everything everyone thought they knew about Zarin is questioned. And as her story is pieced together, told through multiple perspectives, it becomes clear that she was far more than just a girl like that. 
This beautifully written debut novel from Tanaz Bhathena reveals a rich and wonderful new world to readers. It tackles complicated issues of race, identity, class, and religion, and paints a portrait of teenage ambition, angst, and alienation that feels both inventive and universal.
People Like Us by Dana Mele
February 27 2018
Add it on GoodReads
Kay Donovan may have skeletons in her closet, but the past is past, and she's reinvented herself entirely. Now she's a star soccer player whose group of gorgeous friends run their private school with effortless popularity and acerbic wit. But when a girl's body is found in the lake, Kay's carefully constructed life begins to topple. 
The dead girl has left Kay a computer-coded scavenger hunt, which, as it unravels, begins to implicate suspect after suspect, until Kay herself is in the crosshairs of a murder investigation. But if Kay's finally backed into a corner, she'll do what it takes to survive. Because at Bates Academy, the truth is something you make…not something that happened.
All Out anthology, edited by Saundra Mitchell
February 27th 2018
Add it on GoodReads
Take a journey through time and genres and discover a past where queer figures live, love and shape the world around them. Seventeen of the best young adult authors across the queer spectrum have come together to create a collection of beautifully written diverse historical fiction for teens.
From a retelling of Little Red Riding Hood set in war-torn 1870s Mexico featuring a transgender soldier, to two girls falling in love while mourning the death of Kurt Cobain, forbidden love in a sixteenth-century Spanish convent or an asexual girl discovering her identity amid the 1970s roller-disco scene, All Out tells a diverse range of stories across cultures, time periods and identities, shedding light on an area of history often ignored or forgotten.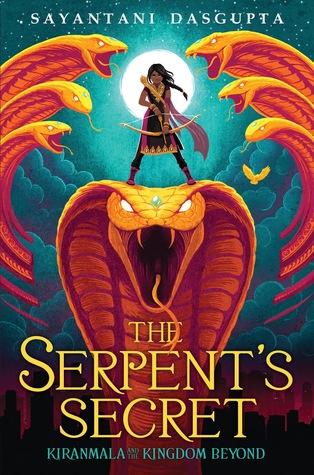 The Serpent's Secret by Sayantani Dasgupta
February 27th 2018
Add it on GoodReads
MEET KIRANMALA: INTERDIMENSIONAL DEMONSLAYER
(But she doesn't know it yet.)
On the morning of her twelfth birthday, Kiranmala is just a regular sixth grader living in Parsippany, New Jersey… until her parents mysteriously vanish later that day and a rakkhosh demon slams through her kitchen, determined to eat her alive. Turns out there might be some truth to her parents' fantastical stories—like how Kiranmala is a real Indian princess—and a wealth of secrets about her origin they've kept hidden.
To complicate matters, two crushworthy Indian princes ring her doorbell, insisting they're here to rescue her. Suddenly, Kiran is swept into another dimension full of magic, winged horses, moving maps, and annoying, talking birds. There she must solve riddles and slay demons all while avoiding the Serpent King of the underworld (who may or may not want to kill her) and the rakkhosh queen (who definitely does) in order to find her parents and basically save New Jersey, her entire world, and everything beyond it…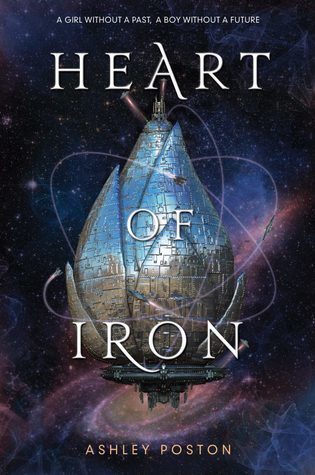 Heart of Iron by Ashley Poston
February 27th 2018
Add it on GoodReads
Seventeen-year-old Ana is a scoundrel by nurture and an outlaw by nature. Found as a child drifting through space with a sentient android called D09, Ana was saved by a fearsome space captain and the grizzled crew she now calls family. But D09—one of the last remaining illegal Metals—has been glitching, and Ana will stop at nothing to find a way to fix him.
Ana's desperate effort to save D09 leads her on a quest to steal the coordinates to a lost ship that could offer all the answers. But at the last moment, a spoiled Ironblood boy beats Ana to her prize. He has his own reasons for taking the coordinates, and he doesn't care what he'll sacrifice to keep them.
When everything goes wrong, she and the Ironblood end up as fugitives on the run. Now their entire kingdom is after them—and the coordinates—and not everyone wants them captured alive.
What they find in a lost corner of the universe will change all their lives—and unearth dangerous secrets. But when a darkness from Ana's past returns, she must face an impossible choice: does she protect a kingdom that wants her dead or save the Metal boy she loves?
That's all… or at least all the ones I have on my goodreads! Which novel are you look forward to the most this upcoming winter season?