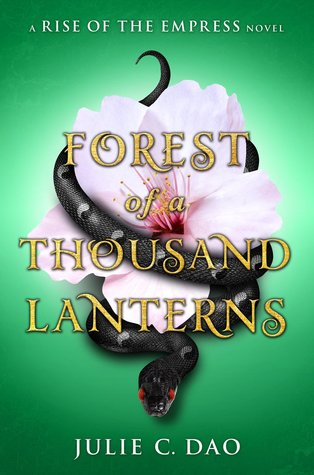 Forest of a Thousand Lanterns
by Julie C. Dao

Series:
Rise of the Empress #1
Published by
Philomel
on October 10th 2017

Genres: Fantasy, Young Adult

Pages: 384

Goodreads
---
An East Asian fantasy reimagining of The Evil Queen legend about one peasant girl's quest to become Empress--and the darkness she must unleash to achieve her destiny.
Eighteen-year-old Xifeng is beautiful. The stars say she is destined for greatness, that she is meant to be Empress of Feng Lu. But only if she embraces the darkness within her. Growing up as a peasant in a forgotten village on the edge of the map, Xifeng longs to fulfill the destiny promised to her by her cruel aunt, the witch Guma, who has read the cards and seen glimmers of Xifeng's majestic future. But is the price of the throne too high?
Because in order to achieve greatness, she must spurn the young man who loves her and exploit the callous magic that runs through her veins--sorcery fueled by eating the hearts of the recently killed. For the god who has sent her on this journey will not be satisfied until his power is absolute.
I received a copy of this book for review, this does not influence my thoughts on this book or this review.
Debut novels are my kryptonite, especially ones that are inspired by mythologies and fairy tales. Forest of a Thousand Lanterns definitely intrigued me as it's pitched as a retelling of the origin story of the Evil Queen (from Snow White). Xifeng, the main character, is definitely an anti-hero but I found her story gripping and compelling. Forest of a Thousand Lanterns is definitely a wonderful debut novel that is the start of an exciting new series.
Xifeng has been told all her life by her aunt that she's destined for greatness. Specifically, that she's destined to become Empress. Xifeng knows she can only achieve her dream if she decides to embrace the darkness within her. Forest of a Thousand Lanterns is about an ambitious young woman who will use any means possible to get what she wants.
I love complicated characters and an antihero like Xifeng is no exception. I found her compelling and I was definitely cheering her on, though I did find myself wanting her to be a bit more ruthless when it comes to the romance. I did find the plot to be a bit slow in the beginning but after the first part of the novel, the court intrigue elements really picked up and I loved every minute of it.
Overall, If you're looking for a fantastic new series with great world-building and captivating characters, Forest of a Thousand Lanterns is definitely for you.
Related Posts