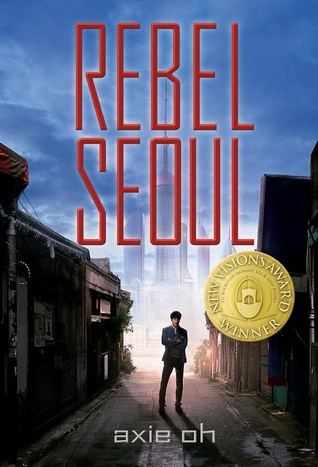 Rebel Seoul
by Axie Oh

Published by
Tu Books
on September 15th 2017

Genres: Sci-Fi, Young Adult

Pages: 400

Goodreads
---
After a great war, the East Pacific is in ruins. In brutal Neo Seoul, where status comes from success in combat, ex-gang member Lee Jaewon is a talented pilot rising in the ranks of the academy. Abandoned as a kid in the slums of Old Seoul by his rebel father, Jaewon desires only to escape his past and prove himself a loyal soldier of the Neo State.
When Jaewon is recruited into the most lucrative weapons development division in Neo Seoul, he is eager to claim his best shot at military glory. But the mission becomes more complicated when he meets Tera, a test subject in the government's supersoldier project. Tera was trained for one purpose: to pilot one of the lethal God Machines, massive robots for a never-ending war.
With secret orders to report on Tera, Jaewon becomes Tera's partner, earning her reluctant respect. But as respect turns to love, Jaewon begins to question his loyalty to an oppressive regime that creates weapons out of humans. As the project prepares to go public amidst rumors of a rebellion, Jaewon must decide where he stands—as a soldier of the Neo State, or a rebel of the people.
Pacific Rim meets Korean action dramas in this mind-blowing, New Visions Award-winning science fiction debut.
I received a copy of this book for review from the publisher. This does not influence my thoughts on the book or this review.
When I heard that the comp title for this debut was Rebel Seoul, I knew I had to read it. Luckily, the comp and pitch were exactly what I was looking for and I can definitely say that this stand-alone sci-fi debut is definitely worth picking up!
Lee Jaewon is a pilot looking to prove himself as something more than a nobody from Old Seoul. When the opportunity arises to compete in a training simulation that would guarantee future success if he wins, and death if he fails, he takes the chance. But the test sets him on a course he wasn't expecting. Rebel Seoul is a stand-alone sci-fi that will appeal to fans of Pacific Rim. 
All of the characters in Rebel Seoul were so compelling and I loved every minute of reading their journey. I think the plot was really fast-paced and I loved that this book is a stand-alone, we don't see a lot of SFF that doesn't have a sequel.
Overall, if you're looking for a great debut novel, I highly recommend this one.
Related Posts