Another Wednesday, another few novels that we're excited about!
Octavia's Pick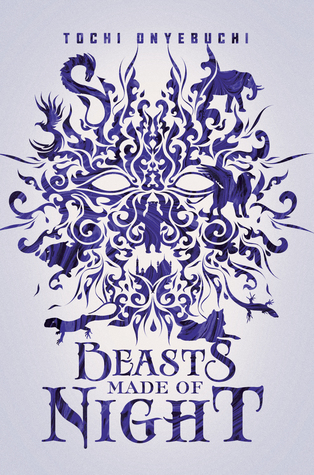 Beasts Made of Night by Tochi Onyebuchi
Release Date: October 31st 2017
In the walled city of Kos, corrupt mages can magically call forth sin from a sinner in the form of sin-beasts – lethal creatures spawned from feelings of guilt.
Taj is the most talented of the aki, young sin-eaters indentured by the mages to slay the sin-beasts. But Taj's livelihood comes at a terrible cost. When he kills a sin-beast, a tattoo of the beast appears on his skin while the guilt of committing the sin appears on his mind. Most aki are driven mad by the process, but 17-year-old Taj is cocky and desperate to provide for his family.
When Taj is called to eat a sin of a royal, he's suddenly thrust into the center of a dark conspiracy to destroy Kos. Now Taj must fight to save the princess that he loves – and his own life.
A gritty Nigerian-influenced fantasy.
Shelly's Pick

That Inevitable Victorian Thing by E.K. Johnston
Release Date: October 3rd 2017
Set in a near-future world where the British Empire never fell and the United States never rose, That Inevitable Victorian Thing is a novel of love, duty, and the small moments that can change people and the world.
Victoria-Margaret is the crown princess of the empire, a direct descendent of Victoria I, the queen who changed the course of history two centuries earlier. The imperial practice of genetically arranged matchmaking will soon guide Margaret into a politically advantageous marriage like her mother before her, but before she does her duty, she'll have one summer incognito in a far corner of empire. In Toronto, she meets Helena Marcus, daughter of one of the empire's greatest placement geneticists, and August Callaghan, the heir apparent to a powerful shipping firm currently besieged by American pirates. In a summer of high-society debutante balls, politically charged tea parties, and romantic country dances, Margaret, Helena, and August discover they share an unusual bond and maybe a one in a million chance to have what they want and to change the world in the process —just like the first Queen Victoria.