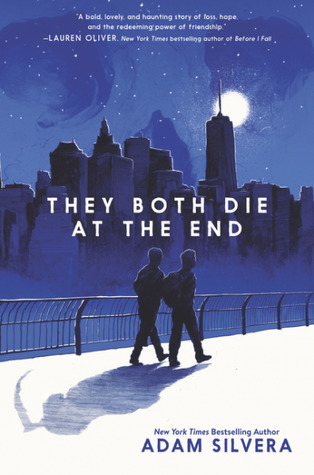 They Both Die at the End
by Adam Silvera

Published by
HarperTeen
on September 5th 2017

Genres: Contemporary, Young Adult, LGBTQIA

Pages: 384

Goodreads
---
On September 5, a little after midnight, Death-Cast calls Mateo Torrez and Rufus Emeterio to give them some bad news: They're going to die today. Mateo and Rufus are total strangers, but, for different reasons, they're both looking to make a new friend on their End Day. The good news: There's an app for that. It's called the Last Friend, and through it, Rufus and Mateo are about to meet up for one last great adventure and to live a lifetime in a single day.
I received a copy of this book for review from the publisher. This does not influence my thoughts on the book or this review.
Despite reading the title of this book, my heart was still not prepared for the roller coaster of emotions. Silvera's books are guaranteed to be heart-breaking but you'll still love every single second of the reading experience.
On the day of your death, Death-Cast calls you between midnight and 3AM to let you know. On September 5th (also the release day of this book!), Mateo and Rufus both receive the call under very different circumstances. To make their last day memorable, they both join Last Friend, an app designed to pair up people looking for company on their End Day. They Both Die at the End is a speculative fiction novel that takes place in a single extraordinary last day.
I loved this book, it was just amazing. The premise is definitely rooted in heartbreak and sobbing for the reader, but I promise that it's so worth it. Rufus and Mateo are characters you will want to root for and their story was phenomenal.
They Both Die at the End is another great book from a phenomenal writer. If you're looking for amazing fleshed-out characters, a compelling plot and a good cry, I highly recommend this one.
Related Posts