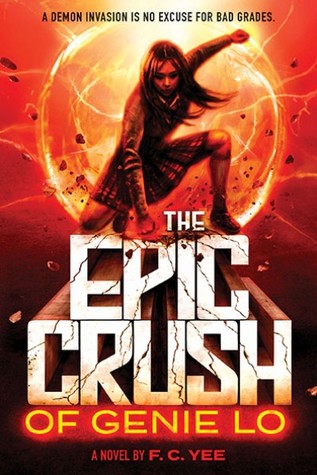 The Epic Crush of Genie Lo
by F.C. Yee

Published by
Amulet Books
on August 8th 2017

Genres: Fantasy, Young Adult

Pages: 336

Goodreads
---
The struggle to get into a top-tier college consumes sixteen-year-old Genie Lo's every waking thought. But when her sleepy Bay Area town comes under siege from hell-spawn straight out of Chinese folklore, her priorities are suddenly and forcefully rearranged.
Her only guide to the demonic chaos breaking out around her is Quentin Sun, a beguiling, maddening new transfer student from overseas. Quentin assures Genie she is strong enough to fight these monsters, for she unknowingly harbors an inner power that can level the very gates of Heaven.
Genie will have to dig deep within herself to summon the otherworldly strength that Quentin keeps talking about. But as she does, she finds the secret of her true nature is entwined with his, in a way she could never have imagined…
I received a copy of this book for review from the publisher, this does not influence my thoughts on this review or the book.
I've heard so many things about this book and with a tagline that enticing ("a demon invasion is no excuse for bad grades"), I knew I had to read it. The Epic Crush of Genie Lo definitely didn't disappoint and it definitely has to be on your must-buy list.
Genie is a sixteen year old just focusing on good grades so she can leave the Bay area she's growing tired of. But when her city is attacked by demons out of Chinese folklore, it's up to her to stop them, with the help of new transfer student Quentin Sun. The Epic Crush of Genie Lo is a hilarious and entertaining debut novel
I loved the voice of this novel. The writing was just phenomenal and so hilarious, Genie was just one of the most engaging and relatable characters I've seen in a while. The combination of the realistic contemporary setting and the Chinese folklore that appeared within the novel was just effortless and made for an engaging read. I loved every minute of reading The Epic Crush of Genie Lo and I know that so many people will too.
Overall, The Epic Crush of Genie Lo was just a hilarious and engaging debut novel and I am absolutely dying to get my hands on the sequel. If you're looking for something unique and entertaining, I highly recommend this one!
Related Posts