Hey y'all! I've been reading a few middle-grade novels lately and I thought that putting them together in mini-reviews would be super fun.

Karma Khullar's Mustache by Kristi Wientge
August 15th 2017
Debut author Kristi Wientge tackles the uncomfortable—but all too relatable—subject of female body hair and self-esteem with this sweet and charming novel in the tradition of Judy Blume.
Karma Khullar is about to start middle school, and she is super nervous. Not just because it seems like her best friend has found a newer, blonder best friend. Or the fact that her home life is shaken up by the death of her dadima. Or even that her dad is the new stay-at-home parent, leading her mother to spend most of her time at work. But because she's realized that she has seventeen hairs that have formed a mustache on her upper lip.
With everyone around her focused on other things, Karma is left to figure out what to make of her terrifyingly hairy surprise all on her own.
My thoughts: Karma Khullar's Mustache is an adorable middle grade novel about Karma, a girl starting the sixth grade and worried about all the changes it brings, like the fact that her best friend has a new mean neighbour or the fact that she's growing facial hair. This debut is an adorable novel about the changes that come with growing up and will definitely be relatable to many middle-grade readers.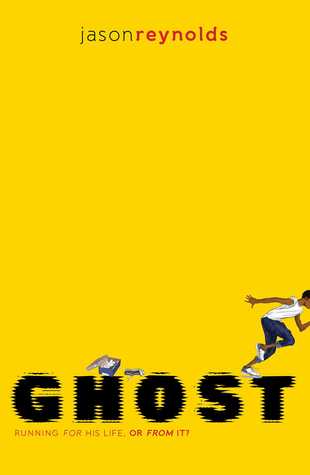 Ghost by Jason Reynolds (Track #1)
August 30th 2016
Running. That's all that Ghost (real name Castle Cranshaw) has ever known. But never for a track team. Nope, his game has always been ball. But when Ghost impulsively challenges an elite sprinter to a race — and wins — the Olympic medalist track coach sees he has something: crazy natural talent. Thing is, Ghost has something else: a lot of anger, and a past that he is trying to outrun. Can Ghost harness his raw talent for speed and meld with the team, or will his past finally catch up to him?
My thoughts: I'm a huge fan of Jason Reynolds and his middle-grade series about a group of track runners is no different. Even though this was under 200 pages, I quickly related to Ghost and found his story completely enthralling. Anything that Reynolds writes is clearly outstanding, and I can't wait to read the follow-up.

Patina by Jason Reynolds (Track #2)
August 29th 2017
Patina, or Patty, runs like a flash. She runs for many reasons—to escape the taunts from the kids at the fancy-schmancy new school she's been sent to since she and her little sister had to stop living with their mom. She runs from the reason WHY she's not able to live with her "real" mom any more: her mom has The Sugar, and Patty is terrified that the disease that took her mom's legs will one day take her away forever. So Patty's also running for her mom, who can't. But can you ever really run away from any of this? As the stress builds up, it's building up a pretty bad attitude as well. Coach won't tolerate bad attitude. No day, no way. And now he wants Patty to run relay…where you have to depend on other people? How's she going to do THAT?
My thoughts: The follow-up to Ghost was just as phenomenal as the first. I honestly adore this series and I can't wait to keep reading the continuations. Reynolds writes such strong voices with relatable and unique protagonists that make for the most compelling stories.
—
What are some MG books you've read lately? Let's discuss in the comments!