Hi everyone! I'm so pleased to feature Rebecca Barrow and her debut novel, You Don't Know Me but I Know You! It sounds utterly phenomenal and I can't wait to read it.
About the Book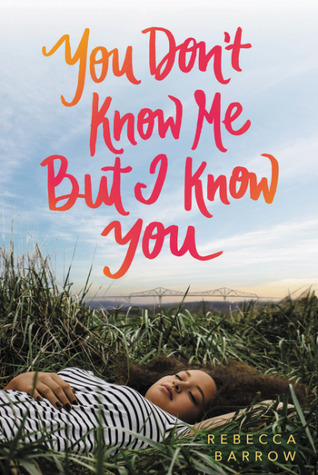 You Don't Know Me but I Know You by Rebecca Barrow
August 29th 2017
Rebecca Barrow's bright, honest debut novel about chance, choice, and unconditional love is a heartfelt testament to creating the future you truly want, one puzzle piece at a time.
There's a box in the back of Audrey's closet that she rarely thinks about.
Inside is a letter, seventeen years old, from a mother she's never met, handed to her by the woman she's called Mom her whole life. Being adopted, though, is just one piece in the puzzle of Audrey's life—the picture painstakingly put together by Audrey herself, full of all the people and pursuits that make her who she is.
But when Audrey realizes that she's pregnant, she feels something—a tightly sealed box in the closet corners of her heart—crack open, spilling her dormant fears and unanswered questions all over the life she loves.
Almost two decades ago, a girl in Audrey's situation made a choice, one that started Audrey's entire story. Now Audrey is paralyzed by her own what-ifs and terrified by the distance she feels growing between her and her best friend Rose. Down every possible path is a different unfamiliar version of her life, and as she weighs the options in her mind, she starts to wonder—what does it even mean to be Audrey Spencer?
Interview
1. Use any five words to describe your novel.
Honest, hopeful, feminist, real, complicated.
2. What was your inspiration for You Don't Know Me But I Know You?
My inspiration was really about wanting to write the kind of complex, emotional contemporary story that I've always loved to read, but making it about a mixed race girl. The kind of girl who has been historically underrepresented in the genre but who goes through so many of the things that have seemed somewhat restricted to white characters for so long: friendship issues, family struggles, first love, future worries…all of it.
3. This is your debut novel. Is there anything you've learned along the way that you'd like to tell to aspiring writers?
Try to remember your goals as you surpass them. It can be easy to get caught up in what other people are doing or what you wish you could have, but it's important to look back and realise how far you've come. For me, wondering how this book is going to do and worrying about lists and awards and new deals, it's easy to forget that a couple of years ago the deal was the goal, and before that was wanting an agent, and way back was just about finishing a book-length thing. Don't forget to be proud of the things you've achieved even as your focus shifts.
4. Adoption and teen pregnancy are tough topics to handle, what made you want to tackle them?
Really it was about showing one girl's journey through her decision-making process and how her life impacted that decision, and vice versa. I think we sometimes think about these topics in such abstract ways, and I wanted to create a story that made it real–I do believe that we can learn so much from fiction. Audrey's story is her own and not anyone else's, but I hope that there might be one person out there who reads the book and sees how Audrey reacts to this point in her life, and finds a connection or comfort there.
5. What are you working on now? (If you can share!)
I'm working on my second book which will hopefully be out some time in 2018! I'm not sure how much I can share but I'll say it has music, complicated friendships, and sun.
Thanks so much to Rebecca for participating in this interview! Are you excited for You Don't Know Me But I Know You like I am? Let's discuss in the comments!