Hi everyone! I'm so honoured to feature Akemi Dawn Bowman and her debut novel, Starfish. I've only heard amazing things and I can't wait to read it.
About the Book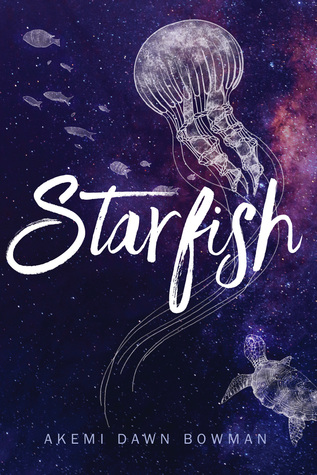 Starfish by Akemi Dawn Bowman
September 26th 2017
Kiko Himura has always had a hard time saying exactly what she's thinking. With a mother who makes her feel unremarkable and a half-Japanese heritage she doesn't quite understand, Kiko prefers to keep her head down, certain that once she makes it into her dream art school, Prism, her real life will begin.
But then Kiko doesn't get into Prism, at the same time her abusive uncle moves back in with her family. So when she receives an invitation from her childhood friend to leave her small town and tour art schools on the west coast, Kiko jumps at the opportunity in spite of the anxieties and fears that attempt to hold her back. And now that she is finally free to be her own person outside the constricting walls of her home life, Kiko learns life-changing truths about herself, her past, and how to be brave.
From debut author Akemi Dawn Bowman comes a luminous, heartbreaking story of identity, family, and the beauty that emerges when we embrace our true selves.
Interview
Use any five words to describe your novel.
Art. Identity. Family. Lost. Found.
This is your debut novel. Is there anything you've learned along the way that you'd like to tell to aspiring writers?
Just keep writing. Everyone's journey to publication is a little bit different—try not to waste time worrying over things you can't change when you could be working on your next manuscript instead. There's so much that will be out of your control—how fast agents or editors respond, whether you end up on anyone's most anticipated list, how many good reviews you get, how many people are talking about your book online—but the one thing you can control is writing the next book. So be patient, stay focused, and do what you do best—write.
What was your inspiration for Starfish?
I wanted to write the book I needed most as a teen. My hope is that Starfish will find the readers who really need it, who don't often see themselves represented on the shelves.
Your novel stars Kiko, a teen who dreams of escaping her small town and abusive household. Is there anything you'd say to teens who feel as if they're stuck in place?
Hold onto your dreams, because it does get better. You won't always feel trapped, or small, or invisible. And I'd also want to say that I see you—I get it—and that you are worthy of love.
What are you working on now? (If you can share!)
I have another YA contemporary coming out in Fall 2018. It's called Summer Bird Blue, and it's about a teen songwriter who loses her sister in a tragic accident, and is sent to Hawaii for the summer to live with her aunt after her mother struggles to take care of her. It's a story about sisters, grief, and learning to say goodbye to someone who is already gone. I probably shouldn't say too much else at this point, but I can't wait to share more soon!
Thanks again to Akemi for participating in this interview! Are you excited for Starfish? Let's chat in the comments!