Welcome to another week of anticipated releases! Octavia's pick this week is definitely something that we're both anticipating but I had to choose another novel as well since there are so many great novels releasing soon!
Octavia's Pick
Mask of Shadows by Linsey Miller
Release Date: September 5th 2017
Perfect for fantasy fans of Sarah J. Maas and Leigh Bardugo, the first book in this new duology features a compelling gender fluid main character, impressive worldbuilding, and fast-paced action.
Sallot Leon is a thief, and a good one at that. But gender fluid Sal wants nothing more than to escape the drudgery of life as a highway robber and get closer to the upper-class―and the nobles who destroyed their home.
When Sal steals a flyer for an audition to become a member of The Left Hand―the Queen's personal assassins, named after the rings she wears―Sal jumps at the chance to infiltrate the court and get revenge.
But the audition is a fight to the death filled with clever circus acrobats, lethal apothecaries, and vicious ex-soldiers. A childhood as a common criminal hardly prepared Sal for the trials. And as Sal succeeds in the competition, and wins the heart of Elise, an intriguing scribe at court, they start to dream of a new life and a different future, but one that Sal can have only if they survive.
Shelly's Pick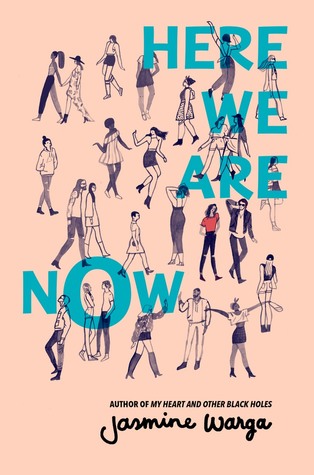 Here We Are Now by Jasmine Warga
Release Date: November 7th 2017
Despite sending him letters ever since she was thirteen, Taliah Abdallat never thought she'd ever really meet Julian Oliver. But one day, while her mother is out of the country, the famed rock star from Staring Into the Abyss shows up on her doorstep. This makes sense – kinda – because Julian Oliver is Taliah's father, even though her mother would never admit it to her.
Julian asks if Taliah if she will drop everything and go with him to his hometown of Oak Falls, Indiana, to meet his father – her grandfather – who is nearing the end of his life. Taliah, torn between betraying her mother's trust and meeting the family she has never known, goes.
With her best friend Harlow by her side, Taliah embarks on a three-day journey to find out everything about her 'father' and her family. But Julian isn't the father Taliah always hoped for, and revelations about her mother's past are seriously shaking her foundation. Through all these new experiences, Taliah will have to find new ways to be true to herself, honoring her past and her future.