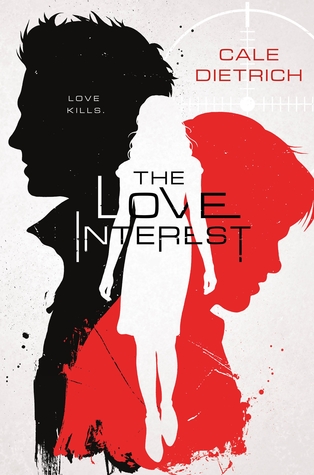 The Love Interest
by Cale Dietrich

Published by
Feiwel & Friends
on May 16th 2017

Genres: Contemporary, LGBTQIA

Pages: 384

Goodreads
---
There is a secret organization that cultivates teenage spies. The agents are called Love Interests because getting close to people destined for great power means getting valuable secrets.
Caden is a Nice: The boy next door, sculpted to physical perfection. Dylan is a Bad: The brooding, dark-souled guy, and dangerously handsome. The girl they are competing for is important to the organization, and each boy will pursue her. Will she choose a Nice or the Bad?
Both Caden and Dylan are living in the outside world for the first time. They are well-trained and at the top of their games. They have to be – whoever the girl doesn't choose will die.
What the boys don't expect are feelings that are outside of their training. Feelings that could kill them both.
I received a copy of this novel for review, this does not influence my thoughts or the contents of this review.
When I first read the deal announcement for The Love Interest, I knew I had to read it. Not only is it a gay romance, it totally confronts common YA tropes and flips them on its head.
In a secret facility where teens are trained to be romantic partners for promising individuals, Caden is trained to be Nice. And his first assignment means he'll have to be the 'boy next door' in order to win over his organization's target. Dylan, however, is training to be Bad. He has to play the 'bad boy' in order to win over the same target. Whichever person isn't chosen by the target gets killed. In this high-stakes situation, Caden and Dylan need to make sure they are both focused on the girl. However, they find themselves falling for each other. The Love Interest is a debut novel that confronts common tropes in YA novels and flips them on their head.
The main character in this novel was Caden, and I felt that his voice was really strong. His main source of angst came from the fact that he felt unworthy of being Nice, and that he felt that he wouldn't be able to complete his mission. Of course, that only gets more complicated when he falls for Dylan. I loved the dynamic between the two and found it adorable.
I loved how the novel challenged YA tropes throughout and I found it delightful. Whenever there was a reference that I recognized, I slowly cackled to myself. There were also some meta moments in the novel which I enjoyed immensely. The plot was very fast-paced and the first half of the novel was definitely strong. The second half of the novel was not as strong, plot-wise, but it was still entertaining and the twists shocked me enough to make enjoy the novel overall.
The only thing that I wasn't as pleased about was Dylan's bisexual representation. It felt really lackluster and not as developed as it should've been. I think that there could've been more nuance to his sexuality that wasn't explored.
Overall, The Love Interest is a solid debut novel that I highly recommend for people looking for an entertaining thriller that confronts YA tropes in a smart way.
Related Posts