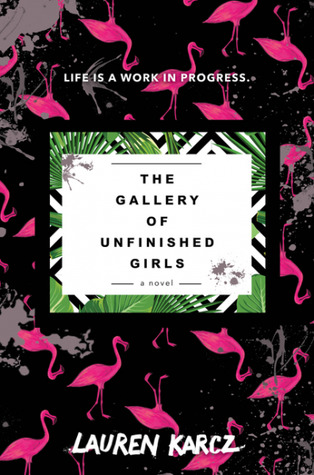 The Gallery of Unfinished Girls
by Lauren Karcz

Published by
HarperTeen
on July 25th 2017

Genres: Contemporary, Magic Realism, LGBTQIA, Young Adult, YA

Pages: 352

Goodreads
---
Mercedes Moreno is an artist. At least, she thinks she could be, even though she hasn't been able to paint anything worthwhile since her award-winning piece Food Poisoning #1 last year.
Her lack of inspiration might be because her abuela is lying comatose in faraway Puerto Rico after suffering a stroke. Or the fact that Mercedes is in love with her best friend, Victoria, but is too afraid to admit her true feelings.
Despite Mercedes's creative block, art starts to show up in unexpected ways. A piano appears on her front lawn one morning, and a mysterious new neighbor invites Mercedes to paint with her at the Red Mangrove Estate.
At the Estate, Mercedes can create in ways she never has before. She can share her deepest secrets and feel safe. But Mercedes can't take anything out of the Estate, including her new-found clarity. As her life continues to crumble around her, the Estate offers more solace than she could hope for. But Mercedes can't live both lives forever, and ultimately she must choose between this perfect world of art and truth and a much messier reality.
I received a copy of this novel for review from the publisher. This does not influence my thoughts on the book or this review.
I'm always on the lookout for debut YA novels and when I heard about the premise for The Gallery of Unfinished Girls, I knew I had to read it. I'm so happy to report that this one did not disappoint at all.
Mercedes is an artist, or at least she's pretty sure she is since she won an art contest last year. But it's hard to find inspiration for the follow up to Food Poisoning #1. When her mom leaves for Puerto Rico to visit her ailing grandmother, the arrival of a new neighbour (who also happens to be an artist) is the perfect distraction. When Mercedes starts working in her neighbour's new studio called The Estate, she finds more inspiration than before. But The Estate itself isn't all it seems, and Mercedes is torn about the lines between art and reality.
The Gallery of Unfinished Girls is one of the most gorgeously written books I've ever read. Mercedes' voice was so present and clear and it was just utterly lovely to read from her POV. The plot was just beautiful and I really enjoyed it.
If you're looking for a book with more of a romance focus, you will be left a little disappointed but don't let that deter you from picking this one up. The writing, characters, and plot will make you follow in love with this novel.
Overall, The Gallery of Unfinished Girls was a lovely debut novel that I loved. I highly recommend it.
Related Posts