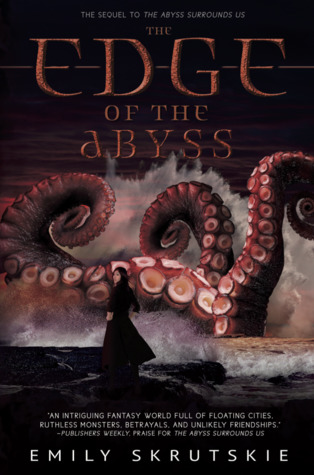 The Edge of the Abyss
by Emily Strutskie

Series:
The Abyss Surrounds Us #2
Published by
Flux
on April 18th 2017

Genres: Fantasy, LGBTQIA

Pages: 320

Goodreads
---
Three weeks have passed since Cassandra Leung pledged her allegiance to the ruthless pirate-queen Santa Elena and set free Bao, the sea monster Reckoner she'd been forced to train. The days as a pirate trainee are long and grueling, but it's not the physical pain that Cas dreads most. It's being forced to work with Swift, the pirate girl who broke her heart.
But Cas has even bigger problems when she discovers that Bao is not the only monster swimming free. Other Reckoners illegally sold to pirates have escaped their captors and are taking the NeoPacific by storm, attacking ships at random and ruining the ocean ecosystem. As a Reckoner trainer, Cas might be the only one who can stop them. But how can she take up arms against creatures she used to care for and protect?
Will Cas embrace the murky morals that life as a pirate brings or perish in the dark waters of the NeoPacific?
I received a copy of this book for review from the publisher, this does not influence my thoughts or the content of this review.
After the end of The Abyss Surrounds Us, I knew I had to read the sequel immediately. Luckily for me, The Edge of the Abyss started off right where the last novel ended and I loved being back in Cas's world again.
This review will be short and sweet because I don't want to spoil the plot for those who haven't read the first book, but if you're a fan of Pacific Rim and pirates, you'll definitely love this fantastic duology.
The stakes in The Edge of the Abyss are higher, and the relationships between characters are getting more and more complicated. The Edge of the Abyss was an intense sequel, and definitely was a perfect end to one of my favourite duologies. If you loved the first book, you're in for a phenomenal sequel. And if you haven't read this series yet, you need to read it!
Related Posts