Hello everyone! I'm so happy to feature Saints and Misfits today on the blog. It was one of my most anticipated reads of the year and I'm so happy to report that it did not disappoint at all.
In addition to a glowing review, I'm also thrilled to share a Q&A with the author below as well!
About the Book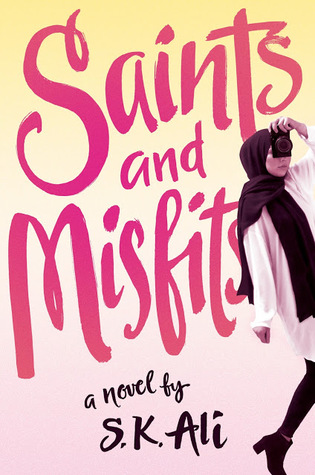 Saints and Misfits by S.K. Ali
Release Date: June 13th 2017
Publisher: Salaam Reads/Simon & Schuster Books for Young Readers
Saints and Misfits is an unforgettable debut novel that feels like a modern day My So-Called Life…starring a Muslim teen.
How much can you tell about a person just by looking at them?
Janna Yusuf knows a lot of people can't figure out what to make of her…an Arab Indian-American hijabi teenager who is a Flannery O'Connor obsessed book nerd, aspiring photographer, and sometime graphic novelist is not exactly easy to put into a box.
And Janna suddenly finds herself caring what people think. Or at least what a certain boy named Jeremy thinks. Not that she would ever date him—Muslim girls don't date. Or they shouldn't date. Or won't? Janna is still working all this out.
While her heart might be leading her in one direction, her mind is spinning in others. She is trying to decide what kind of person she wants to be, and what it means to be a saint, a misfit, or a monster. Except she knows a monster…one who happens to be parading around as a saint…Will she be the one to call him out on it? What will people in her tightknit Muslim community think of her then?
---
Review
I've heard so many great things about Saints & Misfits and I loved everything else that Salaam Reads has published so far so I knew I was in for a fantastic novel. And oh gosh, I was not wrong.
Janna Yusuf is many things: a photographer, a Flannery O'Connor obsessed book nerd, a sometimes graphic novelist and a girl with a crush.
As she struggles to work out how her crush on Jeremy makes her look to some people in her life, she also has to deal with the memory of a monster attacking her. A monster who everyone in her mosque thinks is a saint. Saints & Misfits is about Janna's journey as she ends her sophomore year of high school, and how she attempts to figure out who she is and how she fits in the world around her.
I loved reading about Janna, and I found myself wanting to go into the book many times to hug her, and to punch all of the villains. Janna's journey to tell the truth about what happened to her was definitely empowering, and it felt very realistic. Janna was worried that people wouldn't believe her, because the person who assaulted her is considered a hero, and it's a story that would definitely resonate with many people.
Janna's voice was also so strong, and Ali is clearly a great writer. I can't wait to see more from the author and I can't wait to give this book to so many people.
If you're a fan of contemporary YA with a strong voice and characters worth rooting for, I highly recommend Saints & Misfits.
Author Q&A
Describe Saints & Misfits using any 5 words.
Light, dark, funny, with heartfelt truths.
Community seems to be a big theme in Saints & Misfits, how does Janna's community impact her story/journey?
Janna moves in various communities, including her neighborhood, school, and mosque. And these communities are woven in the story to become a scaffold for her without her realizing it. In her moment of truth, she needs support and all along, it's been there. So part of her journey in finding her voice to speak up about her assault is opening her eyes to see the people who've been there for her in some capacity. So she's able to come forward because there's that potential that her scaffold will prop her if she needs it or even catch her if that's what she needs. But in the end, just knowing this makes her brave enough to stand on her own.
If you could talk to Janna (or teens like Janna), what would you say to her? 
I would say there's always someone who can help you. And that in the midst of pain it's hard to see this. But when the little moments come where you feel like reaching out, do so. It could be to a person you connected to on some level or it could be with a help line. Feeling less alone is essential. And you are not alone.
Saints & Misfits is your debut novel, is there anything you've learned along the way that you'd want to tell people hoping to get their writing published?
I want to share my literary agent's advice: you know that voice that creeps in to tell you your writing sucks from time to time? Give that voice a name (mine is called Waverly) and tell him/her to get lost when he/she shows up! The only voices you should pay attention to is that of your critique partners, beta readers and later, literary agent and editors. Write free. Then rein it in as you need to.
What are you working on now? (If you can share!)
I'm working on YA contemporary novel featuring Muslim love. I'm totally excited about it because it's diverse, set abroad and fun. I can't wait to share it!
Thank so much to S.K. for doing the interview and for Simon & Schuster Canada for facilitating the blog tour! Have you read Saints & Misfits yet? Are you excited to pick it up? Let's chat in the comments!