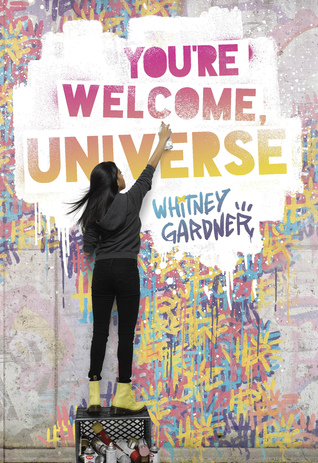 You're Welcome, Universe
Published by
Knopf
on March 7 2017

Genres: Contemporary, Young Adult, YA

Pages: 304

Goodreads
---
A vibrant, edgy, fresh new YA voice for fans of More Happy Than Not and Simon vs. the Homo Sapiens Agenda, packed with interior graffiti.
When Julia finds a slur about her best friend scrawled across the back of the Kingston School for the Deaf, she covers it up with a beautiful (albeit illegal) graffiti mural.
Her supposed best friend snitches, the principal expels her, and her two mothers set Julia up with a one-way ticket to a "mainstream" school in the suburbs, where she's treated like an outcast as the only deaf student. The last thing she has left is her art, and not even Banksy himself could convince her to give that up.
Out in the 'burbs, Julia paints anywhere she can, eager to claim some turf of her own. But Julia soon learns that she might not be the only vandal in town. Someone is adding to her tags, making them better, showing off—and showing Julia up in the process. She expected her art might get painted over by cops. But she never imagined getting dragged into a full-blown graffiti war.
Told with wit and grit by debut author Whitney Gardner, who also provides gorgeous interior illustrations of Julia's graffiti tags, You're Welcome, Universe introduces audiences to a one-of-a-kind protagonist who is unabashedly herself no matter what life throws in her way.
I received a copy of this book for review from the publisher, this does not influence my thoughts or my review.
(Header image credits to Whitney Gardner, found here)
I've read a lot of contemporary novels, but nothing quite like You're Welcome, Universe and I mean that in the best way.
Julia is a street artist, and she uses her talents to cover up a slur written about her best friend at her school, the Kingston School for the Deaf, but in the process she ends up expelled. Now shipped off to school in suburbia, Julia tries to make the best of things. Unintentionally, she enters a graffiti war with an artist she can't identify and in the process, questions friendship and what art really means to her. You're Welcome, Universe is a phenomenal debut novel that I highly recommend.
I loved the characters, they were all unique and well-written. I loved the family dynamics between Julia and her mothers, as a lot of YA novels seem to have characters with a lack of parental role models. I also loved all of Julia's friends and the way in which Julia approached the world. I know this doesn't give a lot of descriptions but Julia was just a refreshing character to read about, an had a unique perspective we often don't read about.
The plot itself was also unique, as I wasn't quite sure where it could go. The mystery about the identity of the rival graffiti artist was definitely unexpected, and I wasn't able to guess their identity. There's also artwork interspersed throughout the book and it really added another layer to the story (and makes me excited for all of Gardner's future graphic novels!).
Overall, You're Welcome, Universe is a refreshing contemporary novel with a unique plot and characters that you can easily root for. I can't wait to read more of Gardner's future work.
Related Posts