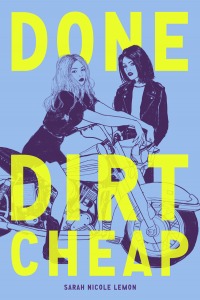 Done Dirt Cheap
by Sarah Nicole Lemon

Published by
Amulet Books
on March 7th 2017

Genres: Contemporary, Young Adult, YA

Pages: 336

Goodreads
---
Tourmaline Harris's life hit pause at fifteen, when her mom went to prison because of Tourmaline's unintentionally damning testimony. But at eighteen, her home life is stable, and she has a strong relationship with her father, the president of a local biker club known as the Wardens.
Virginia Campbell's life hit fast-forward at fifteen, when her mom "sold" her into the services of a local lawyer: a man for whom the law is merely a suggestion. When Hazard sets his sights on dismantling the Wardens, he sends in Virginia, who has every intention of selling out the club—and Tourmaline.
But the two girls are stronger than the circumstances that brought them together, and their resilience defines the friendship at the heart of this powerful debut novel.
I received a copy of this book for review from the publisher, this does not influence my thoughts or this review.
Not only does Done Dirt Cheap have one of the most unique book covers I've ever seen, the phenomenal writing alone makes it a novel worth picking up.
Tourmaline has an unconventional home life, her father is the president of the Wardens, a local biker club and her mother is currently in prison, and Tourmaline blames herself. Virginia, on the other hand, is indebted to Hazard, a lawyer who goes outside the law to make a small fortune. Virginia's assignment is to investigate the Wardens for Hazard. As Tourmaline and Virginia's lives get increasingly tangled, their outside circumstances seem to not matter as much as their friendship. This powerful debut novel is a true masterpiece.
I really loved the friendship between Tourmaline and Virginia. While the novel did not start out with their friendship, I think seeing Tourmaline and Virginia's friendship develop really added to the novel in a unique way. The setting also played a huge role in the novel and the descriptions of it were just extraordinary. As I mentioned above, the writing is phenomenal. Despite the 3rd person POV, readers can easily relate to the main characters and picture all the settings vividly.
Overall, Done Dirt Cheap is a great novel rooted in friendship and excellent writing. I highly recommend it.
Related Posts