I've been reading a lot of contemporary  books lately and I just wanted to share some of my thoughts on the books!
Coffee Boy by Austin Chant
Add it on GoodReads
After graduation, Kieran expected to go straight into a career of flipping burgers—only to be offered the internship of his dreams at a political campaign. But the pressure of being an out trans man in the workplace quickly sucks the joy out of things, as does Seth, the humorless campaign strategist who watches his every move.
Soon, the only upside to the job is that Seth has a painful crush on their painfully straight boss, and Kieran has a front row seat to the drama. But when Seth proves to be as respectful and supportive as he is prickly, Kieran develops an awkward crush of his own—one which Seth is far too prim and proper to ever reciprocate.
My Thoughts: Coffee Boy was just adorable! Pure fluff and goodness, you need to read it.
A&B by J.C. Lillis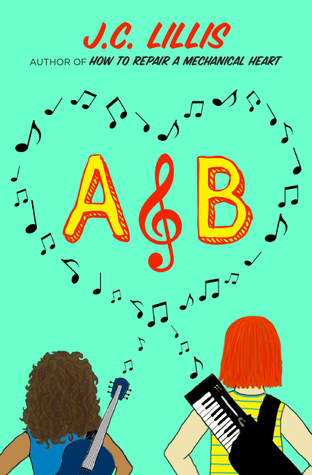 Eighteen-year-old Barrie Krumholtz is a super-tall optimist hell-bent on a single goal: securing a slot on Pop University, a reality show for singer-songwriters helmed by her #1 musical idol. When she humiliates herself on national TV and loses a spot in the finals to smug balladeer Ava Alvarez, the door to Barrie's well-hidden dark side swings open. Never a quitter, she uses her bitter envy of Ava to shape a bold new artistic direction, and people love it. But when Ava ropes her into a secret collaboration, it sparks feelings neither girl expected—feelings that might threaten their creative identities and distract them from their professional goals.
Can love and ambition live side by side? Is happiness an art-killer? They'll figure it out with the help of a blue guitar named Fernando, a keyboard named Rosalinda, and a few new friends who feel like home.
(Rated R for Rivalry, Romance, and Really Neat Subplot featuring Brandon and Abel from HOW TO REPAIR A MECHANICAL HEART.)
My Thoughts: Oh my gosh, I loved this so much. If you've read How to Repair a Mechanical Heart, Brandon and Abel appear in such an awesome way that creates an awesome subplot but doesn't distract from the main plot. Basically A&B is an adorable f/f book that I highly recommend.
Another Word for Happy by Agay Llanera
What does it take to come out of the closet?
Since he was thirteen, Caleb has always known he's gay. Now a college freshman, he falls in love for the first time. If it's true that love conquers all, then will Caleb finally find the courage to reveal his secret?
In this tale about family, friendship and self-discovery, find out how Caleb discovers the path to the freedom he's always longed for. Here's a hint: it involves doing things outside his comfort zone, such as joining a spoken word group!
My Thoughts: A friend recommended this to me and I did enjoy it, but I'm not sure that I liked the romance. That said, if you are looking for a good realistic fiction read, this is for you.
Cherry by Lindsey Rosin
Add it on GoodReads
In this honest, frank, and funny debut novel, four best friends make a pact during their senior year of high school to lose their virginities—and end up finding friendship, love, and self-discovery along the way.
To be honest, the sex pact wasn't always part of the plan.
Layla started it. She announced it super casually to the rest of the girls between bites of frozen yogurt, as if it was just simply another addition to her massive, ever-evolving To Do List. She is determined to have sex for the first time before the end of high school. Initially, the rest of the crew is scandalized, but, once they all admit to wanting to lose their v-cards too, they embark on a quest to do the deed together… separately.
Layla's got it in the bag. Her serious boyfriend, Logan, has been asking for months.
Alex has already done it. Or so she says.
Emma doesn't know what the fuss is all about, but sure, she'll give it a shot.
And Zoe, well, Zoe can't even say the o word without bursting into giggles.
Will everything go according to plan? Probably not. But at least the girls have each other every hilarious, heart-warming, cringe-inducing step of the way.
From debut author Lindsey Rosin, Cherry is a coming-of-age, laugh-out-loud tale of first times, last chances, and the enduring friendships that make it all worthwhile.
My Thoughts: as many reviewers pointed out, this is totally a sex-positive YA that is awesome. The 3rd person POV jumped around a bit too much for my taste (each POV only lasted a few pages at most) but I did enjoy Cherry overall.