Hey everyone! I've been looking over my reading list and I realized that I haven't read a lot of books with Jewish main characters (specifically ones that aren't historical fiction or about the Holocaust) so I thought a reading list was in order! I haven't seen anything similar online so here's what I've found! *clicking on the title of the book will take you to the GoodReads page, this list is organized by author last name*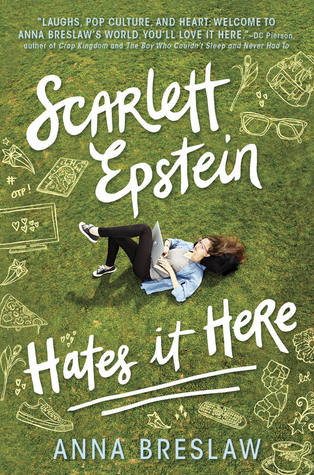 Scarlett Epstein Hates it Here by Anna Breslaw
Meet Scarlett Epstein, BNF (Big Name Fan) in her online community of fanfiction writers, world-class nobody at Melville High. Her best (read: only) IRL friends are Avery, a painfully shy and annoyingly attractive bookworm, and Ruth, her weed-smoking, possibly insane seventy-three-year-old neighbor.
When Scarlett's beloved TV show is canceled and her longtime crush, Gideon, is sucked out of her orbit and into the dark and distant world of Populars, Scarlett turns to the fanfic message boards for comfort. This time, though, her subjects aren't the swoon-worthy stars of her fave series—they're the real-life kids from her high school. And if they ever find out what Scarlett truly thinks about them, she'll be thrust into a situation far more dramatic than anything she's ever seen on TV…
Nick and Norah's Infinite Playlist by Rachel Cohn and David Levithan
The New York Times bestselling he-said/she-said rock n' roll romance that inspired the motion picture starring Michael Cera (Juno, Arrested Development) and Kat Dennings (Thor, TV's 2 Broke Girls)!
"I know this is going to sound strange, but would you mind being my girlfriend for the next five minutes?"
Nick frequents New York's indie rock scene nursing a broken heart. Norah is questioning all of her assumptions about the world. They have nothing in common except for their taste in music, until a chance encounter leads to an all-night quest to find a legendary band's secret show and ends up becoming a first date that could change both their lives.
Co-written by Rachel Cohn and David Levithan, co-author of WILL GRAYSON, WILL GRAYSON with John Green (THE FAULT IN OUR STARS), NICK & NORAH'S INFINITE PLAYLIST is a sexy, funny roller coaster of a story that reminds you how you can never be sure where the night will take you…
Playlist for the Dead by Michelle Falkoff
Here's what Sam knows: There was a party. There was a fight. The next morning, Sam's best friend, Hayden, was dead. All he left Sam was a playlist of songs—and a note, saying that he took his own life. But what Sam doesn't know is: Why?
To figure out what happened, Sam has to rely on the playlist and his own memory. But the more he listens, the more he realizes that his memory isn't as reliable as he thought. Especially when someone claiming to be Hayden starts sending him cryptic messages, and a series of violent attacks begins on the bullies who made Hayden's life hell.
Sam knows he has to face up to what happened the night Hayden killed himself. But it's only by taking out his earbuds and opening his eyes to the people around him—including an eccentric, unpredictable girl who's got secrets, too—that Sam will finally be able to piece together his best friend's story.
And maybe have a chance to change his own.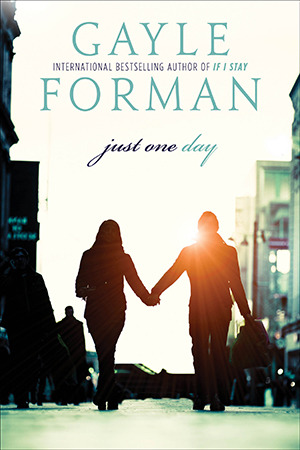 Just One Day by Gayle Forman
From the New York Times bestselling author of If I Stay
Allyson Healey's life is exactly like her suitcase—packed, planned, ordered. Then on the last day of her three-week post-graduation European tour, she meets Willem. A free-spirited, roving actor, Willem is everything she's not, and when he invites her to abandon her plans and come to Paris with him, Allyson says yes. This uncharacteristic decision leads to a day of risk and romance, liberation and intimacy: 24 hours that will transform Allyson's life.
A book about love, heartbreak, travel, identity, and the "accidents" of fate, Just One Day shows us how sometimes in order to get found, you first have to get lost. . . and how often the people we are seeking are much closer than we know.
The first in a sweepingly romantic duet of novels. Willem's story—Just One Year—is coming soon!
My Year Zero by Rachel Gold
Lauren thinks she has a pretty good life—so why is it that she feels crazy most of the time? She figures it's nothing she can't fix by getting her first girlfriend and doing better at school. But how is she ever going to find a girlfriend in Duluth, Minnesota?
When she meets a group of kids who are telling a science fiction story online and gets invited down to the Twin Cities, she gets more attention than she ever expected, from two very different girls: charming Sierra and troublesome Blake.
Blake helps Lauren understand that she's not the crazy one in her life. But Blake's attention—and insights into life and living with bipolar disorder—threaten to destroy everything Lauren has created for herself, including her relationship with Sierra.
Been Here All Along by Sandy Hall
Gideon always has a plan. His plans include running for class president, becoming head of the yearbook committee, and having his choice of colleges. They do NOT include falling head over heels for his best friend and next door neighbor, Kyle. It's a distraction. It's pointless, as Kyle is already dating the gorgeous and popular head cheerleader, Ruby. And Gideon doesn't know what to do.
Kyle finally feels like he has a handle on life. He has a wonderful girlfriend, a best friend willing to debate the finer points of Lord of the Rings, and social acceptance as captain of the basketball team. Then, both Ruby and Gideon start acting really weird, just as his spot on the team is threatened, and Kyle can't quite figure out what he did wrong…
Like No Other by Una LaMarche
Fate brought them together. Will life tear them apart? 
Devorah is a consummate good girl who has never challenged the ways of her strict Hasidic upbringing.
Jaxon is a fun-loving, book-smart nerd who has never been comfortable around girls (unless you count his four younger sisters).
They've spent their entire lives in Brooklyn, on opposite sides of the same street. Their paths never crossed . . . until one day, they did.
When a hurricane strikes the Northeast, the pair becomes stranded in an elevator together, where fate leaves them no choice but to make an otherwise risky connection.
Though their relation is strictly forbidden, Devorah and Jax arrange secret meetings and risk everything to be together. But how far can they go? Just how much are they willing to give up?
Rules for 50/50 Chances by Kate McGovern
A heartrending but ultimately uplifting debut novel about learning to accept life's uncertainties; a perfect fit for the current trend in contemporary realistic novels that confront issues about life, death, and love.
Seventeen-year-old Rose Levenson has a decision to make: Does she want to know how she's going to die? Because when Rose turns eighteen, she can take the test that tells her if she carries the genetic mutation for Huntington's disease, the degenerative condition that is slowly killing her mother.
With a fifty-fifty shot at inheriting her family's genetic curse, Rose is skeptical about pursuing anything that presumes she'll live to be a healthy adult-including her dream career in ballet and the possibility of falling in love. But when she meets a boy from a similarly flawed genetic pool and gets an audition for a dance scholarship across the country, Rose begins to question her carefully laid rules.
Gone, Gone, Gone by Hannah Moskowitz
It's a year after 9/11. Sniper shootings throughout the D.C. area have everyone on edge and trying to make sense of these random acts of violence. Meanwhile, Craig and Lio are just trying to make sense of their lives.
Craig's crushing on quiet, distant Lio, and preoccupied with what it meant when Lio kissed him…and if he'll do it again…and if kissing Lio will help him finally get over his ex-boyfriend, Cody.
Lio feels most alive when he's with Craig. He forgets about his broken family, his dead brother, and the messed up world. But being with Craig means being vulnerable…and Lio will have to decide whether love is worth the risk.
This intense, romantic novel from the author of Break and Invincible Summer is a poignant look at what it is to feel needed, connected, and alive.
Starglass by Phoebe North
Terra has never known anything but life aboard the Asherah, a city-within-a-spaceship that left Earth five hundred years ago in search of refuge. At sixteen, working a job that doesn't interest her, and living with a grieving father who only notices her when he's yelling, Terra is sure that there has to be more to life than what she's got.
But when she inadvertently witnesses the captain's guard murdering an innocent man, Terra is suddenly thrust into the dark world beneath her ship's idyllic surface. As she's drawn into a secret rebellion determined to restore power to the people, Terra discovers that her choices may determine life or death for the people she cares most about. With mere months to go before landing on the long-promised planet, Terra has to make the decision of a lifetime–one that will determine the fate of her people.
Emily Goldberg Learns to Salsa by Micol Ostow
Emily is a Jewish girl from the suburbs of New York. Her mother has family in Puerto Rico, but Emily has never had contact with them—- ever. Then Emily's grandmother dies and Emily is forced to go to the Caribbean for her funeral. Buttoned-up Emily wants nothing to do with her big, noisy Puerto Rican family, until a special person shows her that one dance can change the beat of your heart.
Underneath Everything by Marcy Beller Paul
Mattie shouldn't be at the bonfire. She should be finding new maps for her collection, hanging out with Kris, and steering clear of almost everyone else, especially Jolene. After all, Mattie and Kris dropped off the social scene the summer after sophomore year for a reason.
But now Mattie is a senior, and she's sick of missing things. So here she is.
And there's Jolene: Beautiful. Captivating. Just like the stories she wove. Mattie would know; she used to star in them. She and Jolene were best friends. Mattie has the scar on her palm to prove it, and Jolene has everything else, including Hudson.
But when Mattie runs into Hudson and gets a glimpse of what could have been, she decides to take it all back: the boyfriend, the friends, the life she was supposed to live. Problem is, Mattie can't figure out where Jolene ends and she begins.
Because there's something Mattie hasn't told anyone—she walked away from Jolene over a year ago, but she never really left.
Poignant and provocative, Marcy Beller Paul's debut novel tells the story of an intoxicating—and toxic—relationship that blurs the boundary between reality and fantasy, love and loyalty, friendship and obsession.
Isla and the Happily Ever After by Stephanie Perkins
Love ignites in the City That Never Sleeps, but can it last?
Hopeless romantic Isla has had a crush on introspective cartoonist Josh since their first year at the School of America in Paris. And after a chance encounter in Manhattan over the summer, romance might be closer than Isla imagined. But as they begin their senior year back in France, Isla and Josh are forced to confront the challenges every young couple must face, including family drama, uncertainty about their college futures, and the very real possibility of being apart.
Featuring cameos from fan-favorites Anna, Étienne, Lola, and Cricket, this sweet and sexy story of true love—set against the stunning backdrops of New York City, Paris, and Barcelona—is a swoonworthy conclusion to Stephanie Perkins's beloved series.
Kissing in America by Margo Rabb
n the two years since her father died, sixteen-year-old Eva has found comfort in reading romance novels—118 of them, to be exact—to dull the pain of her loss that's still so present. Her romantic fantasies become a reality when she meets Will, who seems to truly understand Eva's grief. Unfortunately, after Eva falls head-over-heels for him, he picks up and moves to California without any warning. Not wanting to lose the only person who has been able to pull her out of sadness—and, perhaps, her shot at real love—Eva and her best friend, Annie, concoct a plan to travel to the west coast to see Will again. As they road trip across America, Eva and Annie confront the complex truth about love.
In this honest and emotional journey that National Book Award finalist Sara Zarr calls "gorgeous, funny, and joyous," readers will experience the highs of infatuation and the lows of heartache as Eva contends with love in all of its forms.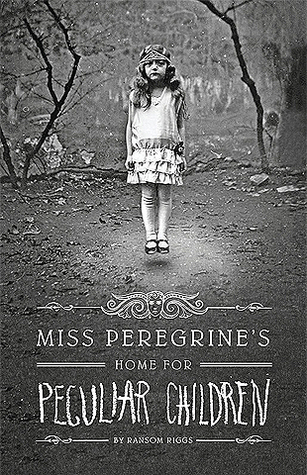 Miss Peregrine's Home for Peculiar Children by Ransom Riggs
A mysterious island. An abandoned orphanage. A strange collection of curious photographs.
A horrific family tragedy sets sixteen-year-old Jacob journeying to a remote island off the coast of Wales, where he discovers the crumbling ruins of Miss Peregrine's Home for Peculiar Children. As Jacob explores its abandoned bedrooms and hallways, it becomes clear that the children were more than just peculiar. They may have been dangerous. They may have been quarantined on a deserted island for good reason. And somehow—impossible though it seems—they may still be alive.
A spine-tingling fantasy illustrated with haunting vintage photography, Miss Peregrine's Home for Peculiar Children will delight adults, teens, and anyone who relishes an adventure in the shadows.
Playing with Matches by Suri Rosen
A cross between Jane Austen's Emma, Dear Abby, and Yenta the matchmaker!
When 16-year-old Raina Resnick is expelled from her Manhattan private school, she's sent to live with her strict aunt-but Raina feels like she's persona non grata no matter where she goes. Her sister, Leah, blames her for her broken engagement, and she's a social pariah at her new school. In the tight-knit Jewish community, Raina finds she is good at one thing: matchmaking! As the anonymous "MatchMaven," Raina sets up hopeless singles desperate to find the One.
Can she find the perfect match for her sister and get back on her good side, or will her secret life catch up with her?
In this debut novel, Suri Rosen creates a comic and heartwarming story of one girl trying to find happiness for others, and redemption for herself.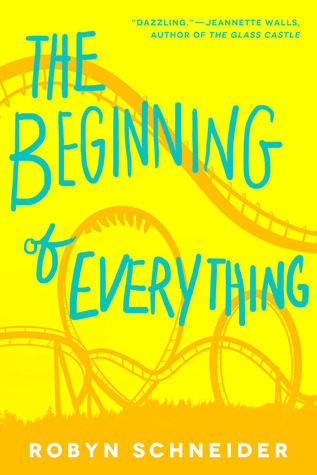 The Beginning of Everything by Robyn Schneider
Golden boy Ezra Faulkner believes everyone has a tragedy waiting for them—a single encounter after which everything that really matters will happen. His particular tragedy waited until he was primed to lose it all: in one spectacular night, a reckless driver shatters Ezra's knee, his athletic career, and his social life.
No longer a front-runner for Homecoming King, Ezra finds himself at the table of misfits, where he encounters new girl Cassidy Thorpe. Cassidy is unlike anyone Ezra's ever met, achingly effortless, fiercely intelligent, and determined to bring Ezra along on her endless adventures.
But as Ezra dives into his new studies, new friendships, and new love, he learns that some people, like books, are easy to misread. And now he must consider: if one's singular tragedy has already hit and everything after it has mattered quite a bit, what happens when more misfortune strikes?
Robyn Schneider's The Beginning of Everything is a lyrical, witty, and heart-wrenching novel about how difficult it is to play the part that people expect, and how new beginnings can stem from abrupt and tragic endings.
Bonus: Jewish Side Characters!
Simon vs. the Homo Sapiens Agenda by Becky Albertalli
Sixteen-year-old and not-so-openly gay Simon Spier prefers to save his drama for the school musical. But when an email falls into the wrong hands, his secret is at risk of being thrust into the spotlight. Now Simon is actually being blackmailed: if he doesn't play wingman for class clown Martin, his sexual identity will become everyone's business. Worse, the privacy of Blue, the pen name of the boy he's been emailing, will be compromised.
With some messy dynamics emerging in his once tight-knit group of friends, and his email correspondence with Blue growing more flirtatious every day, Simon's junior year has suddenly gotten all kinds of complicated. Now, change-averse Simon has to find a way to step out of his comfort zone before he's pushed out—without alienating his friends, compromising himself, or fumbling a shot at happiness with the most confusing, adorable guy he's never met.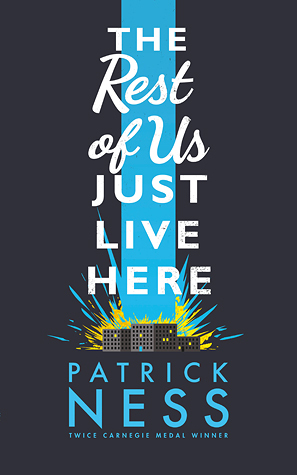 The Rest of Us Just Live Here by Patrick Ness
What if you aren't the Chosen One?
The one who's supposed to fight the zombies, or the soul-eating ghosts, or whatever the heck this new thing is, with the blue lights and the death?
What if you're like Mikey? Who just wants to graduate and go to prom and maybe finally work up the courage to ask Henna out before someone goes and blows up the high school. Again.
Because sometimes there are problems bigger than this week's end of the world, and sometimes you just have to find the extraordinary in your ordinary life.
Even if your best friend is worshipped by mountain lions.
Award-winning writer Patrick Ness's bold and irreverent novel powerfully reminds us that there are many different types of remarkable.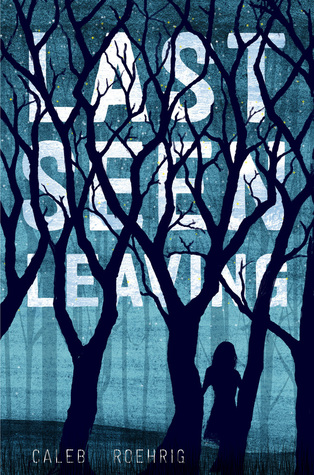 Last Seen Leaving by Caleb Roehrig
Flynn's girlfriend has disappeared. How can he uncover her secrets without revealing his own?
Flynn's girlfriend, January, is missing. The cops are asking questions he can't answer, and her friends are telling stories that don't add up. All eyes are on Flynn—as January's boyfriend, he must know something.
But Flynn has a secret of his own. And as he struggles to uncover the truth about January's disappearance, he must also face the truth about himself.
If you have any suggestions/know any more books that fit the bill, please comment them below or tweet me @shellysrambles!