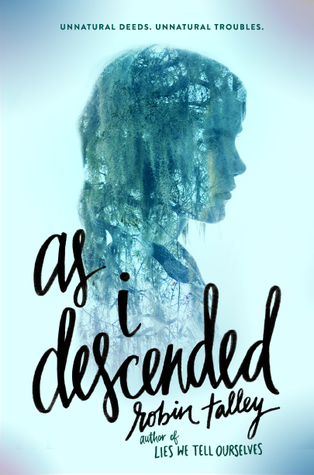 As I Descended
by Robin Talley

Published by
HarperTeen
on September 6th 2016

Genres: Paranormal, Retelling, Young Adult, LGBTQIA

Pages: 384

Goodreads
---
Maria Lyon and Lily Boiten are their school's ultimate power couple—even if no one knows it but them.
Only one thing stands between them and their perfect future: campus superstar Delilah Dufrey.
Golden child Delilah is a legend at the exclusive Acheron Academy, and the presumptive winner of the distinguished Cawdor Kingsley Prize. She runs the school, and if she chose, she could blow up Maria and Lily's whole world with a pointed look, or a carefully placed word.
But what Delilah doesn't know is that Lily and Maria are willing to do anything—absolutely anything—to make their dreams come true. And the first step is unseating Delilah for the Kingsley Prize. The full scholarship, awarded to Maria, will lock in her attendance at Stanford―and four more years in a shared dorm room with Lily.
Maria and Lily will stop at nothing to ensure their victory—including harnessing the dark power long rumored to be present on the former plantation that houses their school.
But when feuds turn to fatalities, and madness begins to blur the distinction between what's real and what is imagined, the girls must decide where they draw the line.
From acclaimed author Robin Talley comes a Shakespeare-inspired story of revenge and redemption, where fair is foul, and foul is fair.
I received a copy of this novel for review from the publisher, this does not influence my thoughts on the book or this review.
When I heard Talley was releasing a lesbian Macbeth retelling, I knew I had to read it. As I Descended was a great novel that I couldn't put down.
Maria and Lily are the school's power couple, in secret. Lily wants to keep their relationship a secret until they go to university together but to do so, Maria needs to win the Cawdor Kingsley Prize, an award that would give her a full ride to the college of her choice. The only thing standing in their way is Delilah, the school queen bee who could ruin your reputation with a single sentence. T0 get their way, the girls turn to the spirits that haunt the school. But when it looks like the spirits aren't as controllable as they thought, they must decide how far they're willing to go to get what they want.
While As I Descended is a Macbeth retelling, those who aren't that familiar with the plot line will still enjoy it. It's thrilling, with so many characters you can root for and a creepy magic realism twist that will give you chills. The plot was so engaging and I couldn't put down the book. The characters were all amazing, Maria and Lily were really great and I also loved Brandon and the other supporting characters. Every character was fleshed out and real.
Overall, As I Descended is a wonderful novel that I highly recommend to those looking for a novel that is both thoughtful and creepy.
Related Posts