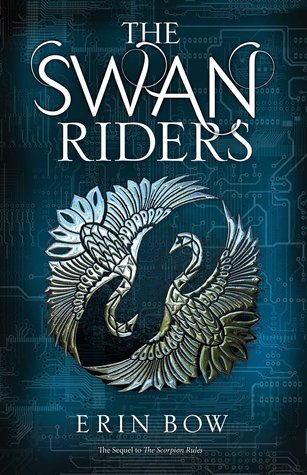 The Swan Riders
by Erin Bow

Series:
Prisoners of Peace #2
Published by
Margaret K. McElderry
on September 20th 2016

Genres: Sci-Fi, Young Adult, YA

Pages: 384

Goodreads
---
Greta Stuart had always known her future: die young. She was her country's crown princess, and also its hostage, destined to be the first casualty in an inevitable war. But when the war came it broke all the rules, and Greta forged a different path.
She is no longer princess. No longer hostage. No longer human. Greta Stuart has become an AI.
If she can survive the transition, Greta will earn a place alongside Talis, the AI who rules the world. Talis is a big believer in peace through superior firepower. But some problems are too personal to obliterate from orbit, and for those there are the Swan Riders: a small band of humans who serve the AIs as part army, part cult.
Now two of the Swan Riders are escorting Talis and Greta across post-apocalyptic Saskatchewan. But Greta's fate has stirred her nation into open rebellion, and the dry grassland may hide insurgents who want to rescue her – or see her killed. Including Elian, the boy she saved—the boy who wants to change the world, with a knife if necessary. Even the infinitely loyal Swan Riders may not be everything they seem.
Greta's fate—and the fate of her world—are balanced on the edge of a knife in this smart, sly, electrifying adventure.
I received an early copy of this novel from the publisher for review, this does not influence my thoughts on the book or this review.
The Scorpion Rules was one of my favourite novels of last year so when I found out that it was part of a duology, I knew I had to read it. I was not disappointed by The Swan Riders and I now find myself wishing this series was a trilogy!
The Swan Riders takes place almost immediately after the events within The Scorpion Rules (making for the perfect binge-reading weekend). I don't want to spoil this one for readers who haven't read The Scorpion Rules yet but basically, we follow Greta again on her adventures to make sense of herself and her world.
In The Swan Riders, readers are introduced to some new characters (my favourite being Francis Xavier) as well as seeing some old familiar faces. I adored all of the characters and I was just thrilled to see the characterization handled brilliantly again. I also loved the plot, as it was fast-paced and full of twists. I definitely think this one was a bit more thrilling than The Scorpion Rules.
The plot was great as always. I'm not a big reader of sci-fi but this duology is one that I consistently love. I loved learning more about Talis, the AI, and the person he used to be before. The political intrigue/discourse isn't as strong in this one, but I still really enjoyed the novel.
In terms of the romance, there is more/less of a continuation from the first book in the series. I don't want to spoil too much but I definitely think there is some OT3 potential which I think would make for a great conversation (if you aren't sure what that means, here's a definition).
Overall, The Swan Riders definitely surpassed my expectations and was a wonderful sequel to The Scorpion Rules. I highly recommend it for those who enjoyed the first book and I recommend the series to readers looking for a thrilling and thoughtful sci-fi series.
Related Posts