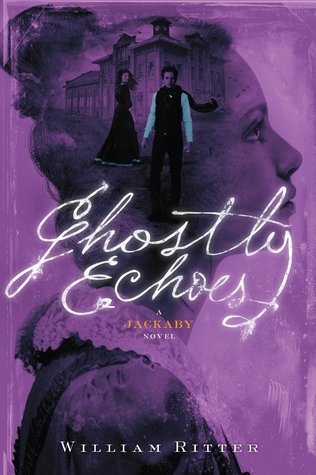 Ghostly Echoes
by William Ritter

Series:
Jackaby #3
Published by
Algonquin
on August 23rd 2016

Genres: Mystery, Fantasy, Young Adult, YA

Pages: 352

Goodreads
---
Jenny Cavanaugh, the ghostly lady of 926 Augur Lane, has enlisted the investigative services of her fellow residents to solve a decade-old murder—her own. Abigail Rook and her eccentric employer, Detective R. F. Jackaby, dive into the cold case, starting with a search for Jenny's fiancé, who went missing the night she died. But when a new, gruesome murder closely mirrors the events of ten years prior, Abigail and Jackaby realize that Jenny's case isn't so cold after all, and her killer may be far more dangerous than they suspected.
Fantasy and folklore mix with mad science as Abigail's race to unravel the mystery leads her across the cold cobblestones of nineteenth-century New England, down to the mythical underworld, and deep into her colleagues' grim histories to battle the most deadly foe she has ever faced.
This book was provided for review from the publisher, this does not influence my thoughts on the book or this review. 
I've loved the Jackaby series since the very beginning, and I'm thrilled to say that the 3rd installment in this series is just as wonderful!
It was just lovely to see the cast again. The events of Ghostly Echoes don't take place immediately after the events of Beastly Bones but all the same wonderful characters are present. I like that in this installment, readers learn more about Jackaby as well as more about the side characters. The main POV is still through Abigail Rook, recounting the adventures of her employment.
Like the previous books, Ghostly Echoes is fast-paced and thrilling, with an engaging new mystery. I liked this mystery (perhaps) more so than the last one, as it took place right in New Fiddleham and struck a more personal level with the characters. I also loved that this installment felt more inclusive, with the appearance of several new characters including a trans woman (it's so rare to see diverse character in historical fiction YA which is a shame. I was so ecstatic about this new character, I nearly shouted).
Overall, Ghostly Echoes is another great installment in an already wonderful series. I recommend this series to fans of Doctor Who and Sherlock or just those looking for a new mystery.
Related Posts