I love reading middle grade but I feel like it doesn't get enough love on the blog from me. So here are four awesome middle-grade novels I've read this past month that you should definitely add to your TBR. 
My Seventh-Grade Life in Tights by Brooks Benjamin
Released April 12th 2016 from Delacorte
5/5 Stars
LIVE IT.

All Dillon wants is to be a real dancer. And if he wins a summer scholarship at Dance-Splosion, he's on his way. The problem? His dad wants him to play football. And Dillon's freestyle crew, the Dizzee Freekz, says that dance studios are for sellouts. His friends want Dillon to kill it at the audition—so he can turn around and tell the studio just how wrong their rules and creativity-strangling ways are.

WORK IT.

At first, Dillon's willing to go along with his crew's plan, even convincing one of the snobbiest girls at school to work with him on his technique. But as Dillon's dancing improves, he wonders: what if studios aren't the enemy? And what if he actually has a shot at winning the scholarship?

BRING IT.

Dillon's life is about to get crazy . . . on and off the dance floor.
Thoughts: I was a bit nervous to read Brooks' debut because I know literally nothing about dance (nor karate) but I really enjoyed My Seventh-Grade Life in Tights. It was a delight to read from Dillon's POV and to see a theme that I think all readers can relate to; do you follow the opinion's of your friends or hope to make your own path? This debut novel was wonderful and I highly recommend it to every reader.
Lily and Dunkin by Donna Gephart
Released May 3rd 2016 from Delacorte
4.5/5 Stars
Author Donna Gephart crafts a dual narrative about two remarkable young people: Lily, a transgender girl, and Dunkin, a boy dealing with bipolar disorder.

Sometimes our hearts see things our eyes can't.

Lily Jo McGrother, born Timothy McGrother, is a girl. But being a girl is not so easy when you look like a boy. Especially when you're in the eighth grade.

Dunkin Dorfman, birth name Norbert Dorfman, is dealing with bipolar disorder and has just moved from the New Jersey town he's called home for the past thirteen years. This would be hard enough, but the fact that he is also hiding from a painful secret makes it even worse.

One summer morning, Lily Jo McGrother meets Dunkin Dorfman, and their lives forever change.
Thoughts: I thought Lily and Dunkin was another important novel that definitely needs to be in every library. Lily is a character that I think trans kids definitely could relate to, she wants to be herself but only one of her parents is understanding. Dunkin's part of the novel is also important, as he has a bipolar disorder . I thought Lily and Dunkin was well-researched, well-written and just a great book.
Unidentified Suburban Object by Mike Jung
Released April 26th 2016 from Arthur A. Levine Books
5/5 Stars
The next person who compares Chloe Cho with famous violinist Abigail Yang is going to HEAR it. Chloe has just about had it with people not knowing the difference between someone who's Chinese, Japanese, or Korean. She's had it with people thinking that everything she does well — getting good grades, winning first chair in the orchestra, etCETera — are because she's ASIAN.

Of course, her own parents don't want to have anything to DO with their Korean background. Any time Chloe asks them a question they change the subject. They seem perfectly happy to be the only Asian family in town. It's only when Chloe's with her best friend, Shelly, that she doesn't feel like a total alien.

Then a new teacher comes to town: Ms. Lee. She's Korean American, and for the first time Chloe has a person to talk to who seems to understand completely. For Ms. Lee's class, Chloe finally gets to explore her family history. But what she unearths is light-years away from what she expected.
Thoughts: I've heard so many great things about this one so I knew I had to read it for myself and wow, it did not disappoint. Not only does this novel have an awesome fast-pace, Chloe's voice was so strong and I am now dying to read Jung's next work. And if you like fun (but unexpected) twists, I seriously recommend Unidentified Suburban Object.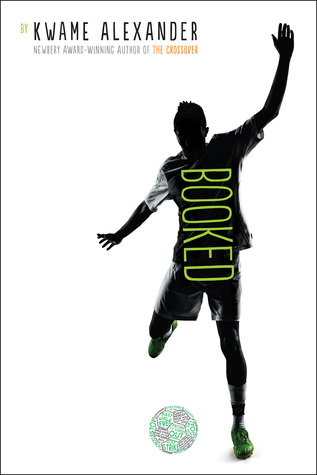 Booked by Kwame Alexander
Released April 5th from HMH Books for Young Readers
5/5 Stars
like lightning/you strike/fast and free/legs zoom/down field/eyes fixed/on the checkered ball/on the goal/ten yards to go/can't nobody stop you/
can't nobody cop you…
In this follow-up to the Newbery-winning novel THE CROSSOVER,  soccer, family, love, and friendship, take center stage as twelve-year-old Nick learns the power of words as he wrestles with problems at home, stands up to a bully, and tries to impress the girl of his dreams. Helping him along are his best friend and sometimes teammate Coby, and The Mac, a rapping librarian who gives Nick inspiring books to read.
This electric and heartfelt novel-in-verse by poet Kwame Alexander bends and breaks as it captures all the thrills and setbacks, action and emotion of a World Cup match!
Thoughts: I've been waiting for a follow-up to The Crossover for a while now and I'm glad to have finally read the companion novel! And yes, Booked is another great verse-novel. I recommend this book (and Alexander's The Crossover) for seriously every reader.
Have you read any of these middle grade books? What are some middle grade books I should read next? Let's chat in the comments!