April is upon us which means we're almost done with winter and one step closer to BEA! This month's RWR features more diversity in my potential TBR and I am so excited!!!
---
Red: The True Story of Red Riding Hood by Liesl Shurtliff
To Be Published April 12th by Knopf Books for Young Readers
Red is not afraid of the big bad wolf. She's not afraid of anything . . . except magic.
But when Red's granny falls ill, it seems that only magic can save her, and fearless Red is forced to confront her one weakness.

With the help of a blond, porridge-sampling nuisance called Goldie, Red goes on a quest to cure Granny. Her journey takes her through dwarves' caverns to a haunted well and a beast's castle. All the while, Red and Goldie are followed by a wolf and a huntsman—two mortal enemies who seek the girls' help to defeat each other. And one of them just might have the magical solution Red is looking for. . . .

Liesl Shurtliff weaves a spellbinding tale, shining the spotlight on a beloved character from her award-winning debut, Rump.

And don't miss Jack: The True Story of Jack and the Beanstalk, "a delightful story of family, perseverance and courage" (Booklist).
---
A Fierce and Subtle Poison by Samantha Mabry
To Be Published April 12th by Algonquin Young Readers
In this stunning debut, legends collide with reality when a boy is swept into the magical, dangerous world of a girl filled with poison.

Everyone knows the legends about the cursed girl–Isabel, the one the senoras whisper about. They say she has green skin and grass for hair, and she feeds on the poisonous plants that fill her family's Caribbean island garden. Some say she can grant wishes; some say her touch can kill.

Seventeen-year-old Lucas lives on the mainland most of the year but spends summers with his hotel-developer father in Puerto Rico. He's grown up hearing stories about the cursed girl, and he wants to believe in Isabel and her magic. When letters from Isabel begin mysteriously appearing in his room the same day his new girlfriend disappears, Lucas turns to Isabel for answers–and finds himself lured into her strange and enchanted world. But time is running out for the girl filled with poison, and the more entangled Lucas becomes with Isabel, the less certain he is of escaping with his own life.
---
Heir To The Sky by Amanda Sun
To Be Published April 26th by Harlequin TEEN
As heir to a kingdom of floating continents, Kali has spent her life bound by limits—by her duties as a member of the royal family; by a forced betrothal to the son of a nobleman; and by the edge of the only world she's ever known—a small island hovering above a monster-ridden earth, long since uninhabited by humans. She is the Eternal Flame of Hope for what's left of mankind, the wick and the wax burning in service for her people, and for their revered Phoenix, whose magic keeps them aloft.

When Kali falls off the edge of her kingdom and miraculously survives, she is shocked to discover there are still humans on the earth. Determined to get home, Kali entrusts a rugged monster-hunter named Griffin to guide her across a world overrun by chimera, storm dragons, basilisks, and other terrifying beasts. But the more time she spends on earth, the more dark truths she begins to uncover about her home in the sky, and the more resolute she is to start burning for herself.
---
Dirty by Kylie Scott
To Be Published April 19th by St. Martin's Press
The last thing Vaughan Hewson expects to find when he returns to his childhood home is a broken hearted bride in his shower, let alone the drama and chaos that comes with her.

Lydia Green doesn't know whether to burn down the church or sit and cry in a corner. Discovering the love of your life is having an affair on your wedding day is bad enough. Finding out it's with his best man is another thing all together. She narrowly escapes tying the knot and meets Vaughan only hours later.

Vaughan is the exact opposite of the picture perfect, respected businessman she thought she'd marry. This former musician-turned-bartender is rough around the edges and unsettled. But she already tried Mr. Right and discovered he's all wrong-maybe it's time to give Mr. Right Now a chance.

After all, what's wrong with getting dirty?

---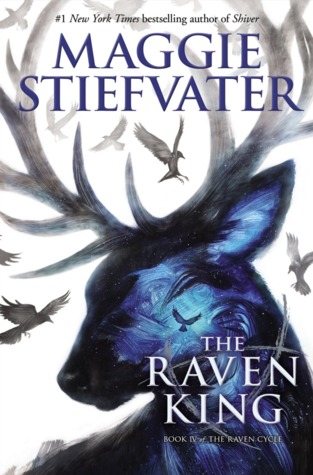 The Raven King by Maggie Stiefvater (The Raven Cycle #4)
To be Published April 26 2016 by Scholastic
The fourth and final installment in the spellbinding series from the irrepressible, #1 New York Times bestselling author Maggie Stiefvater.

All her life, Blue has been warned that she will cause her true love's death. She doesn't believe in true love and never thought this would be a problem, but as her life becomes caught up in the strange and sinister world of the Raven Boys, she's not so sure anymore.

In a starred review for Blue Lily, Lily Blue, Kirkus Reviews declared: "Expect this truly one-of-a-kind series to come to a thundering close."

---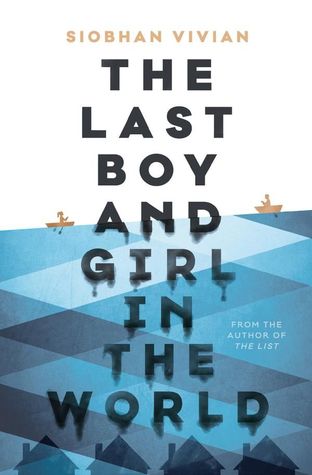 The Last Boy & Girl in the World by Siobhan Vivian
To be Published on April 26th 2016 by Simon & Schuster Books for Young Readers
What if your town was sliding underwater and everyone was ordered to pack up and leave? How would you and your friends spend your last days together?

While the adults plan for the future, box up their possessions, and find new places to live, Keeley Hewitt and her friends decide to go out with a bang. There are parties in abandoned houses. Canoe races down Main Street. The goal is to make the most of every minute they still have together.

And for Keeley, that means taking one last shot at the boy she's loved forever.

There's a weird sort of bravery that comes from knowing there's nothing left to lose. You might do things you normally wouldn't. Or say things you shouldn't. The reward almost always outweighs the risk.

Almost.

It's the end of Aberdeen, but the beginning of Keeley's first love story. It just might not turn out the way she thought. Because it's not always clear what's worth fighting for and what you should let become a memory.
---
Gena/Finn by Hannah Moskowitz and Kat Helgeson
To be Published on April 5th 2016  May 17th 2016 by Chronicle Books
The story follows the unlikely friendship of two young women forged via fan fiction and message boards, and is told entirely in texts, chats, and blog posts.

Gena (short for Genevieve) and Finn (short for Stephanie) have little in common. Book-smart Gena is preparing to leave her posh boarding school for college; down-to-earth Finn is a twenty-something struggling to make ends meet in the big city. Gena's romantic life is a series of reluctant one-night-stands; Finn is making a go of it with long-term boyfriend Charlie. But they share a passion for Up Below, a buddy cop TV show with a cult fan following. Gena is a darling of the fangirl scene, keeping a popular blog and writing fan fiction. Finn's online life is a secret, even from Charlie. The pair spark an unlikely online friendship that deepens quickly (so quickly it scares them both), and as their individual "real" lives begin to fall apart, they increasingly seek shelter online, and with each other.
---