Harley Quinn Vol.1: Hot in the City
by Amanda Conner, Jimmy Palmiotti, Chad Hardin, Stephane Roux,Alex Sinclair, Paul Mounts
Fresh from BATMAN: DEATH OF THE FAMILY and SUICIDE SQUAD, Harley Quinn returns to her first solo series in the New 52! The writing team of Jimmy Palmiotti (ALL STAR WESTERN) and Amanda Conner (BEFORE WATCHMEN: SILK SPECTRE) unleashed Harley on an unsuspecting DC Universe, as she encounters various heroes and villains … and leaves no one unscathed in her wake! With art by Chad Hardin and a slew of comics' best artists including Darwyn Cooke, Sam Kieth, Tony S. Daniel, Paul Pope, Walter Simonson and Art Baltazar!

Collects HARLEY QUINN #0-8.
I'll admit I was iffy about this Harley Quinn title as Harley Quinn & PowerGirl is so sexualized that it made me uncomfortable but I wasn't disappointed! I enjoyed the first issue so much but there was a side story-line that did make me feel a bit iffy. I'd give it an overall 3.5/5.
—
SuperMutant Magic Academy
by Jillian Tamaki
Unrequited love, underage drinking, and teen angst rule at a high school for mutants and witches.

The New York Times and New Yorker illustrator Jillian Tamaki is best known for co-creating the award-winning young adult graphic novels Skim and This One Summer—moody and atmospheric bestsellers. SuperMutant Magic Academy, which she has been serializing online for the past four years, paints a teenaged world filled with just as much ennui and uncertainty, but also with a sharp dose of humor and irreverence. Tamaki deftly plays superhero and high-school Hollywood tropes against what adolescence is really like: The SuperMutant Magic Academy is a prep school for mutants and witches, but their paranormal abilities take a backseat to everyday teen concerns.

Science experiments go awry, bake sales are upstaged, and the new kid at school is a cat who will determine the course of human destiny. In one strip, lizard-headed Trixie frets about her nonexistent modeling career; in another, the immortal Everlasting Boy tries to escape this mortal coil to no avail. Throughout it all, closeted Marsha obsesses about her unrequited crush, the cat-eared Wendy. Whether the magic is mundane or miraculous, Tamaki's jokes are precise and devastating.

SuperMutant Magic Academy has won two Ignatz Awards. This volume combines the most popular content from the webcomic with a selection of all-new, never-before-seen strips that conclude Tamaki's account of life at the academy.
I loved this one SO MUCH! Every page had a different side-story that all ran together to form a cohesive narrative/plot that was just amazing. I loved all the panels and characters and the characters were all so wonderful. I also found it super funny and gahhh read it! 5/5 stars.
—
Midnighter Vol.1: Out
by Steve Orlando
THE FIRST COLLECTION OF THE NEW DC SERIES IS HERE!

Spinning out of GRAYSON comes a solo series starring the man who can predict your every move…but no one will be able to predict what he'll do next! A theft at the God Garden has unleashed a wave of dangerous biotech weapons on the world, and Midnighter intends to put that genie back in the bottle by any means necessary. But something else was stolen from the Garden as well…the secret history of Lucas Trent, the man Midnighter once was! Collects MIDNIGHTER #1-7, plus the Sneak Peek story from CONVERGENCE: NIGHTWING/ORACLE #2.
I loved this superhero story! Midnighter is a cool gay superhero! I will say that I am giving all the side-eyes to DC for giving their openly-gay superhero the title "Out", like any other name would've sufficed but oh well. Anyway, it is awesome! I loved it. Midnighter got to kick ass but also go on dates and find a romantic partner and it was amazing. I highly recommend this one and can't wait to continue the series. 5/5 stars.
—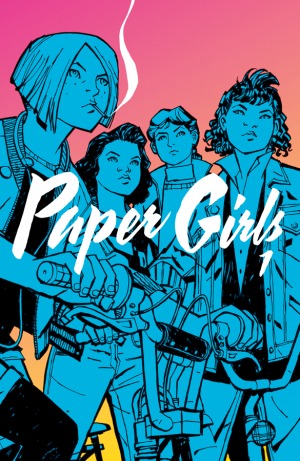 Paper Girls Vol.1
by Brian K. Vaughan, Cliff Chiang, Matthew Wilson
 In the early hours after Halloween of 1988, four 12-year-old newspaper delivery girls uncover the most important story of all time. Suburban drama and otherworldly mysteries collide in this smash-hit series about nostalgia, first jobs, and the last days of childhood.

Collects Paper Girls #1-5.
This was so weird and sci-fi  and creepily atmospheric and I loved it. Brian K. Vaughan never disappoints and Paper Girls is no different. Only issues #1-5 are out so if you pick up this volume, you'll be all caught up!
—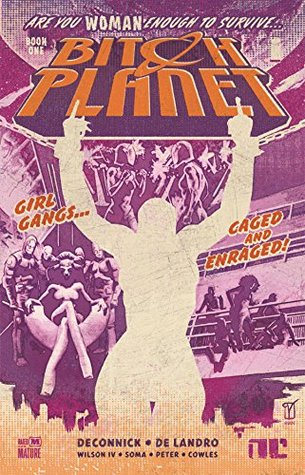 Bitch Planet Vol.1: Extraordinary Machine
Eisner Award-nominated writer Kelly Sue DeConnick (Pretty Deadly, Captain Marvel) and Valentine De Landro (X-Factor) team up to bring you the premiere volume of Bitch Planet, a deliciously vicious riff on women-in-prison sci-fi exploitation.

In a future just a few years down the road in the wrong direction, a woman's failure to comply with her patriarchal overlords will result in exile to the meanest penal planet in the galaxy. When the newest crop of fresh femmes arrive, can they work together to stay alive or will hidden agendas, crooked guards, and the deadliest sport on (or off!) Earth take them to their maker?

Collects BITCH PLANET #1-5.
I love Bitch Planet! It takes place in a world where all women who don't bend to the patriarchal rule are arrested for being "non-compliant". If you pick up the single issues, there are essays and guides to suggested readings as well that are awesome. Leigh Bardugo also loves this series so if that's not a good reason I don't know what is!
—
Have you read any of these comics? Which comics do you want to read soon? Let's discuss in the comments!