I'm so excited to be a part of The Winner's Kiss blog tour today! I love this book series and I love the unique way we're promoting the novel! Basically, each blogger has to choose their favourite bookish kisses and discuss them. It will surprise literally no one about the book that I pick so first, he's some more info about The Winner's Kiss! 
The Winner's Kiss by Marie Rutkoski
On Sale March 29th, 2016
War has begun. Arin is in the thick of it with untrustworthy new allies and the empire as his enemy. Though he has convinced himself that he no longer loves Kestrel, Arin hasn't forgotten her, or how she became exactly the kind of person he has always despised. She cared more for the empire than she did for the lives of innocent people—and certainly more than she did for him.

At least, that's what he thinks.

In the frozen north, Kestrel is a prisoner in a brutal work camp. As she searches desperately for a way to escape, she wishes Arin could know what she sacrificed for him. She wishes she could make the empire pay for what they've done to her.

But no one gets what they want just by wishing.

As the war intensifies, both Kestrel and Arin discover that the world is changing. The East is pitted against the West, and they are caught in between. With so much to lose, can anybody really win?
About the Author
Marie Rutkoski
is the author of The Kronos Chronicles, including
The Cabinet of Wonders
and
The Celestial Globe
.
The Cabinet of Wonders
, her debut novel, was named an Indie Next Kids' List Great Read and a Bank Street Best Children's Book of the Year, among other honors. Rutkoski grew up in Bolingbrook, Illinois (a suburb of Chicago), as the oldest of four children. She attended the University of Iowa, where she took Writers' Workshop classes and studied with Pulitzer Prize-winner James Alan McPherson. After graduating, she lived in Moscow and Prague. Upon receiving her Ph.D. from Harvard University, she held dual appointments as a lecturer there in both English and American Literature and Language, and History and Literature. Rutkoski is currently a professor at Brooklyn College, where she teaches Renaissance Drama, children's literature and creative writing. She lives in New York City with her husband and cat.
My favourite literary kiss!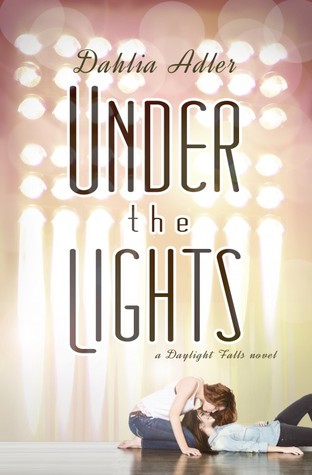 I have to choose
Under the Lights by Dahlia Adler
! It's a swoony YA romance where the guy doesn't get the girl (the girl gets the girl) and it's fantastic. It's such a happy making book and I highly recommend it to everyone, as it also deals with some important messages about hollywood and being a minority in the business. Vanessa and Brianna are both awesome characters and their kisses are not only sweet and adorable, but also have a hint of forbidden romance (we all love that trope, don't lie to yourself)! This is basically me reading that book:
Bonus question time! What kiss do you hope will occur in Marie Rutkoski's The Winner's Kiss?
Oh, I really hope it's finally Arin and Kestrel. I've been rooting for them for so long and I just.. IT NEEDS TO HAPPEN! I mean no threats but I mean…
Don't forget to check out the rest of the tour!
Monday, January 11th – Adventures of a Book Junkie 
Tuesday, Jaunary 12th – Bookshelfery
Wednesday, January 13th – Andi's ABCs
Thursday, January 14th – Miss Print
Friday, January 15th – Jenuine Cupcakes
Saturday, January 16th – The Quiet Concert 
Sunday, January 17th – Icey Books
Monday, January 18th – Book Rock Betty
Tuesday, January 19th – Forever YA
Wednesday, January 20th – Love is Not a Triangle
Thursday, January 21st – Art, Books, & Coffee
Friday, January 22nd – Belle of the Literarti
Saturday, January 23rd – Step Into Fiction
Sunday, January 24th – Swoony Boys Podcast
Monday, January 25th – The Windy Pages
Tuesday, January 26th – Bookish Lifestyle
Wednesday, January 27th – YA Bibliophile
Thursday, January 28th – Fiction Fare
Friday, January 29th – Across the Words
Saturday, January 30th – The Book Addict's Guide
Sunday, January 31st – Teen Lit Rocks
Monday, February 1st – Addicted 2 Novels
Tuesday, February 2nd – My Friends Are Fiction
Wednesday, February 3rd – What Sarah Read
Thursday, February 4th – YA Book Queen
Friday, February 5th – The Irish Banana Review
Saturday, February 6th – Reading with ABC
Sunday, February 7th – WinterHaven Books
Monday, February 8th – Falling for YA
Tuesday, February 9th – The Eater of Books
Wednesday, February 10th – Supernatural Snark
Thursday, February 11th – Michelle & Leslie's Book Picks
Friday, February 12th – The Hiding Spot
Saturday, February 13th – BookHounds YA
Sunday, February 14th – Novel Novice
Monday, February 15th – Bookish Antics
Tuesday, February 16th – A Backwards Story
Wednesday, February 17th – Lost in Ever After
Thursday, February 18th – Lost in a Great Book
Friday, February 19th – A Thousand Lives Lived
Saturday, February 20th – Esther's Ever After
Sunday, February 21st – Out of Time
Monday, February 22nd – Me on Books
Tuesday, February 23rd – Ryley Reads
Wednesday, February 24th – BookCatPin
Thursday, February 25th – Empress of Books
Friday, February 26th – Jaimiesam
Saturday, February 27th – A Cupcake and a Latte
Sunday, February 28th – A Glass of Wine
Monday, February 29th – Swept Away by Books
Tuesday, March 1st – The Book Wars
Wednesday, March 2nd – Stuck in YA Books
Thursday, March 3rd – Hiver & Café
Friday, March 4th – Candid Cover
Saturday, March 5th – Burning Impossibly Bright
Sunday, March 6th – Read. Sleep. Repeat.
Monday, March 7th – Just Another Story
Tuesday, March 8th – Kinderlit
Wednesday, March 9th – Chapter by Chapter
Thursday, March 10th – Padfoot's Library
Friday, March 11th – Working for the Mandroid
Saturday, March 12th – Ex Libris Kate
Sunday, March 13th – Bookiemoji