I have found love and their name is comics. Seriously, if you don't read comics you are very much missing out. Not only are comics fun to read, they definitely motivate me to read more after I finish one.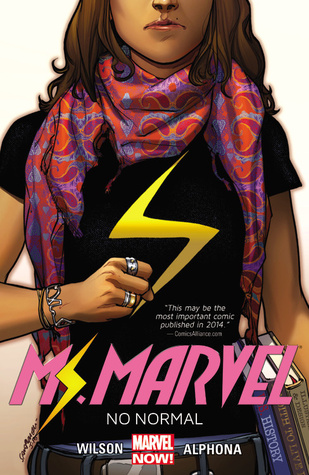 Ms. Marvel Vol.1-4
G. Willow Wilson (author) and Adrian Alphona (artist)
Kamala Khan is an ordinary girl from Jersey City — until she's suddenly empowered with extraordinary gifts. But who truly is the new Ms. Marvel? Teenager? Muslim? Inhuman? Find out as she takes the Marvel Universe by storm! When Kamala discovers the dangers of her newfound powers, she unlocks a secret behind them, as well. Is Kamala ready to wield these immense new gifts? Or will the weight of the legacy before her be too much to bear? Kamala has no idea, either. But she's comin' for you, Jersey!

I love Ms. Marvel. Seriously. There is the new reboot series (I have issue 1) but I haven't read it yet so I'm not sure if it continues just as well because there's a different writer in the new series. G.Willow Wilson is now working on another series (mentioned below) so I'm pretty happy about it.
Patsy Walker a.k.a Hellcat
Kate Leth and Brittany Williams
Patsy Walker has managed to escape her past, her enemies and Hell itself (literally), but nothing compares to job hunting in New York City! Between trying to make rent and dodging (literal) bullets, Patsy barely has time to deal with her mother's exploitative romance comics about her childhood resurfacing, much less how they start to interfere with her work and dating life. As she goes from living a double life to a triple, what the Hell is Patsy Walker supposed to do? Raise your (literal) claws for Patsy Walker, AKA Hellcat!
I loved this one! It is incredibly cheesy but it's so fantastic, so cute and funny.
Lumberjanes
Noelle Stevenson, Grace Ellis and Brooke A. Allen
WHY WE LOVE IT: Five best friends spending the summer at Lumberjane scout camp…defeating yetis, three-eyed wolves, and giant falcons…what's not to love?!

WHY YOU'LL LOVE IT: It's Buffy the Vampire Slayer meets Gravity Falls and features five butt-kicking, rad teenage girls wailing on monsters and solving a mystery with the whole world at stake. And with the talent of acclaimed cartoonist Noelle Stevenson, talented newcomer Grace Ellis writing, and Brooke Allen on art, this is going to be a spectacular series that you won't want to miss.

WHAT IT'S ABOUT: Jo, April, Mal, Molly and Ripley are five best pals determined to have an awesome summer together…and they're not gonna let any insane quest or an array of supernatural critters get in their way! Not only is it the second title launching in our new BOOM! Box imprint but LUMBERJANES is one of those punk rock, love-everything-about-it stories that appeals to fans of basically all excellent things.
I'm fully caught up on Lumberjanes and it's literally my favourite comic. So awesome and just, GIRL POWER!
Faith
Jody Houser, Francis Portela and Marguerite Sauvage
Orphaned at a young age, Faith Herbert – a psionically gifted "psiot" discovered by the Harbinger Foundation – has always aspired to greatness. But now this once ordinary teenager is taking control of her destiny and becoming the hard-hitting hero she's always known she can be – complete with a mild-mannered secret identity, unsuspecting colleagues, and a day job as a reporter that routinely throws into her harms way! Well, at least she thought it would… When she's not typing up listicles about cat videos, Faith makes a secret transformation to patrol the night as the City of Angels' own leading superhero – the sky-soaring Zephyr!

But flying solo is going to be tougher than Zephyr ever thought when she uncovers a deep-rooted alien conspiracy. Two-bit burglars and car thieves are one thing, but when the world needs a hero to stave off a full-blown extraterrestrial invasion, will Faith find herself in over her head…or ready for her biggest challenge yet?
I'm unsure how I feel about this yet but I have read the first two issues and I am enjoying it. I think I'll read the trades when it releases, or maybe buy it when the back issues go on sale. But it is definitely unique and interesting!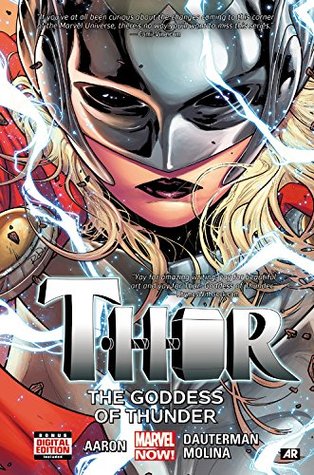 Thor: Goddess of Thunder
Jason Aaron, Russell Dauterman, Jorge Molina

WHO IS THE GODDESS OF THUNDER?

The secrets of Original Sin have laid low one of Marvel's greatest heroes. The God of Thunder is unworthy, and Mjolnir lies on the moon, unable to be lifted! But when Frost Giants invade Earth, a new hand will grasp the hammer–and a mysterious woman will take up the mantle of the mighty Thor! Her identity is secret to even Odin, but she may be Earth's only hope against the Frost Giants. Get ready for a Thor like you've never seen before as this all-new heroine takes Midgard by storm! Plus: The Odinson clearly doesn't like that someone else is holding his hammer–it's Thor vs. Thor! And Odin, desperate to see Mjolnir returned, will call on some very dangerous, very unexpected allies. It's a bold new chapter in the storied history of Thor!
I've read the first two volumes of this series, and I have Mighty Thor #1 (with this lady thor) which I will probably keep reading. The internet is full of spoilers so I recommend reading this one if you haven't been spoiled for the story and want to find out how it's possible that there's a lady thor. If you do know the origin story, I recommend jumping straight to Mighty Thor which you can learn about here. **Do not read the description for Mighty Thor if you have zero clue who lady thor is, it's very spoilery**
Monstress
Marjorie Liu and Sana Takeda
Steampunk meets Kaiju in this original fantasy epic for mature readers, as young Maika risks everything to control her psychic link with a monster of tremendous power, placing her in the center of a devastating war between human and otherworldly forces. The adventure begins in a spectacular TRIPLE-SIZED FIRST ISSUE, with SIXTY-SIX pages of story and no ads for this one-time price of $4.99.
I really really enjoyed this one! Like it says in the description, it is steampunk and perhaps some otherworldly forces. The first issue is ginormous and is totally worth the 4.99 price.
Saga
Brian K. Vaughan and Fiona Staples
Saga is an epic space opera/fantasy comic book series created by writer Brian K. Vaughan and artist Fiona Staples, published monthly by Image Comics. The series is heavily influenced by Star Wars, and based on ideas Vaughan conceived both as a child and as a parent. It depicts two lovers from long-warring extraterrestrial races, Alana and Marko, fleeing authorities from both sides of a galactic war as they struggle to care for their newborn daughter, Hazel, who occasionally narrates the series.
One of the first comics I've ever read, it was just phenomenal. The art and story is amazing and I can't wait to catch up.