Hi everyone! I'm so honoured to be a part of the A Gathering of Shadows blog tour! I love this series and I can't wait for you to read the next book in this awesome fantasy series.
About the Book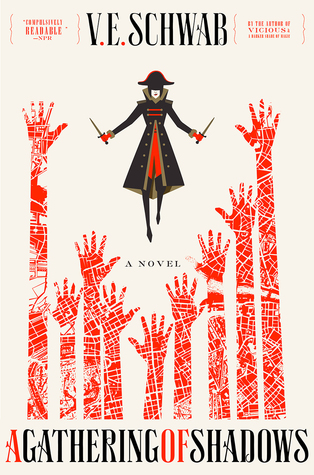 A Gathering of Shadows by Victoria Schwab
(A Darker Shade of Magic #2)
Released February 23rd
Four months have passed since the shadow stone fell into Kell's possession. Four months since his path crossed with Delilah Bard. Four months since Rhy was wounded and the Dane twins fell, and the stone was cast with Holland's dying body through the rift, and into Black London.

In many ways, things have almost returned to normal, though Rhy is more sober, and Kell is now plagued by his guilt. Restless, and having given up smuggling, Kell is visited by dreams of ominous magical events, waking only to think of Lila, who disappeared from the docks like she always meant to do. As Red London finalizes preparations for the Element Games—an extravagant international competition of magic, meant to entertain and keep healthy the ties between neighboring countries—a certain pirate ship draws closer, carrying old friends back into port.

But while Red London is caught up in the pageantry and thrills of the Games, another London is coming back to life, and those who were thought to be forever gone have returned. After all, a shadow that was gone in the night reappears in the morning, and so it seems Black London has risen again—meaning that another London must fall.
About the Author
V. E. SCHWAB's first adult novel, Vicious, debuted to critical praise and reader accolades. Schwab is the author of YA novels, including the acclaimed The Near Witch, along with writing Middle Grade for Scholastic. The Independent calls Schwab "the natural successor to Diana Wynne Jones" and someone who has "an enviable, almost Gaiman-esque ability to switch between styles, genres, and tones."
Question:
When you first envisioned the characters for the ADSOM series, were they similar to the characters we read and love now? Have your characters ever surprised you and what's been the biggest challenge in creating these dynamic characters?
Schwab: Some of them were very similar, and some of them were different—or rather, deeper, more complex. Kell and Lila are almost unchanged (they've obviously been fleshed out, but I felt like I knew them from the start) while Holland and Prince Rhy surprised me time and time again. The biggest challenge with Rhy was allowing him to keep that superficial charm, while beginning to unfold what lies beneath. Holland presented just as many complications, since he was a character I didn't want readers to hate, or even love to hate. But interestingly, Kell presented the biggest challenge, and from page 1, I worried daily that he wasn't strong enough, or likeable enough, or dark enough, or ANYTHING enough. I worked on him more than any other character, trying to get this fully fleshed person in my head to come through on paper. Lila shouted on the page, but Kell was always trying to keep something back.
Review
I received a copy of this novel for review from the publisher, this does not influence my thoughts on the novel or this review.
I enjoyed A Darker Shade of Magic and I knew I would love A Gathering of Shadows and wow, I was not disappointed at all. All the characters grow, the plot intensifies (if such a thing is even possible) and it was just all magical.
I am avoiding spoilers at all costs so I will not even recap the events of the first novel but let it be known that the same characters we expect to appear will appear and that the plot is indeed twisty. There are also amazing new characters, and lots of more intrigue. The world-building also further expanded, as well as the people we got to read about. More characters got their own point of views, including my beloved Rhy, and I loved the addition of a certain swoony pirate to the main cast.
While A Darker Shade of Magic did address the magical elements, I liked that it was addressed more of the world-building and setting. I loved all of the characterization and just, it was soooo good!
Basically if you loved the first one, you're in for a treat.
Overall, A Gathering of Shadows was an amazing sequel. I recommend the series for all fantasy lovers and for people looking for a compelling kick-ass novel.
—
Have you had a chance to read A Gathering of Shadows yet? What did you think of my small Q&A with Victoria? Sorry for the short review- it is very hard to write something non-spoilery! Let's discuss in the comments.