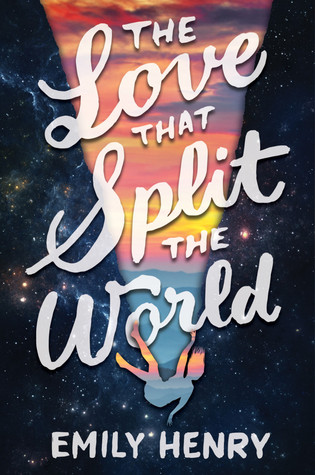 The Love That Split the World
by Emily Henry

Published by
Razorbill
on January 26th 2016

Genres: Fantasy, Fiction, Young Adult, YA

Pages: 316

Goodreads
---
Natalie Cleary must risk her future and leap blindly into a vast unknown for the chance to build a new world with the boy she loves.
Natalie's last summer in her small Kentucky hometown is off to a magical start... until she starts seeing the "wrong things." They're just momentary glimpses at first—her front door is red instead of its usual green, there's a pre-school where the garden store should be. But then her whole town disappears for hours, fading away into rolling hills and grazing buffalo, and Nat knows something isn't right.
That's when she gets a visit from the kind but mysterious apparition she calls "Grandmother," who tells her: "You have three months to save him." The next night, under the stadium lights of the high school football field, she meets a beautiful boy named Beau, and it's as if time just stops and nothing exists. Nothing, except Natalie and Beau.
Emily Henry's stunning debut novel is Friday Night Lights meets The Time Traveler's Wife, and perfectly captures those bittersweet months after high school, when we dream not only of the future, but of all the roads and paths we've left untaken.
I received a copy of this book for review, this does not influence my thoughts on this book or this review.
I admit I picked up The Love that Split the World based on the lovely cover and I'm happy to report that the novel was just as good. I really enjoyed it and I was pleasantly surprised with the plot explanations and the rich writing.
As a child, Natalie often had nightmares and woke up facing an old woman. Grandmother, as Natalie calls her, told her stories about that seemed almost pointless. 3 years after Grandmother's last story, the old woman returns and gives Natalie an omniscient warning: "You have three months to save him". The next night, a handsome boy she's never met appears in her life and Natalie is thrust into an unknown and almost unbelievable situation. The Love that Split the World is a novel about love, parallel universes and maybe the end of the world.
I really liked reading from Natalie's point of view. She was resilient, strong and didn't stand for anything she didn't have to. I think teens will definitely be able to resonate with her, and she does have some strong feminist messages (that I hope teens will be able to learn from). At one point in the novel, another character calls her a "feminazi" (a term which I hate for a multitude of reasons) and the come-back Natalie provided was just amazing. But of course, I could relate to Natalie's own journey to find herself and discover who she is.
While this novel is more romance-based, I found that a lot of the novel focused on Natalie's self-journey. The novel really deals with Natalie struggling to find herself and what to make of her future. I also liked that the novel had depictions of different types of therapy. Natalie's visits with Grandmother have been treated as hallucinations (by everyone around Natalie, as to be expected) and the novel does provide lengthy info on the different types of hallucinations and even treatment. There was also, surprisingly, a lot of scientific information which provided an extra layer of interest to the novel.
The plot explanations, while a bit confusing, really resolved themselves by the end. My only hesitation around the novel comes from a religious sub-tone that didn't really vibe with me. I understand that religion was very important to Natalie, but my own personal tastes just didn't click with that.
The ending actually works itself out nicely and I really enjoyed it. After reading all the big twists, I was a bit worried about how the novel and plot would resolve itself as it seems a bit complicated but the ending felt appropriate.
In terms of diversity, Natalie is a Native American teen who's been adopted eleven days after her birth. Throughout the novel, she struggles to come to terms with being different from her family and it felt realistic. The stories that Grandmother tells her seem to be Native American-based (or if they're not, they sound like what a stereotypical Native American story would sound like) but I don't have enough knowledge to say that that is the case. I liked that the novel really acknowledges Natalie's background and doesn't shy away from it. I did have some second-glances when I read about some parts (at one point in the novel, Natalie hallucinates about buffalos—why is it always buffalos?) but there is an explanation for everything that confused me so it works itself out nicely, I think. (That said, if you've read the novel and have thoughts about the representation in it, I'd love to read your thoughts.)
Overall, The Love That Split the World is a fantastic debut novel that combines elements of magic realism and scientific theories to provide a gorgeously written romance. I highly recommend it!
This novel has trigger warnings for PTSD, alcoholism, fatal accidents (car-crashes in particular) and an instance of sexual harassment.
Related Posts