The holiday season is almost upon us! No matter which holiday you celebrate this season, I hope you'll be able to find some great gifts for your family and friends! I've made this list by book and then immediately after who I recommend it for. (Sorry about the late posting but it took me a while to put it all together!)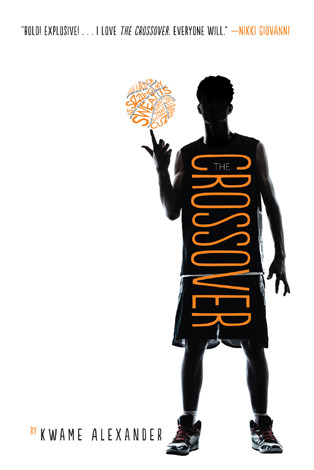 The Crossover by Kwame Alexander
"With a bolt of lightning on my kicks . . .The court is SIZZLING. My sweat is DRIZZLING. Stop all that quivering. Cuz tonight I'm delivering," announces dread-locked, 12-year old Josh Bell. He and his twin brother Jordan are awesome on the court. But Josh has more than basketball in his blood, he's got mad beats, too, that tell his family's story in verse, in this fast and furious middle grade novel of family and brotherhood.

Josh and Jordan must come to grips with growing up on and off the court to realize breaking the rules comes at a terrible price, as their story's heart-stopping climax proves a game-changer for the entire family.
Recommended for: sports fans, poetry fans, and the young readers in your life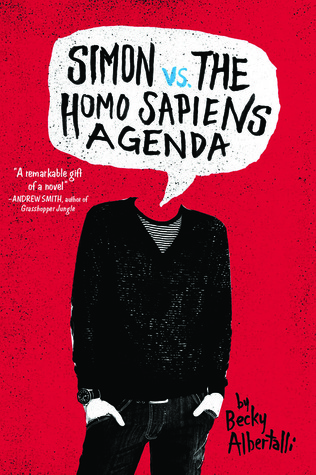 Simon vs. the Homo Sapiens Agenda by Becky Albertalli
Sixteen-year-old and not-so-openly gay Simon Spier prefers to save his drama for the school musical. But when an email falls into the wrong hands, his secret is at risk of being thrust into the spotlight. Now Simon is actually being blackmailed: if he doesn't play wingman for class clown Martin, his sexual identity will become everyone's business. Worse, the privacy of Blue, the pen name of the boy he's been emailing, will be compromised.

With some messy dynamics emerging in his once tight-knit group of friends, and his email correspondence with Blue growing more flirtatious every day, Simon's junior year has suddenly gotten all kinds of complicated. Now, change-averse Simon has to find a way to step out of his comfort zone before he's pushed out—without alienating his friends, compromising himself, or fumbling a shot at happiness with the most confusing, adorable guy he's never met.
Recommended for: any family members who love cute stories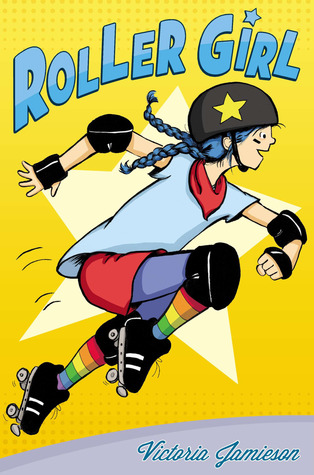 Roller Girl by Victoria Jamieson
For fans of Raina Telgemeier's Smile, a heartwarming graphic novel about friendship and surviving junior high through the power of roller derby.

Twelve-year-old Astrid has always done everything with her best friend Nicole. So when Astrid signs up for roller derby camp, she assumes Nicole will too. But Nicole signs up for dance camp with a new friend instead, and so begins the toughest summer of Astrid's life. There are bumps and bruises as Astrid learns who she is without Nicole…and what it takes to be a strong, tough roller girl.
Recommended for: the kick-ass girls in your life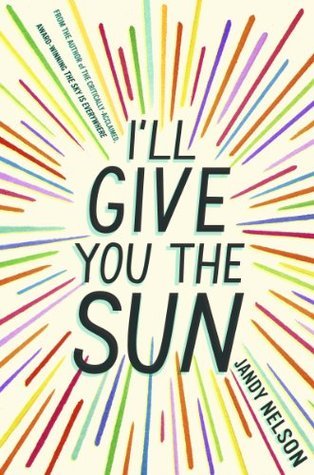 I'll Give You the Sun by Jandy Nelson
A brilliant, luminous story of first love, family, loss, and betrayal for fans of John Green, David Levithan, and Rainbow Rowell

Jude and her twin brother, Noah, are incredibly close. At thirteen, isolated Noah draws constantly and is falling in love with the charismatic boy next door, while daredevil Jude cliff-dives and wears red-red lipstick and does the talking for both of them. But three years later, Jude and Noah are barely speaking. Something has happened to wreck the twins in different and dramatic ways . . . until Jude meets a cocky, broken, beautiful boy, as well as someone else—an even more unpredictable new force in her life. The early years are Noah's story to tell. The later years are Jude's. What the twins don't realize is that they each have only half the story, and if they could just find their way back to one another, they'd have a chance to remake their world.

This radiant novel from the acclaimed, award-winning author of The Sky Is Everywhere will leave you breathless and teary and laughing—often all at once.
Recommended for: literally everyone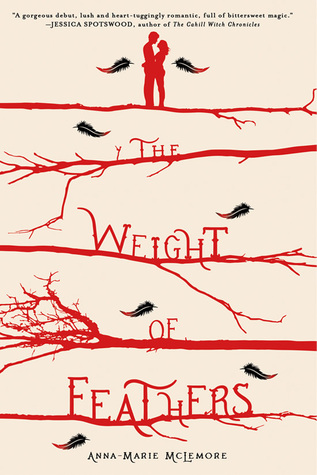 The Weight of Feathers by Anna-Marie McLemore
For twenty years, the Palomas and the Corbeaus have been rivals and enemies, locked in an escalating feud for over a generation. Both families make their living as traveling performers in competing shows—the Palomas swimming in mermaid exhibitions, the Corbeaus, former tightrope walkers, performing in the tallest trees they can find.

Lace Paloma may be new to her family's show, but she knows as well as anyone that the Corbeaus are pure magia negra, black magic from the devil himself. Simply touching one could mean death, and she's been taught from birth to keep away. But when disaster strikes the small town where both families are performing, it's a Corbeau boy, Cluck, who saves Lace's life. And his touch immerses her in the world of the Corbeaus, where falling for him could turn his own family against him, and one misstep can be just as dangerous on the ground as it is in the trees.

Beautifully written, and richly imaginative, The Weight of Feathers is an utterly captivating young adult novel by a talented new voice.
Recommended for: the friend who's read all the best YA bestsellers and is looking for something new and unique!
We Should All be Feminists by Chimamanda Ngozi Adichie
What does "feminism" mean today? That is the question at the heart of We Should All Be Feminists, a personal, eloquently-argued essay—adapted from her much-viewed Tedx talk of the same name—by Chimamanda Ngozi Adichie, the award-winning author of Americanah and Half of a Yellow Sun. With humor and levity, here Adichie offers readers a unique definition of feminism for the twenty-first century—one rooted in inclusion and awareness. She shines a light not only on blatant discrimination, but also the more insidious, institutional behaviors that marginalize women around the world, in order to help readers of all walks of life better understand the often masked realities of sexual politics. Throughout, she draws extensively on her own experiences—in the U.S., in her native Nigeria, and abroad—offering an artfully nuanced explanation of why the gender divide is harmful for women and men, alike. Argued in the same observant, witty and clever prose that has made Adichie a bestselling novelist, here is one remarkable author's exploration of what it means to be a woman today—and an of-the-moment rallying cry for why we should all be feminists.
Recommended for: literary everyone, it's very short and can easily be bought over ebook
Better Nate Than Ever by Tim Federle
A New York Times Book Review Notable Book of 2013,Publishers Weekly Flying Start and Best Book of 2013, Amazon Best Book of 2013, and Junior Library Guild selection

★ "Hilarious and heartwarming . . . this book soars." —Publishers Weekly (starred review)

Nate Foster has big dreams. His whole life, he's wanted to star in a Broadway show. (Heck, he'd settle for *seeing* a Broadway show.) But how is Nate supposed to make his dreams come true when he's stuck in Jankburg, Pennsylvania, where no one (except his best pal Libby) appreciates a good show tune? With Libby's help, Nate plans a daring overnight escape to New York. There's an open casting call for E.T.: The Musical, and Nate knows this could be the difference between small-town blues and big-time stardom.
Recommended for: all the young dreamers in your life (or the older ones too)
Just Visiting by Dahlia Adler
Reagan Forrester wants out—out of her trailer park, out of reach of her freeloading mother, and out of the shadow of the relationship that made her the pariah of Charytan, Kansas.

Victoria Reyes wants in—in to a fashion design program, in to the arms of a cute guy who doesn't go to Charytan High, and in to a city where she won't stand out for being Mexican.

One thing the polar-opposite best friends do agree on is that wherever they go, they're staying together. But when they set off on a series of college visits at the start of their senior year, they quickly see that the future doesn't look quite like they expected. After two years of near-solitude following the betrayal of the ex-boyfriend who broke her heart, Reagan falls hard and fast for a Battlestar Galactica-loving, brilliant smile-sporting pre-med prospective… only to learn she's set herself up for heartbreak all over again. Meanwhile, Victoria runs full-speed toward all the things she thinks she wants… only to realize everything she's looking for might be in the very place they've sworn to leave.

As both Reagan and Victoria struggle to learn who they are and what they want in the present, they discover just how much they don't know about each other's pasts. And when each learns what the other's been hiding, they'll have to decide whether their friendship has a future.
Recommended for: a book about BFFs for your BFF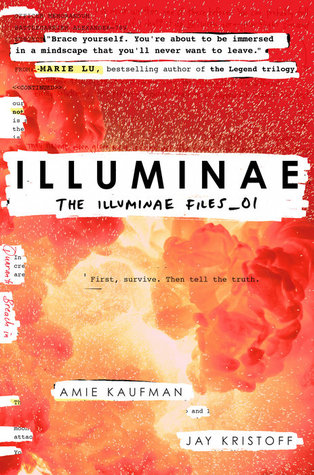 Illuminae by Amie Kaufman and Jay Kristoff
This morning, Kady thought breaking up with Ezra was the hardest thing she'd have to do.

This afternoon, her planet was invaded.

The year is 2575, and two rival megacorporations are at war over a planet that's little more than an ice-covered speck at the edge of the universe. Too bad nobody thought to warn the people living on it. With enemy fire raining down on them, Kady and Ezra—who are barely even talking to each other—are forced to fight their way onto an evacuating fleet, with an enemy warship in hot pursuit.

But their problems are just getting started. A deadly plague has broken out and is mutating, with terrifying results; the fleet's AI, which should be protecting them, may actually be their enemy; and nobody in charge will say what's really going on. As Kady hacks into a tangled web of data to find the truth, it's clear only one person can help her bring it all to light: the ex-boyfriend she swore she'd never speak to again.

Told through a fascinating dossier of hacked documents—including emails, schematics, military files, IMs, medical reports, interviews, and more—Illuminae is the first book in a heart-stopping, high-octane trilogy about lives interrupted, the price of truth, and the courage of everyday heroes.
Recommended for: anyone, because why not treat your friends to an emotional rollercoaster that they will both hate and love you for?!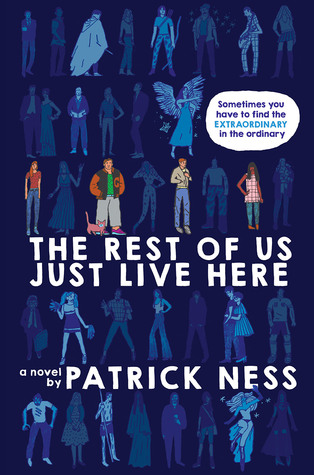 The Rest of Us Just Live Here by Patrick Ness
What if you aren't the Chosen One?

The one who's supposed to fight the zombies, or the soul-eating ghosts, or whatever the heck this new thing is, with the blue lights and the death?

What if you're like Mikey? Who just wants to graduate and go to prom and maybe finally work up the courage to ask Henna out before someone goes and blows up the high school. Again.

Because sometimes there are problems bigger than this week's end of the world, and sometimes you just have to find the extraordinary in your ordinary life.

Even if your best friend is worshipped by mountain lions.

Award-winning writer Patrick Ness's bold and irreverent novel powerfully reminds us that there are many different types of remarkable.
Recommended for: the friends who are perfectly normal and are tired of seeing stories all about the "Chosen One". (My original reason: if you need a way to reveal to your friends that your Three-Parts Jewish, One-Part God (sorry you had to find out this way Octavia))
George by Alex Gino
BE WHO YOU ARE.

When people look at George, they think they see a boy. But she knows she's not a boy. She knows she's a girl.

George thinks she'll have to keep this a secret forever. Then her teacher announces that their class play is going to be Charlotte's Web. George really, really, REALLY wants to play Charlotte. But the teacher says she can't even try out for the part . . . because she's a boy.

With the help of her best friend, Kelly, George comes up with a plan. Not just so she can be Charlotte — but so everyone can know who she is, once and for all.
Recommended for: again, literally anyone. Especially for young readers who need a story like this, or for ones who need to learn that their worldview isn't the only one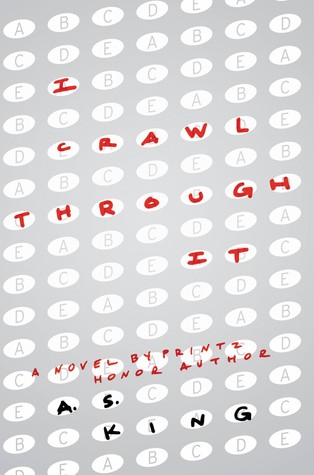 I Crawl Through It by A.S. King
A boldly surreal novel from one of the best YA writers working today.

Four talented teenagers are traumatized-coping with grief, surviving trauma, facing the anxiety of standardized tests and the neglect of self-absorbed adults—and they'll do anything to escape the pressure. They'll even build an invisible helicopter, to fly far away to a place where everyone will understand them… until they learn the only way to escape reality is to fly right into it.
Recommended for: fans of the strange, unique and extraordinary
Yaqui Delgado Wants to Kick Your Ass by Meg Medina
In Meg Medina's compelling new novel, a Latina teen is targeted by a bully at her new school — and must discover resources she never knew she had.

One morning before school, some girl tells Piddy Sanchez that Yaqui Delgado hates her and wants to kick her ass. Piddy doesn't even know who Yaqui is, never mind what she's done to piss her off. Word is that Yaqui thinks Piddy is stuck-up, shakes her stuff when she walks, and isn't Latin enough with her white skin, good grades, and no accent. And Yaqui isn't kidding around, so Piddy better watch her back. At first Piddy is more concerned with trying to find out more about the father she's never met and how to balance honors courses with her weekend job at the neighborhood hair salon. But as the harassment escalates, avoiding Yaqui and her gang starts to take over Piddy's life. Is there any way for Piddy to survive without closing herself off or running away? In an all-too-realistic novel, Meg Medina portrays a sympathetic heroine who is forced to decide who she really is.
Recommended for: anyone who feels like they don't fit in, or just need a reminder that they're special because of their differences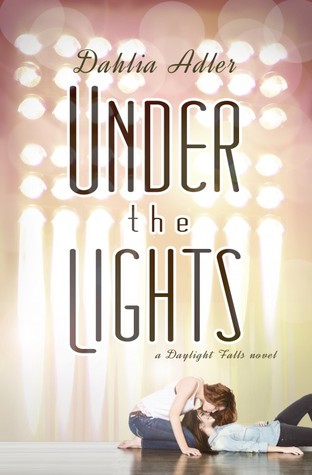 Under the Lights by Dahlia Adler
Josh Chester loves being a Hollywood bad boy, coasting on his good looks, his parties, his parents' wealth, and the occasional modeling gig. But his laid-back lifestyle is about to change. To help out his best friend, Liam, he joins his hit teen TV show, Daylight Falls … opposite Vanessa Park, the one actor immune to his charms. (Not that he's trying to charm her, of course.) Meanwhile, his drama-queen mother blackmails him into a new family reality TV show, with Josh in the starring role. Now that he's in the spotlight—on everyone's terms but his own—Josh has to decide whether a life as a superstar is the one he really wants.

Vanessa Park has always been certain about her path as an actor, despite her parents' disapproval. But with all her relationships currently in upheaval, she's painfully uncertain about everything else. When she meets her new career handler, Brianna, Van is relieved to have found someone she can rely on, now that her BFF, Ally, is at college across the country. But as feelings unexpectedly evolve beyond friendship, Van's life reaches a whole new level of confusing. And she'll have to choose between the one thing she's always loved … and the person she never imagined she could.
Recommended for: fans of cute romances that carry some deeper themes
The Lover's Dictionary by David Levithan
A modern love story told through a series of dictionary-style entries is a sequence of intimate windows into the large and small events that shape the course of a romantic relationship.
Recommended for: the romantic in your life
A Darker Shade of Magic by Victoria Schwab
Kell is one of the last Travelers—rare magicians who choose a parallel universe to visit.

Grey London is dirty, boring, lacks magic, ruled by mad King George. Red London is where life and magic are revered, and the Maresh Dynasty presides over a flourishing empire. White London is ruled by whoever has murdered their way to the throne. People fight to control magic, and the magic fights back, draining the city to its very bones. Once there was Black London—but no one speaks of that now.

Officially, Kell is the Red Traveler, personal ambassador and adopted Prince of Red London, carrying the monthly correspondences between royals of each London. Unofficially, Kell smuggles for those willing to pay for even a glimpse of a world they'll never see. This dangerous hobby sets him up for accidental treason. Fleeing into Grey London, Kell runs afoul of Delilah Bard, a cut-purse with lofty aspirations. She robs him, saves him from a dangerous enemy, then forces him to another world for her 'proper adventure'.

But perilous magic is afoot, and treachery lurks at every turn. To save all of the worlds, Kell and Lila will first need to stay alive—trickier than they hoped.
Recommended for: fans of books with thievery, mischief and magic
—-
Which books have you read? Which ones are on your list? Which ones would you add to this list?