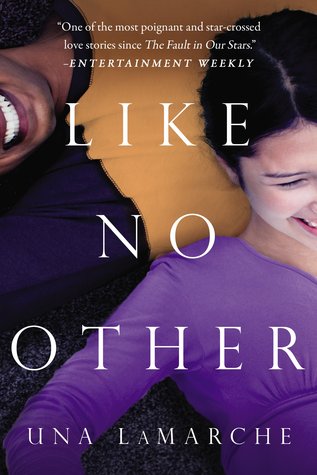 Like No Other
by Una LaMarche

Published by
Razorbill
on July 24th 2015

Genres: Young Adult, Contemporary, Romance, YA

Pages: 384

Goodreads
---
Fate brought them together. Will life tear them apart? Devorah is a consummate good girl who has never challenged the ways of her strict Hasidic upbringing. Jaxon is a fun-loving, book-smart nerd who has never been comfortable around girls (unless you count his four younger sisters). They've spent their entire lives in Brooklyn, on opposite sides of the same street. Their paths never crossed...until one day, they did.
When a hurricane strikes the Northeast, the pair becomes stranded in an elevator together, where fate leaves them no choice but to make an otherwise risky connection. Though their relationship is strictly forbidden, Devorah and Jaxon arrange secret meetings and risk everything to be together. But how far can they go? Just how much are they willing to give up?
I borrowed a copy of this book from the library, this does not influence my thoughts on the book or this review.
I've heard great things about Like No Other and after reading LaMarche's newest novel (Don't Fail Me Now), I knew I had to read this one. While I enjoyed the majority of the novel, the ending felt unsatisfactory.
Like No Other is a tale of star-crossed lovers and a forbidden romance. Devorah and Jaxon have lived on the same street, but have never crossed paths. A devout person, Devorah has never questioned her Hasidic teachings. When Devorah and Jaxon end up stuck in an elevator, the two meet and an unlikely romance starts.
I liked Devorah and Jaxon and how they met. Their interactions were always so adorable and I related to both characters in different ways. Each character had a unique voice and I was really able to get a feel for the different characters. I also liked that the secondary characters were really fleshed-out as well, it was just great. The romance was so cute and I honestly loved every second of it.
I liked that the setting was very clear. While reading, I definitely felt like I was in Brooklyn, the novel really immerses you in it. The one thing that I didn't enjoy as much was the ending. Without being too spoilery: while I enjoyed that the characters each learned and achieved their own personal gains, I felt like there could've been something more.
In terms of diversity, Devorah is Hasidic and Jaxon is African-American. I'm not sure about the portrayals but both characters are authentic, fleshed-out and real. (That said, if you've read any articles about the representation in this particular novel, please tweet me!)
Overall, Like No Other was an engaging, raw and cute novel. I recommend it for fans of novels that really explore individual characters and how the relationships we have can impact our lives in a more long-term way. (If that makes any sense). Like No Other is a fantastic novel that delves into topics of forbidden love, religion and identity.
Related Posts