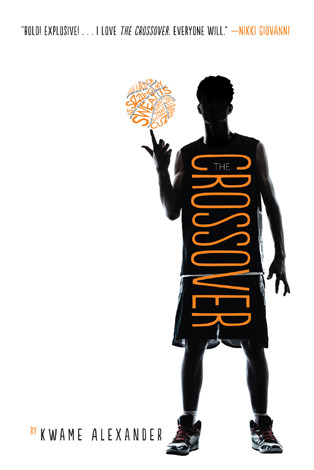 The Crossover
by Kwame Alexander

Published by
HMH Books for Young Readers
on March 18th 2014

Genres: Poetry, Fiction, Middle Grade

Pages: 237

Goodreads
---
2015 Newbery Medal Winner
2015 Coretta Scott King Honor Award Winner
"With a bolt of lightning on my kicks . . .The court is SIZZLING. My sweat is DRIZZLING. Stop all that quivering. Cuz tonight I'm delivering," announces dread-locked, 12-year old Josh Bell. He and his twin brother Jordan are awesome on the court. But Josh has more than basketball in his blood, he's got mad beats, too, that tell his family's story in verse, in this fast and furious middle grade novel of family and brotherhood from Kwame Alexander (He Said, She Said 2013).
Josh and Jordan must come to grips with growing up on and off the court to realize breaking the rules comes at a terrible price, as their story's heart-stopping climax proves a game-changer for the entire family.
I borrowed this book from my local library. This does not influence my thoughts on the book or this review.
I picked up The Crossover after hearing months of great things about it and I'm glad I did. The Crossover is truly a unique middle-grade novel that I recommend to readers of all ages.
The Crossover, written in beautiful free verse, is about Josh Bell and his twin brother Jordan. The two brothers are highly successful basketball players and owe a part of their success to "Da Man", their retired NBA-player father. This novel surrounds Josh's basketball career but definitely has largely to do with family. Josh and his brother are growing apart and must come to terms with a new dynamic in their family. The Crossover is definitely unique and has a multitude of relatable and interesting facets.
I honestly loved the writing of this novel. Not only were the poems clear and thoughtful, the author also used different font sizes to play around with the impact of each line and what that did to the reader and the narrator. The plot in itself was also very interesting and engaging, I couldn't turn away. I don't want to say much more because the novel is pretty short & I don't want to spoil anything!
Overall, The Crossover is a novel I highly recommend for readers of all ages! I'll definitely be buying a copy of this one for my personal collection and recommending it to everyone!
Related Posts