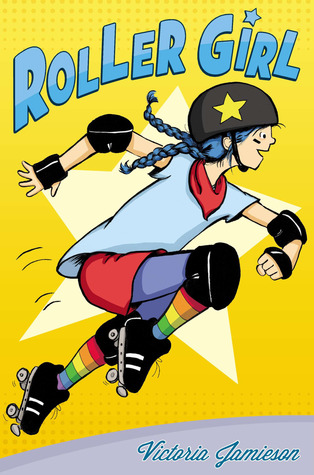 Roller Girl
by Victoria Jamieson

Published by
Dial
on March 10th 2015

Genres: Graphic Novels, Middle Grade

Pages: 240

Goodreads
---
For fans of Raina Telgemeier's Smile, a heartwarming graphic novel about friendship and surviving junior high through the power of roller derby.
Twelve-year-old Astrid has always done everything with her best friend Nicole. So when Astrid signs up for roller derby camp, she assumes Nicole will too. But Nicole signs up for dance camp with a new friend instead, and so begins the toughest summer of Astrid's life. There are bumps and bruises as Astrid learns who she is without Nicole...and what it takes to be a strong, tough roller girl.
I borrowed this book from the library, it does not influence my thoughts on the book or this review.
I love reading graphic novels and I find that middle-grade ones are some of more fun ones and once I heard great things about Roller Girl, I knew I had to read it.
Roller Girl is about Astrid and her quest to become a roller derby champion. The novel chronicles the summer that Astrid first starts to learn to roller derby and the challenges of it. It also tackles topics of friendship and what it means to grow apart.
The plot was very interesting and I can see any middle grade reader relating to it, even if they don't like roller skating. Also, the facts about roller derby seemed accurate which I really enjoyed. The art style (as you can probably tell from the cover) was amazing and I really liked it.
Overall, Roller Girl was a very interesting middle grade graphic novel that I highly recommend, especially for fans of Raina Telgemeier and Erin Faith Hicks!
Related Posts