Picture Book Reviews: Silly Edition!
I love reading picture books with my little sister and I thought perhaps some blog readers might enjoy reading these reviews. I've divided my ratings into skip it, read it and gift it. "Gift it" books could also be bought for yourself, they're that good!
The Book With No Pictures
Key ideas: silly words, reading with parents, no pictures
Rating: Read it
A book with no pictures?

What could be fun about that?

After all, if a book has no pictures, there's nothing to look at but the words on the page.

Words that might make you say silly sounds… In ridiculous voices…

Hey, what kind of book is this, anyway?

At once disarmingly simple and ingeniously imaginative, The Book With No Pictures inspires laughter every time it is opened, creating a warm and joyous experience to share–and introducing young children to the powerful idea that the written word can be an unending source of mischief and delight.
While I liked this book, I don't think it works for my and my sister. We like to take turns reading this book and she sometimes reads picture books on her own but this particular book requires an adult to read it. It tricks the reader into saying made up silly words and then exclaiming "nooo, that isn't a word! Do I have to read this?!" (The answer is yes). It did make my sister laugh and giggle a lot so that's a bonus!
Mustache Baby
Themes: mustache, good vs. evil, appearances
Rating: Read it
When Baby Billy is born with a mustache, his family takes it in stride. They are reassured when he nobly saves the day in imaginary-play sessions as a cowboy or cop and his mustache looks good-guy great. But as time passes, their worst fears are confirmed when little Billy's mustache starts to curl up at the ends in a suspiciously villainous fashion. Sure enough, "Billy's disreputable mustache led him into a life of dreadful crime." Plenty of tongue-in-cheek humor and cartoonish illustrations make this the perfect baby-shower gift for a mustachioed father-to-be.
This title is definitely one of the silliest on this list! When a baby is born with a mustache, his parents are expected to wait and see if it becomes an evil or good mustache! While I hesitated to accept this arbitrary explanation for good vs. evil, it was a pretty silly book that I enjoyed. I also found out there's a sequel which I just requested from the library. Spoiler: the sequel features a BEARDED BABY!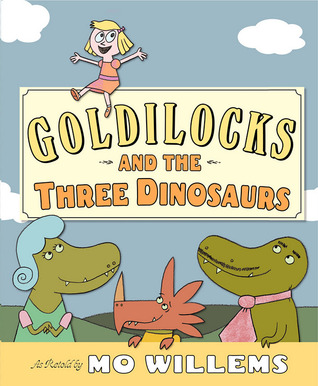 Goldilocks and The Three Dinosaurs
Key ideas: retelling, dinosaurs, tricky narrators
Rating: Gift it!
Once upon a time, there were three hungry Dinosaurs: Papa Dinosaur, Mama Dinosaur . . . and a Dinosaur who happened to be visiting from Norway.

One day–for no particular reason–they decided to tidy up their house, make the beds, and prepare pudding of varying temperatures. And then–for no particular reason–they decided to go…someplace else. They were definitely NOT setting a trap for some succulent, unsupervised little girl.

Definitely not!

This new take on a fairy-tale classic is so funny and so original–it could only come from the brilliant mind of Mo Willems.
Mo Willems is one of my favourite children's authors so this comes as no surprise. I just loved how tricky the narrator was in this story and how he definitely did not fail to trick the readers on purpose. Definitely not. There would be no point to that at all. Other than cause tons of enjoyment and suspense. But he DEFINITELY DID NOT want to do that. (If this review makes no sense, read the synopsis, perhaps it will make more sense then)
I Want My Hat Back

Key ideas: simple illustrations, silly
Rating: Read It
A bear almost gives up his search for his missing hat until he remembers something important.
This title is pretty short but I really enjoyed the ending. Definitely worth reading for a little laugh!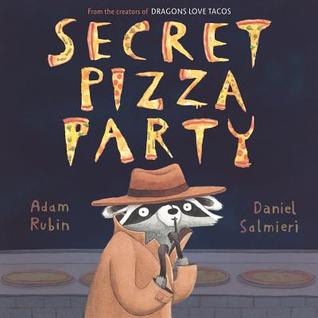 Secret Pizza Party
Key ideas: PIZZA, thieving, secrets
Rating: Read it
Shhhh! Don't tell anyone about this mouth-watering book from the New York Times bestselling creators of Dragons Love Tacos!

How does Racoon love pizza? Oh, let him count the ways. He loves the gooey cheesy-ness, salty pepperoni-ness, sweet sweet tomato-ness, and of course the crispity crunchity crust. But someone is always chasing poor Raccoon away from his favorite food with a broom! What's a hungry raccoon to do? Plan an elaborate secret pizza party, of course!
But shhh! It's a secret! In fact, you should probably just forget I told you. Nope, no secret pizza party happening here.You didn't already tell all your friends, did you? Uh oh . . .

Fans of Jon Klassen and Mo Willems's humor will gobble up this quirky ode to the lengths we will go to for our heart's desire.
If you're a fan of pizza as much as I am, you'll love this book! The plot was pretty enjoyable and the illustrations were cute and I especially enjoyed how the narrator was an active character in the book, it's always a bonus!
—
Have you read any of these picture books? Let's discuss in the comments!