Today we have a lovely guest post by author Katie Robison! She wrote The Windstorm series and I'm honoured to feature her and her book!
About the Book
Downburst by Katie Robison
Book 1 in The Windstorm series
Published January 10th 2012
Add it on GoodReads!
Kit's only goal is to stay alive. Right now, that means dodging brutal gangs while peddling fake I.D.s on the back streets of Winnipeg. But things get complicated when Kit sells a license to a girl named Aura—a girl who could almost be her twin. Caught in the wrong place at the wrong time, Kit is plunged into an underground society with heart-stopping surprises at every turn. To protect herself, she's forced to assume Aura's identity. But storm clouds are gathering on the horizon, and when Kit learns the truth about Aura, she knows she has to get out before the storm breaks. There's only one problem: escape isn't an option.

Suddenly, staying alive just got a lot harder.
About the Author
Katie Robison is a registered member of the Ngai Tahu Maori tribe in New Zealand and author of the Windstorm Series (Downburst, Coiled Snake, and the forthcoming Firestorm), a young adult contemporary fantasy trilogy inspired by Native American, Polynesian, and other native mythologies. Firestorm, the final book in the trilogy, is scheduled for release in January 2016. You can learn more about Katie by visiting her website: www.katierobison.com.
The Power of Story: A Guest Post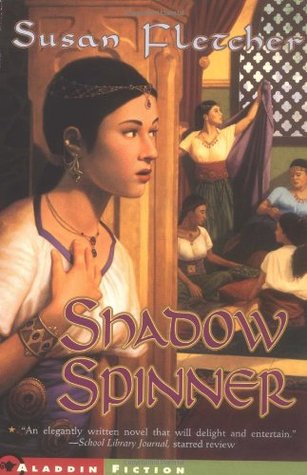 Growing up, one of my favorite books was Shadow Spinner by Susan Fletcher. The protagonist of the novel is a girl named Marjan who helps Shahrazad find a new tale to tell the Sultan. You remember the story of the Arabian Nights? The Sultan of Persia, enraged by his wife's infidelity, marries and then kills a new wife every day until the vizier's daughter Shahrazad volunteers to marry him. She succeeds in delaying her execution by telling him a story and ending on a cliffhanger right before sunset: in order to hear the rest of the tale the Sultan has to keep her alive for another day. This process continues for 1,001 nights until the Sultan finally releases his anger and declares his love for Shahrazad.
There were many reasons I loved Shadow Spinner. In addition to the nail-biting suspense, court intrigue, and beautiful stories, I adored Marjan's character. She was brave, selfless, and resourceful: it was in part because of her efforts that Shahrazad, another strong female character, was successful in restoring peace to the kingdom.
She was also disabled. 
And this is why diversity in children's and young adult literature is so important. As a child, one of my favorite heroines was a girl from Persia (modern day Iran) with clubfoot. But when I read (and re-read) Shadow Spinner, I didn't "see" cultural difference and disability. It was there, certainly, but it didn't alienate or distract me. In Marjan, I only saw a smart and courageous character whom I wanted to emulate. More than that, by viewing life through her eyes, I related to her in a very personal way. Marjan felt, she hoped, she aspired. She was just like me. Even though we inhabited different worlds, Fletcher's words built a bridge between us.   
The beautiful thing about bringing more diversity (and by diversity I mean a full spectrum of cultures, religions, ages, races, genders, abilities, physical and mental conditions, orientations, etc.—really all the things that make us who we are as individuals) to young adult literature is that it allows two important things to happen: 
-First, it enables a wider range of readers to identify with characters who are like them, characters who share their same struggles and yet grow and thrive. These characters can become important role models for young readers who may not have many in their lives.
-Second, it helps readers empathize with characters who are not like them, at least on the surface. Encountering "diversity" in a safe place, like a book, through the voice of characters we love, prevents superficial differences from seeming strange or threatening. Instead, they just seem human.
Studies have shown that reading character-driven literature helps people cultivate a greater psychological awareness and understanding for others. It follows that the more young adult literature incorporates, and so normalizes, human difference, the more progress we can make toward eradicating harmful stereotypes and prejudices.
Shahrazad saved the kingdom of Persia through the power of story. And at the end of Shadow Spinner, Marjan saves Shahrazad by telling the Sultan the truest story she knows: the one about herself. It is my hope that, like Marjan, all of us can tell our own stories, whatever they are, that we try to be our authentic selves and share with the world our passions and dreams. All of our stories deserve to be heard. They need to be heard. Only by broadcasting "diversity"—our differences, yes, but also our underlying sameness—can we release the anger and fear that hold us back and instead embrace compassion and love.
—–
What did you think of Katie's guest post? Have you read Windstorm or are you interested in reading it? Let's discuss in the comments!