Hi everyone! Our last week is almost nearing upon us, ahh! But don't fret, there's tons of more posts coming your way including this awesome one from Samantha discussing her own experiences and she has some recommendations!
About the Blogger
Samantha is 22 year old college student, living in sunny San Diego. When she's not poring over textbooks and papers, she spends her time reading and trying to write (but in reality is watching The Mindy Project or too much anime). Check out her blog at 
Where's My Bookmark?.
Why I Need Diversity: A Guest Post
Growing up, I had a yo-yo relationship with books. Looking back, I now see that many of the characters I grew to love, didn't actually look or sound like me. Some, I connected wholeheartedly. For instance, Hermione Granger, it's hard not to love that smart-alecky crazy haired girl, but it was difficult to hide the fact that she was British and I was from the Southwest United States.
Another character I felt connected to was Bella Swan from Twilight. She's from Phoenix and I'm from Phoenix. She's abnormally pale compared to other Arizonans and I'm abnormally pale. But the similarities end there. I didn't have a supernatural boyfriend (still don't) and I wasn't stuck in a love triangle (and I hope I never will be).
In the book blogging community, and when sharing and talking about books in general there is a lot of talk about relating to characters. "It was boring to read because I couldn't relate to the character", etc. That never made sense in my mind. I have never been able to relate to a character. Sure, I connected with some, a little bit here and there (note: Hermione and Bella), but that was it.
However, that was until I read Yaqui Delgado Wants to Kick Your Ass by Meg Medina. That book shook my world. The book follows Piddy Sanchez who falls on the wrong side of Yaqui Delgado's wrath. Piddy must face her bullies, her family, and herself as she learns to grasp this new reality.
But, it begs to question, why did I feel like I could relate? I'm not a teenager anymore, I didn't get bullied in high school, and I don't live in New York. So, what gives?
Straight answer – Piddy is Latina. The things she experiences and feels, I did as well growing up, even though we don't share the same heritage.
The same thing happened when I read Aristotle and Dante Discover the Secrets of the Universe by Benjamin Alire Sanchez.
All these characters were Latinx. I felt even more connected to Ari and Dante because they were Mexican-American like me (and from the Southwest).
I found it hard to relate to other books and characters because they didn't offer a narrative I could connect with and delve into further. I'm not saying I can't enjoy a fantasy novel or a dystopian novel following the trials of a teenage girl trying to bring down the government, but every now and then a reader wants to connect with the character's life experience. That's why I will be forever in love with Dante because of his inability to deal with his Mexican side. That's something I have to tackle personally every day.
So, if anything having diverse books helps me feel less alone. I wasn't sure if there were other people who felt like an outsider, like Dante.
People like seeing themselves in the stories they read. But above all else, reading diverse books allows us a chance to read about different life experiences. There are so many different sides to a story and if we only read one, we don't really get to see the full picture.
-Samantha
Some Book Recommendations
Fantasy
Silver Phoenix by Cindy Pon
Something is after Ai Ling. On her quest to the Palace of Fragrant Dreams to reunite with her father, Ai Ling discovers supernatural forces are at work and creating a perilous situation for her and her companions. But with her wit and her friends, she vows to conquer her adversaries and reunite with her father.
Inspired by Chinese mythology and history, Silver Phoenix is the first book in the Kingdom of Xia duology.
The Vicious Deep by Zoraida Cordova
A paranormal and mythological tale, The Vicious Deep follows Tristan Hart and the strange world he's come across. He has no memory of what happened after he was taken out to sea and has no way of explaining to his best friend the new skills he's acquired or his new responsibilities.
Summer of the Mariposas by Guadalupe Garcia McCall
For fans of mythological retellings, Summer of the Mariposas follows Odilia and her four sisters who embark on a journey to return a dead man to his family in Mexico.
A retelling of Homer's The Odyssey, Summer of the Mariposas presents a magical rendition of Mexican myths and folklore.
Contemporary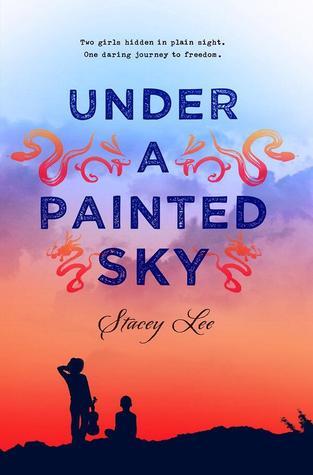 Under a Painted Sky by Stacey Lee 
Stacey Lee's debut novel is filled with adventure. Samantha desperately wants to go to New York and be a musician, but her dreams are dashed and must take her chance on the Oregon Trail with a runaway slave named Annamae.
Under a Painted Sky is a tale of friendship and survival.
Let's Get Lost by Adi Alsaid
Four different teens come across Leila, who enters their lives at a pivotal time and forever changes them. She travels in her red car for her own reasons, but discovers maybe the thing we're searching for is back where we started.
—
What did you think of Samantha's guest post? Have you read any of the books she recommends? Let's discuss in the comments and don't forget to share your support by visiting her blog/social media!