Hi everyone! I'm so so so soooo excited to have Heidi Heilig, the author of The Girl From Everywhere, discussing something I'm sure we'll all enjoy, Pirate Culture! Without further ado, enjoy!
About the Book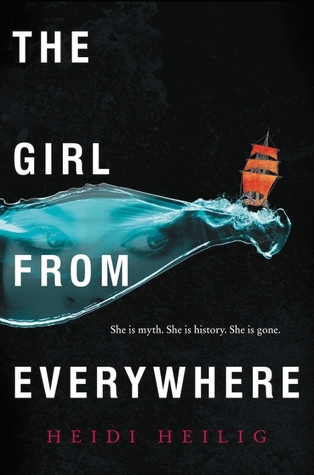 The Girl from Everywhere by Heidi Heilig
The Girl From Everywhere Book #1
YA Fantasy/Sci-Fi
Releasing February 16th 2016
Add it on GoodReads!
Heidi Heilig's debut teen fantasy sweeps from modern-day New York City to nineteenth-century Hawaii to places of myth and legend. Sixteen-year-old Nix has sailed across the globe and through centuries aboard her time-traveling father's ship. But when he gambles with her very existence, it all may be about to end. The Girl from Everywhere, the first of two books, will dazzle readers of Sabaa Tahir, Rae Carson, and Rachel Hartman.

Nix's life began in Honolulu in 1868. Since then she has traveled to mythic Scandinavia, a land from the tales of One Thousand and One Nights, modern-day New York City, and many more places both real and imagined. As long as he has a map, Nix's father can sail his ship, The Temptation, to any place, any time. But now he's uncovered the one map he's always sought—1868 Honolulu, before Nix's mother died in childbirth. Nix's life—her entire existence—is at stake. No one knows what will happen if her father changes the past. It could erase Nix's future, her dreams, her adventures . . . her connection with the charming Persian thief, Kash, who's been part of their crew for two years. If Nix helps her father reunite with the love of his life, it will cost her her own.

In The Girl from Everywhere, Heidi Heilig blends fantasy, history, and a modern sensibility with witty, fast-paced dialogue, breathless adventure, and enchanting romance.
About the Author
Heidi Heilig is the author of THE GIRL FROM EVERYWHERE (Greenwillow Books, February 16, 2016) which features a diverse crew aboard a time-travelling pirate-ship. She is bipolar and biracial and lives in Brooklyn with her husband and son, and their pet snake.
Let's Talk About Pirate Culture: A Guest Post
There is so much to love about pirates.
Adventure! Booty! Great hats! And something you don't often see in Hollywood portrayals–
Diversity.
Like many mainstream stories, a lot of historical fiction/fantasy is washed fairly white/cis/straight/male. Stories about pirates are no exception, from captains (Errol Flynn and Johnny Depp come immediately to mind) to crew (aboard Pirates of the Caribbean's Black Pearl, only two crewmembers were played by men of color). But, as is often the case, when you look at the actual history, a different picture emerges. For example, the ubiquitous piratical eye-patch was actually based on the real life accessory of Rahmah ibn Jabir al-Jalahimah, an Arab Pirate in the late 18th century.
Nowadays, some people seem to think that diversity is "only a trend." Claims that "PC" has "Gone Wild" are not uncommon. But people of color, women, and/or queer people (and any combination thereof) are not a 21st century invention. Diversity has been around as long as history, and as a "diverse author" of historical fantasy, pirates are very exciting. After all, the open sea has always been a haven for people who didn't like their options back on land.
There were certainly black pirates, some of whom went to sea to escape enslavement or ill-treatment. In the 16th and 17th centuries, there were three separate black or mixed-race pirates by the name of Diego "El Mulato". One of them–Diego "El Mulato" Martin–was so fearsome he was given a royal commission so he would Leave Spain Alone and bother the enemies of the crown instead.
Another infamous pirate called Black Caesar was the terror of the Florida Keys in the early 18th century. He was allegedly bound for slavery in the Americas when he escaped during a shipwreck. From there he built an empire deep in the mangroves, sallying forth to raid ships and retreating into the many inlets in the swamps. Caesar's Creek and Caesar's Rock in Florida still bear his name.
But noting the existence of great black pirates is not to say that racism didn't exist at on the high seas. Black pirates in the era still faced discrimination–both on their ships and on land if they were ever captured. Trial documents from 1830 tell the story of a reluctant mixed-race pirate named Thomas Wansley who was captured along with his three white crewmates. All were tried for murder, and at their trial, Wansley (who had been the one who had to mop up the blood post-murder while the white pirates had started drinking) told the judge: "I have often understood that there is a great deal of difference in respect of color, and I have seen it in this court." He and the leader of the small crew were hanged; the two others were let free.
Indeed, piracy often led to a gruesome end for the pirate him (or her)self. If they didn't die at sea, they were executed when captured. But two pirates in the 18th century found a way around execution: they "pled the belly." That is, they claimed they were pregnant and thus couldn't be hanged.
Anne Bonney and Mary (aka Mark) Read met aboard the sloop Revenge and became fast friends–and probably lovers. The two habitually dressed as men, and there is a case to be made that Read was a trans man. Though Anne Bonney was romantically involved with Captain Calico Jack when she met Read, Anne was attracted to the dashing new pirate with the high voice. The three struck up what many agree was a bisexual poly relationship. In some of the literature, Bonney and Read are even listed as matelots. (Matelotage being the pirate's version of marriage–a formal, permanent union between any two pirates. Matelots shared living quarters and plunder, fought side by side, nursed each other when sick, and had rights of inheritance. Matelotage was so common, it's where we get the pirate slang "matey.")
Bonney, Read, and Calico Jack spent years pillaging the seas around Jamaica until their ship was attacked by a king's sloop. Read and Bonney fought valiantly, but the rest of the crew was too drunk to fight. Before Calico Jack was sentenced, Bonney's last words to him were "Had you fought like a man, you need not have been hang'd like a dog." Bonney and Read were both granted a stay of execution due to their pregnancies. Read died in jail, and no record remains of Anne's fate.
But take heart! #NotAllPirates met a tragic, violent end. Ching Shih was so successful that her career ended in retirement. She was a sex worker in Guangzhou who found she had a knack for life at sea when she was captured by pirates. At the age of 26, she married the captain, and in three year's time helped his Red Fleet become one of the most powerful fleets in all of China.
When her husband died, Ching Shih took over, instituting a system of strict laws, protecting villagers who aided her pirates and punishing rape with beheading. By the age of 35, she was undefeatable, and the Chinese navy had to offer her amnesty rather than lose any more ships attempting to fight her. She negotiated her own terms and walked away with her life and all her loot, dying at the ripe old age of 69.
So you see, Pirate Culture could be awesomely inclusive. And the next time someone says that diversity is just PC Gone Wild, give them a hearty "Aye Matey!"
Then maybe make them walk the plank.
—
What did you think of this post? Did you enjoy it as much as I did? Let's discuss in the comments!