Hi everyone, I'm so honoured to feature Pili from In Love with Handmade. She's a lovely blogger and an awesome human, hope you enjoy the post!
About Pili
A life long bookwyrm, oncology nurse by day (and night too!) with a love for handmade & DIY items, baking & listening to music, travelling and enjoying life! You can find me on Twitter @pili28 where I spend wayyy too much time for my productivity or my blog In Love With Handmade.
Pili Recommends 5 Books Featuring Indian Culture!
Hello guys!

I'm more than honoured to take part of Read Sleep Repeat's Diversity Matters Month!

First of all, I feel I must set up a disclaimer of sorts because my recommendations are gonna be for books that are set in India and/or have the Indian culture as the base of their world. My disclaimer comes because I am not Indian. I'm a Spanish born and raised woman, and by all acounts I'm white and part of the privileged ones. I do have Arab ancestry, but quite far off so I cannot be pinned easily as one just by looks.

Why am I writing about India? Well, for 7 years I was in a relationship with an Indian guy and was very much adopted into his family, visited India many many times, and was part of their family life. Attended events, weddings, pujas, Diwali…, dressed in sarees and kurtas and lehengas and learnt to love the culture, the food and some of their traditions.

I don't have to love or agree with everything because a society where boys and girls grow too often segregated, walking hand in hand between girl & boy is frown upon and in some villages can be punished, and where doctors are obliged by law to NOT reveal the genre of a baby during ultrasounds to avoid female abortions. And a place where there are whitening creams ads on TV all the time?

So much to love and so much to want to change. One my ex's sisters lives in the US and has two girls, and reading as much as I do, I realized that these two amazing girls don't really have many characters, if any, that they can really identify themselves really with in books! Rhea is a big Harry Potter fan and there at least are the Parvati sisters, not main characters by any means, but mentioned in all the books and visible in all the movies.

As with the first times that I wore desi clothing, wondering if I would be insulting the culture because what right do I have to wear it and being reassured by them that is not insulting if you do it properly, respectfully (and at some point it felt like they forget that I really am not Indian), I have wondered if by recommending books that talk about India and asking for more books with Indian culture and Indian culture, I'm not stepping on someone else's shoes, or stealing someone's voices. But I think that Rhea and Anya do deserve books with girls like them saving the world or simply being the ones falling in love with the popular guy in their high schools. Everyone needs and deserves to have stories where they can see themselves!

So here are my recommendations of books full of India culture and both the good and bad of India!

Two are YA recommendations, and the other two are adult books, a little bit of everything so to speak.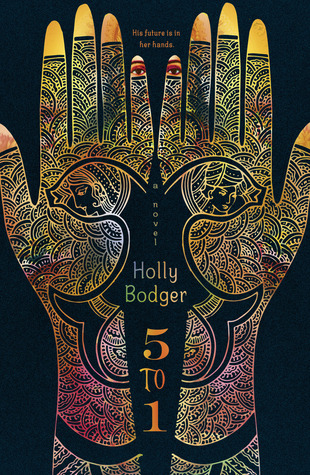 5 to 1 by Holly Bodger

In the year 2054, after decades of gender selection, India now has a ratio of five boys for every girl, making women an incredibly valuable commodity. Tired of marrying off their daughters to the highest bidder and determined to finally make marriage fair, the women who form the country of Koyanagar have instituted a series of tests so that every boy has the chance to win a wife.

Sudasa doesn't want to be a wife, and Contestant Five, a boy forced to compete in the test to become her husband, has other plans as well. Sudasa's family wants nothing more than for their daughter to do the right thing and pick a husband who will keep her comfortable—and caged. Five's family wants him to escape by failing the tests. As the tests advance, Sudasa and Five thwart each other at every turn until they slowly realize that they just might want the same thing.

This beautiful, unique novel is told from alternating points of view—Sudasa's in verse and Contestant Five's in prose—allowing readers to experience both characters' pain and their brave struggle for hope.

Told in both verse and prose this is a dystopian tale that explores oppresion by genre and the consequences of the events that still today are taking place in India. Full of Indian culture and traditions, some words can be disconcerting for those that know nothing of Indian culture, but I keep hoping it'll be a way to want to know more.
 

A Time To Dance by Padma Venkatraman

Padma Venkatraman's inspiring story of a young girl's struggle to regain her passion and find a new peace is told lyrically through verse that captures the beauty and mystery of India and the ancientbharatanatyam dance form. This is a stunning novel about spiritual awakening, the power of art, and above all, the courage and resilience of the human spirit.

Veda, a classical dance prodigy in India, lives and breathes dance—so when an accident leaves her a below-knee amputee, her dreams are shattered. For a girl who's grown used to receiving applause for her dance prowess and flexibility, adjusting to a prosthetic leg is painful and humbling. But Veda refuses to let her disability rob her of her dreams, and she starts all over again, taking beginner classes with the youngest dancers. Then Veda meets Govinda, a young man who approaches dance as a spiritual pursuit. As their relationship deepens, Veda reconnects with the world around her, and begins to discover who she is and what dance truly means to her.

Diversity in more ways than one, not only it is set in India, and talks about traditional & ancient dance forms but also, our main character is an amputee that has to deal with her disability now. Told in verse, it's poignant and you can almost breathe India while reading it.


 And now for the adult books, these two have got the seal of approval of Divya, one of my ex's sisters too, so I feel like I can recommend them even more!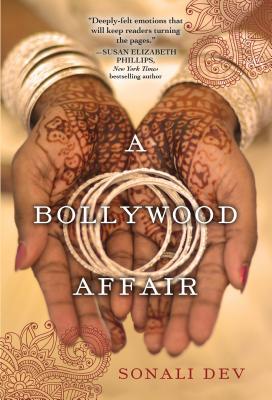 A Bollywood Affair by Sonali Dev

Mili Rathod hasn't seen her husband in twenty years—not since she was promised to him at the age of four. Yet marriage has allowed Mili a freedom rarely given to girls in her village. Her grandmother has even allowed her to leave India and study in America for eight months, all to make her the perfect modern wife. Which is exactly what Mili longs to be—if her husband would just come and claim her.
Bollywood's favorite director, Samir Rathod, has come to Michigan to secure a divorce for his older brother. Persuading a naïve village girl to sign the papers should be easy for someone with Samir's tabloid-famous charm. But Mili is neither a fool nor a gold-digger. Open-hearted yet complex, she's trying to reconcile her independence with cherished traditions. And before he can stop himself, Samir is immersed in Mili's life—cooking her dal and rotis, escorting her to her roommate's elaborate Indian wedding, and wondering where his loyalties and happiness lie.
Heartfelt, witty, and thoroughly engaging, Sonali Dev's debut is both a vivid exploration of modern India and a deeply honest story of love, in all its diversity.


A romance at its core, jumping from India to the US, makes us look at both the more modern side of India and all the Indians that live in the US as well as at the outdate traditions of child marriages and restrictions that are still present in villages all over India.

The Bollywood Bride by Sonali Dev


"A fresh new voice." –Susan Elizabeth Phillips, New York Timesbestselling author

Ria Parkar is Bollywood's favorite Ice Princess–beautiful, poised, and scandal-proof–until one impulsive act threatens to expose her destructive past. Traveling home to Chicago for her cousin's wedding offers a chance to diffuse the coming media storm and find solace in family, food, and outsized celebrations that are like one of her vibrant movies come to life. But it also means confronting Vikram Jathar.

Ria and Vikram spent childhood summers together, a world away from Ria's exclusive boarding school in Mumbai. Their friendship grew seamlessly into love–until Ria made a shattering decision. As far as Vikram is concerned, Ria sold her soul for stardom and it's taken him years to rebuild his life. But beneath his pent-up anger, their bond remains unchanged. And now, among those who know her best, Ria may find the courage to face the secrets she's been guarding for everyone else's benefit–and a chance to stop acting and start living.

Rich with details of modern Indian-American life, here is a warm, sexy, and witty story of love, family, and the difficult choices that arise in the name of both.

Another fantastic romance by Sonali Dev! Prejudices, mental health and the limits of privacy when dealing with fame and papparazzi, all mixed up with Indian families and the communities of Indians that form like a second family and big Indian events, like a wedding.


I hope you guys will give these books a try and will fall in love with India as I did! And I want you all to keep an eye for a 2016 debut book called The Star Touched Queen by Roshani Chokshi! A YA fantasy based on Indian mythology!!
—
Have you read any of these books or are you looking forward to reading any of them? Let's discuss in the comments!