I'm so honoured to have I.W. Gregorio on the blog tonight discussing her novel, None of the Above! Hope you all enjoy the interview!
About the Book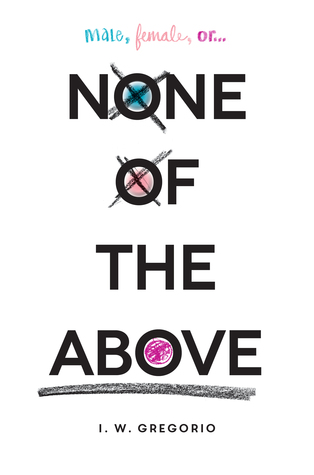 None of the Above by I.W. Gregorio
Released April 7th 2015
Add it on GoodReads!
What if everything you knew about yourself changed in an instant?

When Kristin Lattimer is voted homecoming queen, it seems like another piece of her ideal life has fallen into place. She's a champion hurdler with a full scholarship to college and she's madly in love with her boyfriend. In fact, she's decided that she's ready to take things to the next level with him.

But Kristin's first time isn't the perfect moment she's planned—something is very wrong. A visit to the doctor reveals the truth: Kristin is intersex, which means that though she outwardly looks like a girl, she has male chromosomes, not to mention boy "parts."

Dealing with her body is difficult enough, but when her diagnosis is leaked to the whole school, Kristin's world completely unravels. With everything she thought she knew thrown into question, can she come to terms with her new self?

Incredibly compelling and sensitively told, None of the Above is a thought-provoking novel that explores what it means to be a boy, a girl, or something in between.
About the Author
I. W. Gregorio is a practicing surgeon by day, masked avenging YA writer by night. After getting her MD, she did her residency at Stanford, where she met the intersex patient who inspired her debut novel, None of the Above (Balzer + Bray / HarperCollins). She is a founding member ofWe Need Diverse Books™ and serves as its VP of Development. Her writing has appeared inThe Washington Post, San Francisco Chronicle, San Jose Mercury News and Journal of General Internal Medicine. A recovering ice hockey player, she lives in Pennsylvania with her husband and two children.
The Interview
Q: Please describe your book using any five words!
Real. Eye-opening. Funny. Poignant. Empowering.
Q: I thought that intersex was handled well and accurately in None of the Above. Can you describe your research process?
It was definitely a many-tiered process! It involved a lot of book reading, to make sure I got the science, right, but more importantly, getting first hand accounts by reading personal essays and interviewing intersex people. Finally, after drafting, it was extremely important for me to get beta readers who were intersex – including the leaders of the Androgen Insensitivity Support Groups for both the US and UK. I've written in detail about the challenges of writing intersex on the Barnes and Noble blog.
Q: Diverse books encompass so many topics and relatable themes. When did you realize that you wanted to write a novel about an intersex teen struggling to accept herself?
After treating my first intersex patient as a resident. I talk a little bit about this story in this BookPage interview.
Q: If there's one thing you'd like readers to learn from your novel, what would it be?
That your chromosomes and your biology do not determine your gender, nor who you love.
Q: None of the Above is loved by readers from all backgrounds. What is it about themes of self-discovery that are so widely loved?
I think that every teen, at some point, feels a little bit lost, a little bit like a freak. Everyone has at some point, struggled with the meaning of friendship and love. Also, when I wrote the book, I consciously tried to make Kristin as "everygirl" as possible, so she would be relateable – and so that people would know that the girl next door could be intersex.
Q: I find that it's sometimes easier to come up with ideas than to follow through with them. What pushed you to write Kristin's story?
Knowing that there was so little literature out there about intersex really drove me to finish this book. I was so aware of the stigma and secrecy surrounding intersex that I felt very, very passionately that it needed to brought into the light.
Q: Is there anything you'd like to see more of in diverse YA?
I would love to read more stories about transgender boys and men. There are a lot of male-to-female transgender stories out there, but not too many female-to-male. Also there is almost no intersectionality of these stories.
Q: And last but not least, are you working on anything new right now?
I just had a breakthrough in my process for Book 2. So no details now, but hopefully soon!
—
What did you think of my interview with I.W. Gregorio? Let's discuss in the comments!