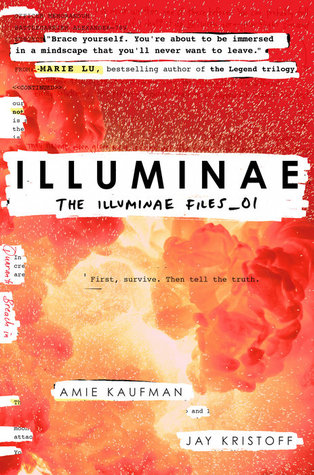 Illuminae
by Amie Kaufman, Jay Kristoff

Series:
The Illuminae Files #1
Published by
Knopf
on October 20th 2015

Genres: Sci-Fi, Thriller, Young Adult, YA

Pages: 608

Goodreads
---
This morning, Kady thought breaking up with Ezra was the hardest thing she'd have to do.
This afternoon, her planet was invaded.
The year is 2575, and two rival megacorporations are at war over a planet that's little more than an ice-covered speck at the edge of the universe. Too bad nobody thought to warn the people living on it. With enemy fire raining down on them, Kady and Ezra—who are barely even talking to each other—are forced to fight their way onto an evacuating fleet, with an enemy warship in hot pursuit.
But their problems are just getting started. A deadly plague has broken out and is mutating, with terrifying results; the fleet's AI, which should be protecting them, may actually be their enemy; and nobody in charge will say what's really going on. As Kady hacks into a tangled web of data to find the truth, it's clear only one person can help her bring it all to light: the ex-boyfriend she swore she'd never speak to again.
Told through a fascinating dossier of hacked documents—including emails, schematics, military files, IMs, medical reports, interviews, and more—Illuminae is the first book in a heart-stopping, high-octane trilogy about lives interrupted, the price of truth, and the courage of everyday heroes.
I received a copy of this book from the publisher, this does not influence my thoughts on the book or my review.
Hearing that this book was amazing from so many other bloggers made me a bit skeptical at first. Could one book really be so amazing?
Answer: YES IT CAN.
Told from different documents including memos, transmissions, reports and so much more awesomeness, Illuminae is a spectacular novel that will leave you pining for the sequel (yes, there is a sequel!!)
Illuminae, while told in various documents, seems to centre around Kady and Ezra. On the day that Kady broke up with Ezra, their home planet was invaded. Their journey is told through various documents, communications, emails and slowly readers piece it all together.
The first 50 pages of Iluminae are a bit confusing, especially if one has no knowledge of space travel (fortunately, I love Star Trek) but as everything starts to get clearer, the novel gets more intense, more twistey and more soul-wrenching. The plot was a bit slow at first but soon becomes an emotional roller coaster that may or may not have at one point resulted in tears.
Since the novel does centre around Kady and Ezra, there is a romance between them but I really liked it. Because of our knowledge of their journey through emails, we get to see the awesome snark that seems to transcend space and time. I loved every bit of it.
Overall, Illuminae was an awesome novel that will surely be the fave of many in 2015 (including me). I highly recommend it for people looking for a unique novel that explores the boundaries of storytelling and sci-fi.
Related Posts