Hi everyone, I'm so excited to have Laura @ 125 Pages doing a guest review of one of my favourite novels, Simon vs. the Homo Sapiens Agenda!
About the Blogger
Hi, my name is Laura and I am an addict. I am a reader. I read between five and eight books a week. In addition to my reading time, I work full time as a CFO at a local non-profit, serve on the board of other local non-profits, volunteer with programs such as Junior Achievement and teach free budget classes. I have a great husband and two kids, two cats and two dogs.
The Review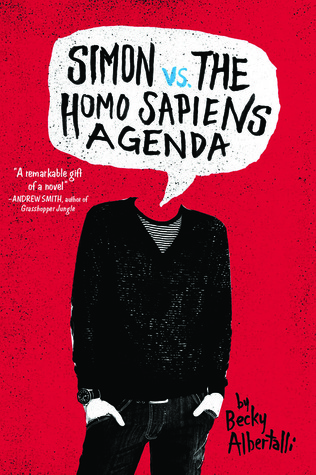 Simon vs. the Homo Sapiens Agenda
by Becky Albertalli

on April 7th 2015

Genres: Contemporary, Fiction, General, LGBT, Romance, YA, Young Adult

Pages: 320

Goodreads
---
Sixteen-year-old and not-so-openly gay Simon Spier prefers to save his drama for the school musical. But when an email falls into the wrong hands, his secret is at risk of being thrust into the spotlight. Now Simon is actually being blackmailed: if he doesn't play wingman for class clown Martin, his sexual identity will become everyone's business. Worse, the privacy of Blue, the pen name of the boy he's been emailing, will be compromised.
With some messy dynamics emerging in his once tight-knit group of friends, and his email correspondence with Blue growing more flirtatious every day, Simon's junior year has suddenly gotten all kinds of complicated. Now, change-averse Simon has to find a way to step out of his comfort zone before he's pushed out—without alienating his friends, compromising himself, or fumbling a shot at happiness with the most confusing, adorable guy he's never met.
Laura's thoughts: 
I don't know if there are words strong enough to describe my love for this book. At first glance this may seem to be another cute YA coming of age story; but it is so much more! Simon is the perfect theatre nerd, between play practice and intense debate over the latest episode of The Bachelorette he hangs with his small band of friends, spending entirely too much time at the Waffle House. He hates red icing because "it tastes too red", has an intense love of Oreos and is gay. His feelings on coming out are that "It's a giant holy box of awkwardness, and I won't pretend I'm looking forward to it. But it probably wouldn't be the end of the world." This doesn't mean he is eager to come out, he wants to be able to do it on his own terms, but circumstances may force his hand. What I adore about this book are the nuances; Simon is so layered and real I can almost hear him speaking to me. The pain of awkward adolescence merged with the angst of not feeling true to yourself makes Simon vs. the Homo Sapiens Agenda so much more than that glossy typical coming of age novel. The world created is vivid and the pacing is just spot on. This is one of those books I will re-read over and over for the feels.
And you know what? You don't get to say it's not a big thing. This is a big fucking thing, okay? This was supposed to be—this is mine. I'm supposed to decide when and where and who knows and how I want to say it." Suddenly, my throat gets thick. "So, yeah, you took that from me.
Coming out is such a personal issue, and one I have not personally had to deal with, so I can only imagine the emotions associated. I had a very dear friend that came out at sixteen. His mother kicked him out of the house and he spent his last two years of high school in foster care. He then drifted through life with no true emotional tie; consistently seeking that sense of belonging from anyone he could. I know what the loss of his mother did to him emotionally and it was heartbreaking and I believe attributed to the way too early ending of his life at twenty-one. When I saw his deeply rooted pain it sparked a wish in me for a time when sexual orientation no longer defines a person. It is a part of someone, but not their definition.
"It is definitely annoying that straight (and white, for that matter) is the default, and that the only people who have to think about their identity are the ones who don't fit that mold. Straight people really should have to come out, and the more awkward it is, the better. Awkwardness should be a requirement."
I have had people ask me why I am so passionate about allowing same-sex marriage and why I sat on the board of our local LGBTQIA center when I am a straight married woman. My answer has always been that everyone is entitled to love who they want. If you are both able to legally consent to the relationship what business is it of mine who you love. It does not affect my life, or that of my family. It in no way invalidates who I love or the sanctity of my marriage; the only one who can do that is me. Who you love should not define you as a person, your actions should define you. The action of hate for any group is a powerful indication of a societal defect, a defect that we all need to strive to overcome. Diversity should be celebrated in all forms, and I hope we will all learn to embrace those differences.
—
Have you read Simon vs. the Homo Sapiens Agenda yet? If not, did you  add it to your TBR?