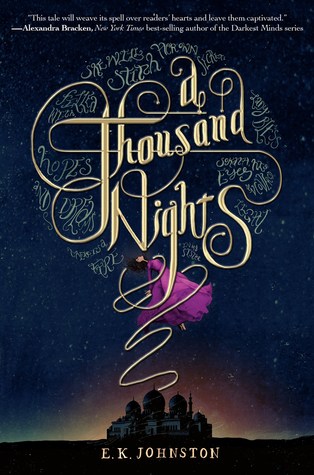 A Thousand Nights
by E.K. Johnston

Published by
Disney-Hyperion
on October 6th 2015

Genres: Retelling, Fantasy, Young Adult, YA

Pages: 336

Goodreads
---
Lo-Melkhiin killed three hundred girls before he came to her village, looking for a wife. When she sees the dust cloud on the horizon, she knows he has arrived. She knows he will want the loveliest girl: her sister. She vows she will not let her be next.
And so she is taken in her sister's place, and she believes death will soon follow. Lo-Melkhiin's court is a dangerous palace filled with pretty things: intricate statues with wretched eyes, exquisite threads to weave the most beautiful garments. She sees everything as if for the last time.But the first sun rises and sets, and she is not dead. Night after night, Lo-Melkhiin comes to her and listens to the stories she tells, and day after day she is awoken by the sunrise. Exploring the palace, she begins to unlock years of fear that have tormented and silenced a kingdom. Lo-Melkhiin was not always a cruel ruler. Something went wrong.
Far away, in their village, her sister is mourning. Through her pain, she calls upon the desert winds, conjuring a subtle unseen magic, and something besides death stirs the air.
Back at the palace, the words she speaks to Lo-Melkhiin every night are given a strange life of their own. Little things, at first: a dress from home, a vision of her sister. With each tale she spins, her power grows. Soon she dreams of bigger, more terrible magic: power enough to save a king, if she can put an end to the rule of a monster.
I received a copy of this for review, this does not influence my thoughts on the book!
I'll admit I don't have a lot of knowledge when it comes to myths and retellings, but I still recognize an interesting plot when I see it! A Thousand Nights is an interesting story, with unique elements of magical realism.
Lo-Melkhiin has been wandering the desert, looking for a wife. So far, he's had three hundred wives and every single one has died mysteriously. When he enters the village of the main character (whose name is really revealed only at the end of the novel), she sacrifices herself to save her beloved sister. Somehow and peculiarly, she survives the first night. And she soon discovers that perhaps there's more to Lo-Melkhiin than what she thought (and not in a good way). The main character struggles to understand herself and her husband, and attempts to get rid of the monster after all.
I thought A Thousand Nights was pretty interesting. There are a lot of info-dumps but I did think the magic realism elements were pretty interesting. The plot dragged on a bit but I found it pretty enjoyable once the dialogue got started. There are also several chapters from Lo-Melkhiin's point of view,  which I found pretty enjoyable.
There was practically no romance in this novel, which would definitely interest some readers who are sick and tired of seeing the same tropes explored.
In terms of diversity, I know enough to know that A Thousand Nights is an Arabian Nights retelling and this holds up pretty well as the main characters are described as having dark skin and the main character's family are curious about another character who's described as extremely pale and from the North. In terms of accuracy, I really can't say whether it holds up or not but the details are consistent and throughout.
Overall, A Thousand Nights was a pretty interesting retelling. I'd definitely recommend it for fantasy fans and perhaps for fans of the original tale. Now if you'll excuse me, I have to read all the original tales right now!
Related Posts