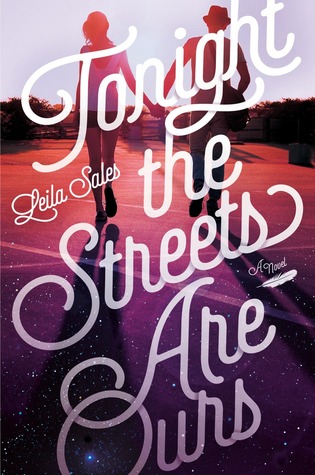 Tonight the Streets Are Ours
by Leila Sales

Published by Farrar Straus Giroux, MacMillian
on September 15th

Genres: YA, Contemporary, Romance

Pages: 342

Goodreads
---
From the author of This Song Will Save Your Life comes a funny and relatable book about the hazards of falling for a person you haven't met yet.
Seventeen-year-old Arden Huntley is recklessly loyal. Taking care of her loved ones is what gives Arden purpose in her life and makes her feel like she matters. But she's tired of being loyal to people who don't appreciate her—including her needy best friend and her absent mom.
Arden finds comfort in a blog she stumbles upon called "Tonight the Streets Are Ours," the musings of a young New York City writer named Peter. When Peter is dumped by the girlfriend he blogs about, Arden decides to take a road trip to see him.
During one crazy night out in NYC filled with parties, dancing, and music—the type of night when anything can happen, and nearly everything does—Arden discovers that Peter isn't exactly who she thought he was. And maybe she isn't exactly who she thought she was, either.
I received a copy of this book from the publisher, this does not influence my review or thoughts on the book.
I'm a huge fan of Leila Sales and when I saw she had a new book coming out, I knew I had to read it. I really enjoyed Tonight the Streets Are Ours but if I'm honest, I was expecting a bit more.
Arden has always described herself as recklessly loyal. Her niceness and longing to help others, even if they can't help themselves, is deeply ingrained in her. On a particularly rough day when she does a seemingly random Google search, she ends up finding Peter's blog, Tonight the Streets Are Ours. The blog isn't really a blog, it's more like an online journal. He describes his family situation and his life. In particular, he discusses his recent heartbreak. After a particularly sad night of her own, Arden decides to track down Peter and meet him. But when she does, he's not what he seems and Arden begins to question herself and her choices.
The plot to Tonight the Streets Are Ours was a bit slow and Arden only gets to New York (where Peter lives) about halfway through the novel. I expected the majority of the novel to be set when Arden meets Peter but that is not the case. Even though this was the case, I really enjoyed the plot otherwise. The world-building was spectacular and I could really connect to Arden, despite the 3rd person POV.
The writing was different from what I expected and I really liked it. The 3rd person POV was a bit distancing at times but by the end, I enjoyed it. I could really connect to Arden and her voice was definitely distinct and unique. The only other thing I was iffy about was the romance/lack of it. I'm still not sure how I feel about that since it worked for the novel, but not for my personal taste. Even though it wasn't a romance, the novel was about love and the different types of it. So in that way, I guess the first line "Like all stories, the one you are about to read is a love story." is somewhat accurate.
Overall, I enjoyed Tonight the Streets Are Ours even though it wasn't what I expected. I do recommend it for contemporary lovers and for fans of Leila Sales' previous works, just to see its uniqueness.
Related Posts