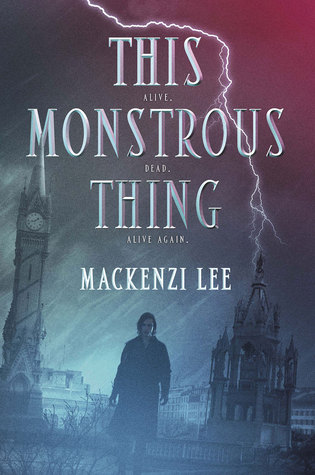 This Monstrous Thing
Published by Katherine Tegen Books, HarperCollins
on September 22nd 2015

Genres: Retelling, Historical Fiction, Young Adult

Pages: 384

Goodreads
---
In 1818 Geneva, men built with clockwork parts live hidden away from society, cared for only by illegal mechanics called Shadow Boys. Two years ago, Shadow Boy Alasdair Finch's life shattered to bits.
His brother, Oliver—dead.
His sweetheart, Mary—gone.
His chance to break free of Geneva—lost.
Heart-broken and desperate, Alasdair does the unthinkable: He brings Oliver back from the dead.
But putting back together a broken life is more difficult than mending bones and adding clockwork pieces. Oliver returns more monster than man, and Alasdair's horror further damages the already troubled relationship.
Then comes the publication of Frankenstein and the city intensifies its search for Shadow Boys, aiming to discover the real life doctor and his monster. Alasdair finds refuge with his idol, the brilliant Dr. Geisler, who may offer him a way to escape the dangerous present and his guilt-ridden past, but at a horrible price only Oliver can pay…
I received this book for review from the publisher. This does not influence my thoughts on the book or my review. 
I read Frankenstein over a year ago and I have to say I'm not a fan of classics. However, I'm a fan of retellings, especially ones that make me appreciate classics I didn't appreciate so much. This Monstrous Thing was definitely a retelling that did justice to Frankenstein.
Alastair is a Shadow Boy, a mechanic that fixes bodies instead of machinery. In Geneva, men with metallic body parts are considered creatures and less than human. When Frankenstein is published, Alastair is convinced it's about him and his former-dead brother, Oliver, who's alive again. Pressured by his idol, Alastair needs to figure out who wrote the novel and whether it really is about him. Can Alastair accept his past and move on to help his brother?
I was iffy about This Monstrous Thing, since I wasn't a huge fan of Frankenstein but I was actually so pleased with the actual retelling part of the novel. I loved that Mary Shelley, the author of Frankenstein, made frequent appearances in the novel and that she was a character.  It was definitely fascinating to see a literary hero become a character in the novel.
The plot of This Monstrous Thing lagged a little, as it was mostly flashbacks but I still enjoyed it for the most part. The characters were all lovely and I'm a bit happy that the romance wasn't too bad. I really liked Alastair and Oliver, and how their brotherhood was portrayed so well. I especially loved Oliver and the themes of  humanity and self-acceptance that were in the novel.
In terms of diversity, This Monstrous Thing lagged as well. There was no cultural, religious or racial diversity but one of the side characters was unidentified on the LGBTQIA+ spectrum which I thought was nice. (Just because there were no books written about LGBTQIA+ characters in the 1800s, it doesn't mean they didn't exist. Just saying.)
Overall, This Monstrous Thing was a wonderful steampunk retelling of Frankenstein and the woman behind the book. I really enjoyed it and I highly recommend it to historical fiction and classics fans!
Related Posts