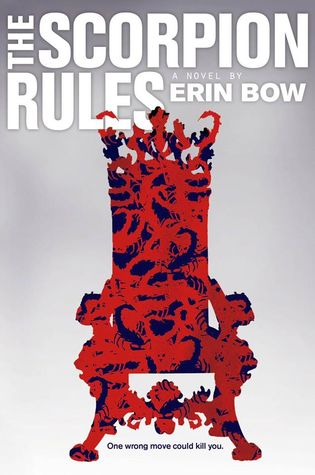 The Scorion Rules
by Erin Bow

Published by
Margaret K. McElderry
on September 22nd 2015

Genres: YA, Young Adult, Sci-Fi

Pages: 384

Goodreads
---
A world battered by climate shift and war turns to an ancient method of keeping peace: the exchange of hostages. The Children of Peace - sons and daughters of kings and presidents and generals - are raised together in small, isolated schools called Preceptures. There, they learn history and political theory, and are taught to gracefully accept what may well be their fate: to die if their countries declare war.
Greta Gustafsen Stuart, Duchess of Halifax and Crown Princess of the Pan-Polar Confederation, is the pride of the North American Prefecture. Learned and disciplined, Greta is proud of her role in keeping the global peace, even though, with her country controlling two-thirds of the world's most war-worthy resource — water — she has little chance of reaching adulthood alive.
Enter Elián Palnik, the Prefecture's newest hostage and biggest problem. Greta's world begins to tilt the moment she sees Elián dragged into the school in chains. The Prefecture's insidious surveillance, its small punishments and rewards, can make no dent in Elián, who is not interested in dignity and tradition, and doesn't even accept the right of the UN to keep hostages.
What will happen to Elián and Greta as their two nations inch closer to war?
I received a copy of this book for review from the publisher, this does not influence my thoughts on the book or my review.
Oh man. This book. I'm not even sure how to write a coherent review. I don't read a lot of sci-fi but I'm so happy I read this one. The Scorpion Rules was just a phenomenal books that I will definitely push onto any and all readers.
400 years ago, Earth was dying and water was going scarce. Countless wars were being held and the UN turned to their Artificial Intelligence, Talis, for answers. And Talis surprised them all, by blowing up cities until humans listened to him. Now, Talis is still leading and has all the world's leaders prized possessions hostage, their children. When a country declares war, their children are taking to the grey room. And they never come out. Greta is the Crown Princess of the Pan Polar Confederacy and is only 16 months from being free. That all goes haywire when Elian, grandson of an opposing leader, arrives. Soon, the two countries are at war and Greta has to figure out what she's willing to put at stake to protect those she cares about.
Greta was an amazing protagonist. She felt so real and dynamic. I loved how she not only wanted to understand more about her world and how she learned more about herself. The world-building was also equally amazing. Despite its sci-fi aspects, it felt so real and natural. It was definitely planned out and it really shows. The plot was equally thrilling and I really enjoyed it. It was definitely fast-paced and I enjoyed it so much.
The romance was freakin' amazing. Based on the synopsis, it seems that Elian and Greta would be together. But that isn't the case. While Greta learns to care about Elian, she also learns about the difference between platonic and romantic love. But who is the other person that Greta learns to care for? None other than her roommate Xie, one of her best friends and an overall amazing person. I just loved the romance so much. Not only is it about Greta discovering her romantic feelings, it's about her learning about the different types of love. I enjoyed it so much.
Overall, The Scorpion Rules was an amazing diverse sci-fi novel that I highly recommend to everyone. Just go read it, seriously, you won't regret it.
Related Posts