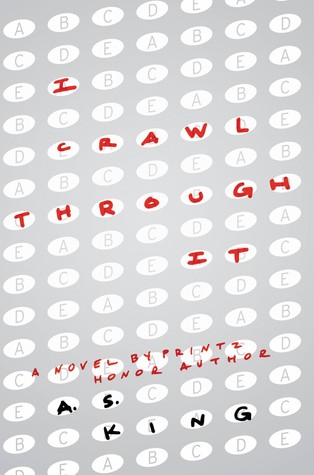 I Crawl Through It
by A.S. King

Published by
Little Brown Books for Young Readers
on September 22nd, 2015

Genres: Contemporary, Magic Realism, YA, Young Adult

Pages: 336

Goodreads
---
A boldly surreal novel from one of the best YA writers working today.
Four talented teenagers are traumatized-coping with grief, surviving trauma, facing the anxiety of standardized tests and the neglect of self-absorbed adults—and they'll do anything to escape the pressure. They'll even build an invisible helicopter, to fly far away to a place where everyone will understand them... until they learn the only way to escape reality is to fly right into it.
I received an early copy of this book from my co-blogger. This does not influence my thoughts on the book. 
You don't even understand how much I love A.S. King. I've read almost all of her books (which I will surely fix soon) and I loved every single one of them. And of course, I Crawl Through It is no exception.
I Crawl Through It revolves around a group of four friends/misfits. Stanzi is obsessed with biology and dealing with a loss. China is inside out and writes poems. Gustav is building an invisible helicopter and Lansdale lies so much her hair grows. Basically, it's a recipe for awesome.
I Crawl Through It is definitely a very trippy and intense book. If you've never read A.S. King, then you wouldn't know her way with magic realism. My motto for reading her novels is that everything is real. If you spend the novel trying to figure out what is happening and what isn't, you'll miss the best parts. The only way to read it is to suspend your disbelief, which is an awesome way to read a book and/or live life.
I Crawl Through It is definitely a bit on the darker side, and the main character deal with a lot of crap. The novel is captivating and interesting, and I don't want to reveal too much about anything else because this novel is so truly amazing that you have to read it for yourself.
Overall, I Crawl Through It is another awesome magic realism novel that I highly recommend to everyone. Now if you'll excuse me, I'll be sitting over here clutching my ARC and softly weeping.
Related Posts